Daily Zohar # 4124 – Vayeshev – Let us not kill him
Daily Zohar 4124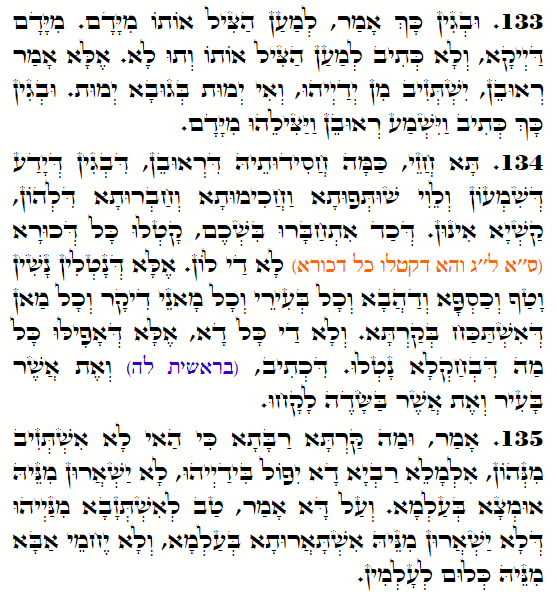 Hebrew translation:
133. וּמִשּׁוּם כָּךְ אָמַר לְמַעַן הַצִּיל אֹתוֹ מִיָּדָם, מִיָּדָם דַּוְקָא, וְלֹא כָתוּב לְמַעַן הַצִּיל אוֹתוֹ וְיוֹתֵר לֹא. אֶלָּא אָמַר רְאוּבֵן, יִנָּצֵל מִיָּדָם, וְאִם יָמוּת בַּבּוֹר – יָמוּת. וּמִשּׁוּם כָּךְ כָּתוּב וַיִּשְׁמַע רְאוּבֵן וַיַּצִּלֵהוּ מִיָּדָם
134. בֹּא רְאֵה כַּמָּה הִיא חֲסִידוּתוֹ שֶׁל רְאוּבֵן, שֶׁמִּשּׁוּם שֶׁיָּדַע שֶׁשִּׁמְעוֹן וְלֵוִי, הַשֻּׁתָּפוּת וְהַחָכְמָה וְהַחֲבֵרוּת שֶׁלָּהֶם הֵם קָשִׁים, שֶׁכַּאֲשֶׁר הִתְחַבְּרוּ בִּשְׁכֶם הָרְגוּ כָּל זָכָר [ס"א וְזֶה שֶׁהָרְגוּ כָּל זָכָר], לֹא דַי לָהֶם, אֶלָּא שֶׁנּוֹטְלִים נָשִׁים וָטַף וְכֶסֶף וְזָהָב וְכָל הַבְּהֵמוֹת וְכָל כְּלֵי יְקָר וְכָל מִי שֶׁנִּמְצָא בַּקִּרְיָה, וְלֹא דַי, אֶלָּא שֶׁאֲפִלּוּ כָּל מַה שֶּׁבַּשָּׂדֶה נָטְלוּ, שֶׁכָּתוּב (בראשית לד) וְאֶת אֲשֶׁר בָּעִיר וְאֶת אֲשֶׁר בַּשָּׂדֶה לָקָחוּ.
135. אָמַר, וּמָה הַקִּרְיָה הַגְּדוֹלָה כָּזוֹ לֹא נִצַּל מֵהֶם – אִלְמָלֵא הָעֶלֶם הַזֶּה יִפֹּל בִּידֵיהֶם, לֹא יַשְׁאִירוּ מִמֶּנּוּ חֲתִיכַת בָּשָׂר בָּעוֹלָם, וְעַל כֵּן אָמַר טוֹב לְהִנָּצֵל מֵהֶם, שֶׁלֹּא יַשְׁאִירוּ מִמֶּנּוּ שְׁאֵרִית בָּעוֹלָם וְלֹא יִרְאֶה מִמֶּנּוּ אַבָּא כְּלוּם לְעוֹלָמִים.
.
Zohar Vayeshev
Continued from previous DZ
#133
Genesis 37:21
"וַיִּשְׁמַע רְאוּבֵן וַיַּצִּלֵהוּ מִיָּדָם וַיֹּאמֶר לֹא נַכֶּנּוּ נָפֶשׁ."
"But Reuben heard it, delivered him out of their hands, and said, "Let us not kill him."
The scripture says, "he delivered him out of their hand," not a simple "saved him." Reuben thought the best way to save Joseph was to take him away from their hands, which could be a certain death. If Joseph is supposed to die, it can also be in the pit.
#134
Reuven knew that when Shimon and Levi are together with their deception, it can be difficult because when they joined forces in Shechem, they killed every male in the city, and that was not enough for them; they also took women and children, silver and gold, and every animal, and every precious thing.
All of this was not enough for them, so they even took everything in the field as it is written;
Genesis 34:28
"אֶת צֹאנָם וְאֶת בְּקָרָם וְאֶת חֲמֹרֵיהֶּם וְאֵת אֲשֶׁר בָּעִיר וְאֶת אֲשֶׁר בַּשָּׂדֶה לָקָחוּ."
"They took their sheep, their oxen, and their donkeys, what was in the city and what was in the field,"
#135
Reuben thought such a great city was not spared from their hands, and if this child fell into their hands, they would not leave a piece of his flesh in this world. Therefore he said it would be better to save him from them because they would not go any part of him in the world, and my father would not see anything of him forever.