Daily Zohar # 4125 – Vayeshev – The lad is no more
Daily Zohar 4125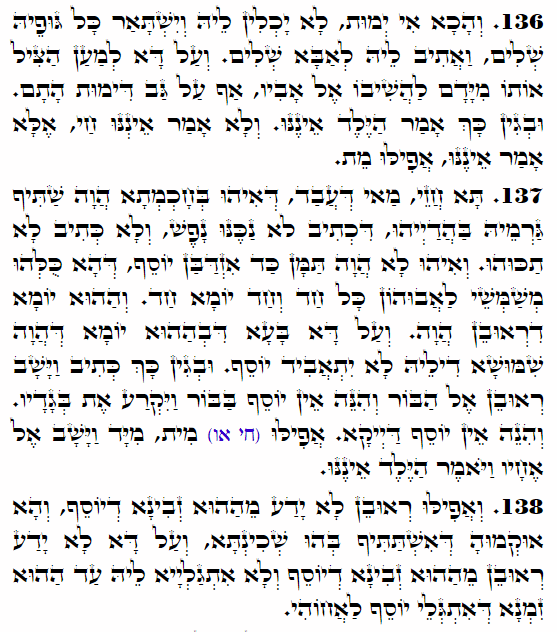 Hebrew translation:
136. וְכָאן אִם יָמוּת, לֹא יְכוֹלִים לוֹ, וְיִשָּׁאֵר כָּל גּוּפוֹ שָׁלֵם וְאָשִׁיב אוֹתוֹ לְאַבָּא שָׁלֵם, וְעַל כֵּן לְמַעַן הַצִּיל אֹתוֹ מִיָּדָם לַהֲשִׁיבוֹ אֶל אָבִיו, אַף עַל גַּב שֶׁיָּמוּת שָׁם. וּמִשּׁוּם כָּךְ אָמַר הַיֶּלֶד אֵינֶנּוּ, וְלֹא אָמַר אֵינֶנּוּ חַי, אֶלָּא אָמַר אֵינֶנּוּ – אֲפִלּוּ מֵת.
137. בֹּא רְאֵה מַה שֶּׁעָשָׂה, שֶׁהוּא בְחָכְמָה הָיָה מְשַׁתֵּף עַצְמוֹ עִמָּהֶם, שֶׁכָּתוּב לֹא נַכֶּנּוּ נָפֶשׁ, וְלֹא כָתוּב לֹא תַכּוּהוּ, וְהוּא לֹא הָיָה שָׁם כְּשֶׁנִּמְכַּר יוֹסֵף, שֶׁהֲרֵי כֻּלָּם שִׁמְּשׁוּ אֶת אֲבִיהֶם, כָּל אֶחָד וְאֶחָד יוֹם אֶחָד, וְאוֹתוֹ הַיּוֹם הָיָה שֶׁל רְאוּבֵן, וְעַל כֵּן רָצָה שֶׁבְּאוֹתוֹ הַיּוֹם שֶׁהָיָה הַשִּׁמּוּשׁ שֶׁלּוֹ לֹא יֵאָבֵד יוֹסֵף, וּמִשּׁוּם כָּךְ כָּתוּב וַיָּשָׁב רְאוּבֵן אֶל הַבּוֹר וְהִנֵּה אֵין יוֹסֵף בַּבּוֹר וַיִּקְרַע אֶת בְּגָדָיו. וְהִנֵּה אֵין יוֹסֵף דַּוְקָא, אֲפִלּוּ [חַי אוֹ] מֵת, מִיָּד וַיָּשָׁב אֶל אֶחָיו וַיֹּאמֶר הַיֶּלֶד אֵינֶנּוּ.
138. וַאֲפִלּוּ רְאוּבֵן לֹא יָדַע מֵאוֹתָהּ הַמְּכִירָה שֶׁל יוֹסֵף. וַהֲרֵי בֵּאֲרוּהוּ שֶׁהַשְּׁכִינָה הִשְׁתַּתְּפָה עִמָּהֶם, וְעַל כֵּן לֹא יָדַע רְאוּבֵן מֵהַמְּכִירָה הַהִיא שֶׁל יוֹסֵף, וְלֹא הִתְגַּלְּתָה לוֹ עַד אוֹתוֹ הַזְּמַן שֶׁיּוֹסֵף הִתְגַּלָּה לְאֶחָיו.
.
Zohar Vayeshev
Continued from previous DZ
#136
Reuben thought if Joseph died in the pit away from his brother's reach, he could bring his body to his father.
That is why the verse says, "that he might deliver him out of their hands, and bring him back to his father" (Genesis 37:22).
Genesis 37:28-30
"Then Midianite traders passed by, so the brothers pulled Joseph up and lifted him out of the pit and sold him to the Ishmaelites for twenty shekels of silver. And they took Joseph to Egypt.
"וַיָּשָׁב רְאוּבֵן אֶל הַבּוֹר וְהִנֵּה אֵין יוֹסֵף בַּבּוֹר וַיִּקְרַע אֶת בְּגָדָיו." "Then Reuben returned to the pit, and indeed Joseph was not in the pit; and he tore his clothes."
"וַיָּשָׁב אֶל אֶחָיו וַיֹּאמַר הַיֶּלֶד אֵינֶנּוּ וַאֲנִי אָנָה אֲנִי בָא."
"And he returned to his brothers and said, "The lad is no more; and I, where shall I go?"
Reuben went to the pit to check on Joseph but did not find him. He went to his brothers, telling them Joseph was not there, meaning he was not even dead.
#137
Reuben was wise to include himself with the brothers when he said, "Let us not kill him," not "don't kill him."
He was not there when Joseph was sold because they were all serving their father every of them for one day, and that day was Reuben's turn. He wanted to use this day, and get Joseph out of the pit dead or alive, as it is written, "Then Reuben returned to the pit" (Genesis 37:29). After the shock of losing his brother, he returned to his brothers telling them that Joseph was not found.
#138
Reuven did not know about the sale of Joseph. It was explained that the Shechina participated in the sale, and all of them were not allowed to disclose the sale of Joseph; therefore, Reuben did not know about it. It was not revealed to him until Joseph revealed himself to his brothers in Egypt.
{||}