Daily Zohar – Tikunim – #558 – Begin with no end in mind
Click here to listen to the Daily Zohar [audio:https://dailyzohar.com/wp-content/uploads/audio/dz558.mp3|titles=Daily Zohar 558]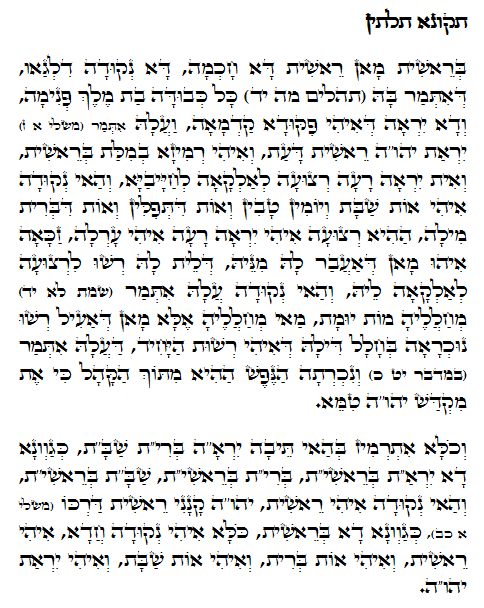 Hebrew translation:
תִּקּוּן שְׁלֹשִׁים
בְּרֵאשִׁית, מִי הָרֵאשִׁית? זוֹ חָכְמָה, זוֹ נְקֻדָּה שֶׁל בִּפְנִים, שֶׁנֶּאֱמַר בָּהּ כָּל כְּבוּדָּה בַת מֶלֶךְ פְּנִימָה, וְזוֹ יִרְאָה שֶׁהִיא מִצְוָה רִאשׁוֹנָה, וְעָלֶיהָ נֶאֱמַר יִרְאַת יהו"ה רֵאשִׁית דָּעַת, וְהִיא רְמוּזָה בְּמִלַּת בְּרֵאשִׁית, וְיֵשׁ יִרְאָה רָעָה, רְצוּעָה לְהַלְקוֹת אֶת הָרְשָׁעִים, וְהַנְּקֻדָּה הַזּוֹ הִיא אוֹת שַׁבָּת וְיָמִים טוֹבִים, וְאוֹת שֶׁל תְּפִלִּין וְאוֹת שֶׁל בְּרִית מִילָה. אוֹתָהּ הָרְצוּעָה הִיא יִרְאָה רָעָה, הִיא עָרְלָה. אַשְׁרֵי הוּא מִי שֶׁמַּעֲבִיר אוֹתָהּ מִמֶּנּוּ, שֶׁאֵין רְשׁוּת לָרְצוּעָה לְהַלְקוֹת אוֹתוֹ, וְעַל הַנְּקֻדָּה הַזּוֹ נֶאֱמַר מְחַלֲלֶיהָ מוֹת יוּמָת. מַה זֶּה מְחַלֲלֶיהָ? אֶלָּא מִי שֶׁמַּכְנִיס רְשׁוּת זָרָה בֶּחָלָל שֶׁלָּהּ, שֶׁהִיא רְשׁוּת הַיָּחִיד, שֶׁעָלֶיהָ נֶאֱמַר וְנִכְרְתָה הַנֶּפֶשׁ הַהִיא מִתּוֹךְ הַקָּהָל, כִּי אֶת מִקְדַּשׁ יהו"ה טִמֵּא.
וְהַכֹּל נִרְמָז בַּתֵּבָה הַזּוֹ, יִרְאָ"ה בְּרִי"ת שַׁבָּ"ת, כְּמוֹ זֶה: יִרְאַ"ת בְּרֵאשִׁי"ת, בְּרִי"ת בְּרֵאשִׁית, שַׁבָּ"ת בְּרֵאשִׁי"ת, וְהַנְּקֻדָּה הַזּוֹ הִיא רֵאשִׁית, יהו"ה קָנָנִי רֵאשִׁית דַּרְכּוֹ, כְּמוֹ זֶה בְּרֵאשִׁית, הַכֹּל הִיא נְקֻדָּה אַחַת, הִיא רֵאשִׁית, וְהִיא אוֹת בְּרִית, וְהִיא אוֹת שַׁבָּת, וְהִיא יִרְאַת יהו"ה.
Tikkun 30
בְּרֵאשִׁית, meaning in the Beginning, "the Beginning" is the level of Chokmah.
Proverb 1:7 " יִרְאַת יְהוָה, רֵאשִׁית דָּעַת ", "the Awe of YHVH is the beginning of Knowledge (Da'at)"
The original point of the Bet of בְּרֵאשִׁית is what connects the world to all that is Holy.
Proverbs 8:22 " יְהוָה–קָנָנִי, רֵאשִׁית דַּרְכּוֹ: קֶדֶם מִפְעָלָיו מֵאָז"
" YHVH made me his own as the beginning of His way, the first of His works of old"
All beginnings are holy because their seed comes from the original light and blessings of Creation. If we connect to negativity we contaminate the seed of Holy and bring chaos and death on ourselves.
The death in this case, is the aspect of termination of process. It's the 'end of life', energy of what we wish to achieve but without the purity of the light and the original thought of Creation.
If we don't have spiritual connection to the upper Sefirot of Chokmah and Binah with Awe and Love to YHVH and the system of Tree of Life, we cannot have the connection of Da'at, meaning knowledge, to have the flow of light into our actions.
{||}