Daily Zohar – Tikunim – #574 – Two sides of the moon
Click here to listen to the Daily Zohar [audio:https://dailyzohar.com/wp-content/uploads/audio/dz574.mp3|titles=Daily Zohar 574]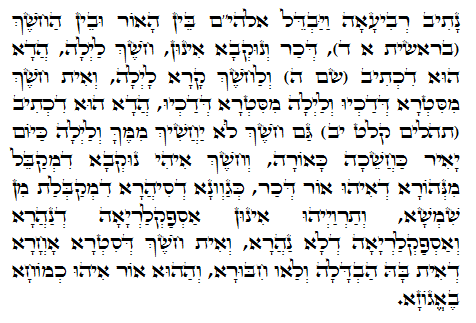 Hebrew translation:
הַנָּתִיב הָרְבִיעִי – וַיַּבְדֵּל אֱלֹהִי"ם בֵּין הָאוֹר וּבֵין הַחֹשֶׁךְ, זָכָר וּנְקֵבָה הֵם, חֹשֶׁךְ לַיְלָה, זֶהוּ שֶׁכָּתוּב וְלַחֹשֶׁךְ קָרָא לָיְלָה, וְיֵשׁ חֹשֶׁךְ מִצַּד הַטֹּהַר וְלַיְלָה מִצַּד הַטֹּהַר, זֶהוּ שֶׁכָּתוּב גַּם חֹשֶׁךְ לֹא יַחְשִׁיךְ מִמֶּךָּ וְלַיְלָה כַּיּוֹם יָאִיר כַּחֲשֵׁכָה כָּאוֹרָה, וְהַחֹשֶׁךְ הִיא נְקֵבָה שֶׁמְּקַבֶּלֶת מֵהָאוֹר שֶׁהוּא אוֹר זָכָר, כְּמוֹ שֶׁהַלְּבָנָה שֶׁמְּקַבֶּלֶת מִן הַשֶּׁמֶשׁ, וּשְׁנֵיהֶם הֵם הָאַסְפַּקְלַרְיָה הַמְּאִירָה וְהָאַסְפַּקְלַרְיָה שֶׁאֵינָהּ מְאִירָה, וְיֵשׁ חֹשֶׁךְ שֶׁל הַצַּד הָאַחֵר שֶׁיֵּשׁ בּוֹ הַבְדָּלָה וְלֹא חִבּוּר, וְאוֹתוֹ הָאוֹר הוּא כְמֹחַ בֶּאֱגוֹז.
Tikkun 30-17
Genesis 1:4
"…וַיַּבְדֵּל אֱלֹהִים, בֵּין הָאוֹר וּבֵין הַחֹשֶׁךְ "
"and God divided the light from the darkness. "
This is the point in Creation when God created male and female aspects.
There is darkness and night from the pure side like we read in Psalms 139:12
"גַּם-חֹשֶׁךְ, לֹא-יַחְשִׁיךְ מִמֶּךָּ:
וְלַיְלָה, כַּיּוֹם יָאִיר– כַּחֲשֵׁיכָה, כָּאוֹרָה "
"Even the darkness will not be dark for you,
but the night will shine as the day; and darkness is even as the light. "
Darkness is a female aspect and like the side of the moon that accepts the light, it creates unification and continuation of the light. This kind of 'darkness' is desire for expanding the light and it is pure because it brings equality to the light and vessel, male and female.
When darkness does not accept the light, it swallows it and instead of connection and unification, it creates separation.
To be on the pure side, we should always connect to and continue the flow of light, which is everything that is good in our life.
{||}