Daily Zohar – Tikunim – #592 – How to attract the flame of love?
Click here to listen to the Daily Zohar [audio:https://dailyzohar.com/wp-content/uploads/audio/dz592.mp3|titles=Daily Zohar 592]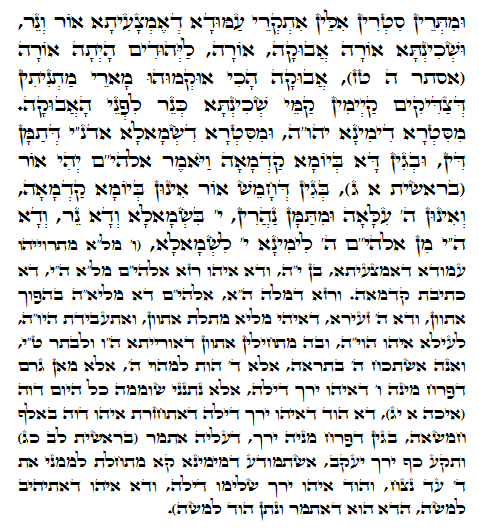 Hebrew translation:
וּמִצַּד שְׁנֵי הַצְּדָדִים הַלָּלוּ נִקְרָא הָעַמּוּד הָאֶמְצָעִי אוֹר וְנֵר, וְהַשְּׁכִינָה אוֹרָה, אֲבוּקָה. אוֹרָה – לַיְּהוּדִים הָיְתָה אוֹרָה, אֲבוּקָה – כָּךְ פֵּרְשׁוּהוּ בַּעֲלֵי הַמִּשְׁנָה, שֶׁצַּדִּיקִים עוֹמְדִים לִפְנֵי הַשְּׁכִינָה כְּנֵר לִפְנֵי הָאֲבוּקָה, מִצַּד הַיָּמִין יהו"ה, וּמִצַּד הַשְּׂמֹאל אדנ"י, שֶׁשָּׁם הַדִּין, וּמִשּׁוּם זֶה בַּיּוֹם הָרִאשׁוֹן וַיֹּאמֶר אֱלֹהִי"ם יְהִי אוֹר, מִשּׁוּם שֶׁחֲמִשָּׁה אוֹר הֵם בַּיּוֹם הָרִאשׁוֹן, וְהֵם ה' הָעֶלְיוֹנָה, וּמִשָּׁם מְאִירִים, י' בִּשְׂמֹאל, וְזֶה נֵר, וְזֶה ה"י מִן אֱלֹהִי"ם, ה' לְיָמִין י' לִשְׂמֹאל, (ו' מָלֵ"א מִשְּׁנֵיהֶם הָעַמּוּד הָאֶמְצָעִי, בֶּן י"ה, וְזֶהוּ סוֹד אֱלֹהִי"ם מָלֵ"א ה"י, זוֹ כְתוּבָה רִאשׁוֹנָה. וְסוֹד הַדָּבָר – הֵ"א, אֱלֹהִי"ם זֶה מְלֵיאָ"ה בְּהִפּוּךְ אוֹתִיּוֹת, וְזוֹ ה' זְעִירָה, שֶׁהִיא מְלֵאָה מִשָּׁלֹשׁ אוֹתִיּוֹת, וְנַעֲשֵׂית היו"ה, לְמַעְלָה הוּא הוי"ה, וּבָהּ מַתְחִילִים אוֹתִיּוֹת הַתּוֹרָה ה"ו וְאַחַר כָּךְ ט"י, וְאָנָה נִמְצֵאת ה' אַחֲרוֹנָה? אֶלָּא ד' הָיְתָה לִהְיוֹת ה', אֶלָּא מִי גָרַם שֶׁפָּרַח מִמֶּנָּה ו' שֶׁהוּא הַיָּרֵךְ שֶׁלָּהּ? אֶלָּא נְתָנַנִי שׁוֹמֵמָה כָּל הַיּוֹם דָּוָה, זֶהוּ הוֹד שֶׁהוּא הַיָּרֵךְ שֶׁלָּהּ, שֶׁהוּא חָזַר דָּוָה בָּאֶלֶף הַחֲמִישִׁי, מִשּׁוּם שֶׁפָּרַח מִמֶּנָּה יָרֵךְ, שֶׁעָלָיו נֶאֱמַר וַתֵּקַע כַּף יֶרֶךְ יַעֲקֹב, נוֹדָע שֶׁמִּיָּמִין מַתְחִילָה לִמְנוֹת הָאוֹת ד' עַד נֵצַח, וְהוֹד הוּא הַיָּרֵךְ, הַשְּׁלֵמוּת שֶׁלָּהּ, וְזֶהוּ שֶׁנִּתַּן לְמֹשֶׁה, זֶהוּ שֶׁנֶּאֱמַר וְנָתַן הוֹד לְמֹשֶׁה).
Tikkun 33 – 3
יראה אהבה are the two words that represent the right and left columns. They form the central column as light and candle. The candle is the desire and the aspect of, יראה, 'Awe' and fear of not having the light.
The light is the flame that connects to the candle with the power of love, אהבה, and sharing.
The righteous people, as a candle, connect the right column, which is the aspect of YHVH, יהוה, to the left column, אדני, ADNY.
The letter H ה has numerical value of 5. It is the letter that represents Binah in the YHVH name.
The Zohar tells us that the word 'Light' אור appears in the Torah 5 times in the first day. This makes the connection to Binah to tell us about the origin of the Light of Creation that appears on the first day.
{||}