Daily Zohar – Tikunim – # 682 – One camp. How can we do it again?
Click here to listen to the Daily Zohar [audio:https://dailyzohar.com/wp-content/uploads/audio/dz682.mp3|titles=Daily Zohar 682]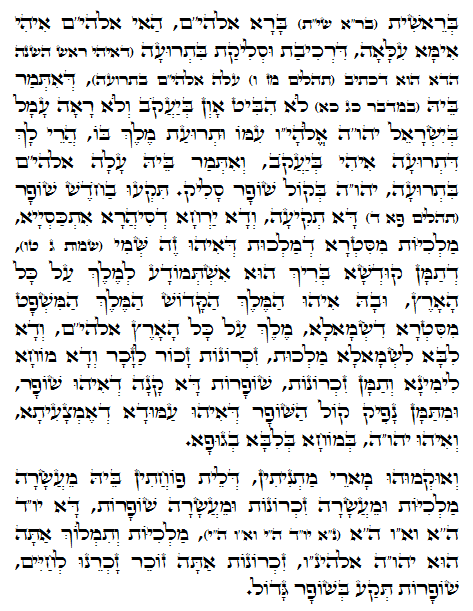 Hebrew translation:
בְּרֵאשִׁית, (בָּרָ"א שִׁי"ת), בָּרָא אֱלֹהִי"ם. הָאֱלֹהִי"ם הַזֶּה הִיא הָאֵם הָעֶלְיוֹנָה, שֶׁרוֹכֶבֶת וְעוֹלָה בִתְרוּעָה [שֶׁהִיא רֹאשׁ הַשָּׁנָה. זֶהוּ שֶׁכָּתוּב עָלָה אֱלֹהִי"ם בִּתְרוּעָה], שֶׁנֶּאֱמַר בּוֹ לֹא הִבִּיט אָוֶן בְּיַעֲקֹב וְלֹא רָאָה עָמָל בְּיִשְׂרָאֵל יהו"ה אֱלֹהָי"ו עִמּוֹ וּתְרוּעַת מֶלֶךְ בּוֹ, הֲרֵי לְךָ שֶׁתְּרוּעָה הִיא בְיַעֲקֹב, וְנֶאֱמַר בּוֹ עָלָה אֱלֹהִים בִּתְרוּעָה, יהו"ה בְּקוֹל שׁוֹפָר עוֹלֶה. תִּקְעוּ בַחֹדֶשׁ שׁוֹפָר זוֹ תְקִיעָה, וְזֶה הַחֹדֶשׁ שֶׁמִּתְכַּסָּה הַלְּבָנָה. הַמַּלְכֻיּוֹת מִצַּד הַמַּלְכוּת, שֶׁהוּא זֶה שְּׁמִי, שֶׁשָּׁם הַקָּדוֹשׁ בָּרוּךְ הוּא נוֹדַע לְמֶלֶךְ עַל כָּל הָאָרֶץ, וּבָהּ הוּא הַמֶּלֶךְ הַקָּדוֹשׁ, הַמֶּלֶךְ הַמִּשְׁפָּט מִצַּד הַשְּׂמֹאל, מֶלֶךְ עַל כָּל הָאָרֶץ אֱלֹהִי"ם, וְזֶה הַלֵּב לִשְׂמֹאל הַמַּלְכוּת. זִכְרוֹנוֹת, זָכוֹר לַזָּכָר, וְזֶה הַמֹּחַ לְיָמִין, וְשָׁם זִכְרוֹנוֹת. שׁוֹפָרוֹת זֶה קָנֶה שֶׁהוּא שׁוֹפָר, וּמִשָּׁם יוֹצֵא קוֹל הַשּׁוֹפָר, שֶׁהוּא הָעַמּוּד הָאֶמְצָעִי, וְהוּא יהו"ה, בַּמֹּחַ בַּלֵּב וּבַגּוּף.וּפֵרְשׁוּהָ בַּעֲלֵי הַמִּשְׁנָה, שֶׁאֵין פּוֹחֲתִין בּוֹ מֵעֲשָׂרָה מַלְכֻיּוֹת וּמֵעֲשָׂרָה זִכְרוֹנוֹת וּמֵעֲשָׂרָה שׁוֹפָרוֹת, זֶה יו"ד ה"א וא"ו ה"א (יו"ד ה"י וא"ו ה"י). מַלְכֻיּוֹת – וְתִמְלֹךְ אַתָּה הוּא יהו"ה אֱלֹהֵינ"וּ, זִכְרוֹנוֹת – אַתָּה זוֹכֵר, זָכְרֵנוּ לְחַיִּים, שׁוֹפָרוֹת – תְּקַע בְּשׁוֹפָר גָּדוֹל.
Tikkun 55 – 6
Numbers 23:21
"לֹא-הִבִּיט אָוֶן בְּיַעֲקֹב, וְלֹא-רָאָה עָמָל בְּיִשְׂרָאֵל; יְהוָה אֱלֹהָיו עִמּוֹ, וּתְרוּעַת מֶלֶךְ בּוֹ"
"None hath beheld iniquity in Jacob, neither hath one seen perverseness in Israel; YHVH his God (aspect of YHVH and ELHYM) is with him, and the shouting (Shofar blowing) for the King is among them"
The above verse is from the story of Balaam who came to curse the Israelites but found himself blessing them. Even with his high connection to the negative side, he couldn't afflict any harm on the Israelites. He was on a similar level of Moses but on the negative side.
He saw that Jacob provided his children with connection to the central column where negativity can not come in. He saw the ability of the Israelites to bring together right and left with the names YHVH and ELHYM. It gave them full control over the spiritual system. He also saw that they have the power of the Shofar to break negativity by opening channels to the upper levels.
The YHVH name in its spelled out form, has 10 letters יוד הא ואו הא. This specific form represents the light of YHVH in Malchut. On Rosh Hashana we blow the Shofar 100 times and that helps us break all negativity that may have attached to us as a result of our impure actions.
The Israelites have a complete system to draw light and break negativity. There is only one thing that we are missing in our time in order to break all the Balaams of the world. What we are missing is the UNITY of all the Israelites like we had in the wilderness. We had one leader in one camp with the Tabernacle in the middle.
How can we achieve that today?
{||}