Daily Zohar – Tikunim – # 686 – The seal of The King
Click here to listen to the Daily Zohar [audio:https://dailyzohar.com/wp-content/uploads/audio/dz686.mp3|titles=Daily Zohar 686]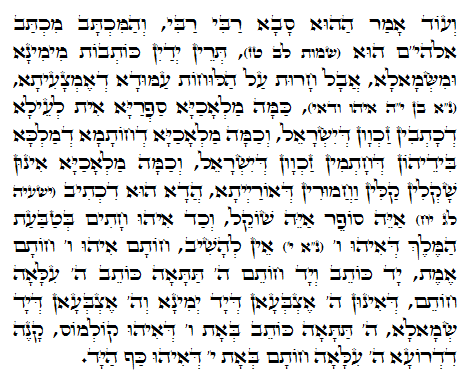 Hebrew translation:
וְעוֹד אָמַר אוֹתוֹ זָקֵן: רַבִּי רַבִּי, וְהַמִּכְתָּב מִכְתַּב אֱלֹהִי"ם הוּא, שְׁתֵּי יָדַיִם כּוֹתְבוֹת מִיָּמִין וּמִשְּׂמֹאל, אֲבָל חָרוּת עַל הַלֻּחֹת, הָעַמּוּד הָאֶמְצָעִי, (בֶּן י"ה הוּא וַדַּאי). כַּמָּה מַלְאָכִים סוֹפְרִים יֵשׁ לְמַעְלָה שֶׁכּוֹתְבִים אֶת זְכֻיּוֹת יִשְׂרָאֵל, וְכַמָּה מַלְאָכִים שֶׁחוֹתַם הַמֶּלֶךְ בִּידֵיהֶם שֶׁחוֹתְמִים אֶת זְכֻיּוֹת יִשְׂרָאֵל, וְכַמָּה מַלְאָכִים שֶׁשּׁוֹקְלִים קַלּוֹת וַחֲמוּרוֹת שֶׁל הַתּוֹרָה, זֶהוּ שֶׁכָּתוּב אַיֵּה סוֹפֵר אַיֵּה שׁוֹקֵל, וּכְשֶׁהוּא חוֹתֵם בְּטַבַּעַת הַמֶּלֶךְ שֶׁהוּא ו' (י'), אֵין לְהָשִׁיב. חוֹתָם הוּא ו', חוֹתַם אֱמֶת, יָד כּוֹתֵב וְיָד חוֹתֵם. ה' תַּחְתּוֹנָה כּוֹתֶבֶת, ה' עֶלְיוֹנָה חוֹתֶמֶת, שֶׁהֵם ה' אֶצְבָּעוֹת שֶׁל יַד יָמִין וְה' אֶצְבָּעוֹת שֶׁל יַד שְׂמֹאל. ה' תַּחְתּוֹנָה כּוֹתֶבֶת בָּאוֹת ו', שֶׁהוּא קוּלְמוֹס, קָנֶה שֶׁל זְרוֹעַ, ה' הָעֶלְיוֹנָה חוֹתֶמֶת בָּאוֹת י', שֶׁהוּא כַּף הַיָּד.
Tikkun 55 – 10
Exodus 32:16
"וְהַלֻּחֹת–מַעֲשֵׂה אֱלֹהִים, הֵמָּה; וְהַמִּכְתָּב, מִכְתַּב אֱלֹהִים הוּא–חָרוּת, עַל-הַלֻּחֹת"
"And the tables were the work of God, and the writing was the writing of God, graven upon the tables"
The Zohar explains that two hands write the Torah from the aspects of right and left columns but when it says 'חָרוּת, עַל-הַלֻּחֹת' 'engraved on the tablets' it is the aspect of the central column that brings the light and freedom to the world.
The channels to the Torah writing come from the upper levels of Chokmam and Binah. Chokma is right column and is represented by the letter Y י of the name. Binah is left column and is represented by the letter H ה.
The letter Vav is the 'seal' of 'The King' and represents אמת, the 'Truth'.
All columns in the Torah scroll, except for six special columns, start with the letter Vav ו. The shape of the columns are also like Vav. After each reading of the Torah we say אמת, 'Emet', meaning 'Truth' to connect to the 'seal' of God. The word אמת, has the first, middle and last letters of the Hebrew Alef Bet.
{||}