Daily Zohar – Tikunim – # 685 – Fingers of light
Click here to listen to the Daily Zohar [audio:https://dailyzohar.com/wp-content/uploads/audio/dz685.mp3|titles=Daily Zohar 685]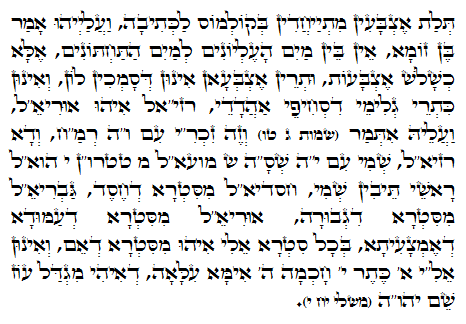 Hebrew translation:
שָׁלֹשׁ אֶצְבָּעוֹת מִתְיַחֲדוֹת בְּקוּלְמוֹס לַכְּתִיבָה, וַעֲלֵיהֶם אָמַר בֶּן זוֹמָא, אֵין בֵּין מַיִם הָעֶלְיוֹנִים לַמַּיִם הַתַּחְתּוֹנִים אֶלָּא כְּשָׁלֹשׁ אֶצְבָּעוֹת, וּשְׁנֵי אֶצְבָּעוֹת הֵם שֶׁסּוֹמְכִים אוֹתָם, וְהֵם כִּשְׁנֵי לְבוּשִׁים שֶׁפְּרוּסִים זֶה אֵצֶל זֶה, רזיא"ל הוּא אוּרִיאֵ"ל, וְעָלָיו נֶאֱמַר וְזֶה זִכְרִ"י, עִם ו"ה – מָאתַיִם אַרְבָּעִים וּשְׁמוֹנֶה, וְזֶה רזיא"ל, שְׁמִי עִם י"ה – שְׁלֹשׁ מֵאוֹת שִׁשִּׁים וְחָמֵשׁ. ש'מועא"ל מ'טטרו"ן י'הוא"ל רָאשֵׁי תֵבוֹת שְׁמִי. חסדיא"ל מִצַּד הַחֶסֶד, גַּבְרִיאֵ"ל מִצַּד הַגְּבוּרָה, אוּרִיאֵ"ל מִצַּד הָעַמּוּד הָאֶמְצָעִי, בְּכָל צַד אֵלִי הוּא מִצַּד הָאֵם, וְהֵם אֵלִ"י, א' כֶּתֶר, י' חָכְמָה, ה' הָאֵם הָעֶלְיוֹנָה, שֶׁהִיא מִגְדַּל עֹז שֵׁם יהו"ה.
Tikkun 55 – 9
When the scribe writes the Torah, he uses three fingers to hold the special scribe pen (קוּלְמוֹס) and the other two fingers support them. The meditation when holding the pen should be connecting the YH with VH.
The three writing fingers are supported by the angels חסדיא"ל, Chasdiel, from the side of Chessed, גַּבְרִיאֵ"ל Gabriel from the side of Gevurah and אוּרִיאֵ"ל Oriel from the side of the central column.
Raziel is also Oriel and both reveal the light of the Torah. Raziel comes from the root word רז, meaning secret. And Oriel from the word אור, meaning Light. They both have the same numerical value of 207, Light.
{||}