Daily Zohar – Tikunim – # 721 – Control your right and left
Click here to listen to the Daily Zohar [audio:https://dailyzohar.com/wp-content/uploads/audio/dz721.mp3|titles=Daily Zohar 721]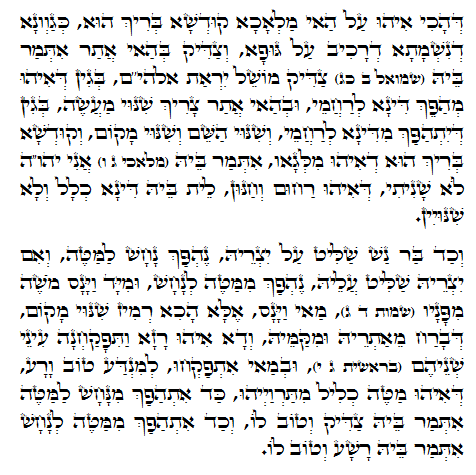 Hebrew translation:
שֶׁכָּךְ הוּא הַקָּדוֹשׁ בָּרוּךְ הוּא עַל הַמַּלְאָךְ הַזֶּה, כְּמוֹ שֶׁהַנְּשָׁמָה שֶׁרוֹכֶבֶת עַל הַגּוּף, וְצַדִּיק, בַּמָּקוֹם הַזֶּה נֶאֱמַר בּוֹ צַדִּיק מוֹשֵׁל יִרְאַת אֱלֹהִי"ם, מִשּׁוּם שֶׁהוּא מְהַפֵּךְ דִּין לְרַחֲמִים, וּבַמָּקוֹם הַזֶּה צָרִיךְ שִׁנּוּי מַעֲשֶׂה כְּדֵי שֶׁיִּתְהַפֵּךְ מִדִּין לְרַחֲמִים, וְשִׁנּוּי הַשֵּׁם וְשִׁנּוּי מָקוֹם, וְהַקָּדוֹשׁ בָּרוּךְ הוּא שֶׁהוּא מִבִּפְנִים, נֶאֱמַר בּוֹ אֲנִי יהו"ה לֹא שָׁנִיתִי, שֶׁהוּא רַחוּם וְחַנּוּן, אֵין בּוֹ דִין כְּלָל וְלֹא שִׁנּוּיִים.וּכְשֶׁאָדָם שׁוֹלֵט עַל יִצְרוֹ, נֶהְפָּךְ הַנָּחָשׁ לְמַטֶּה, וְאִם יִצְרוֹ שׁוֹלֵט עָלָיו, נֶהְפָּךְ מִמַּטֶּה לְנָחָשׁ, וּמִיָּד וַיָּנָס מֹשֶׁה מִפָּנָיו. מַה זֶּה וַיָּנָס? אֶלָּא כָּאן רוֹמֵז שִׁנּוּי מָקוֹם, שֶׁבָּרַח מִמְּקוֹמוֹ וּמִלְּפָנָיו, וְזֶהוּ סוֹד וַתִּפָּקַחְנָה עֵינֵי שְׁנֵיהֶם, וּבַמֶּה נִפְקְחוּ? לָדַעַת טוֹב וָרָע, שֶׁהוּא הַמַּטֶּה הַכָּלוּל מִשְּׁנֵיהֶם. כְּשֶׁהִתְהַפֵּךְ מִנָּחָשׁ לְמַטֶּה, נֶאֱמַר בּוֹ צַדִּיק וְטוֹב לוֹ, וּכְשֶׁהִתְהַפֵּךְ מִמַּטֶּה לְנָחָשׁ, נֶאֱמַר בּוֹ רָשָׁע וְטוֹב לוֹ.
Tikkun 60 – 5
(Continue form previous Daily Zohar)
2 Samuel 23:3
"אָמַר אֱלֹהֵי יִשְׂרָאֵל, לִי דִבֶּר צוּר יִשְׂרָאֵל: מוֹשֵׁל, בָּאָדָם–צַדִּיק, מוֹשֵׁל יִרְאַת אֱלֹהִים."
"The God of Israel said, The Rock of Israel spoke to me: 'Ruler over men shall be the righteous, even he that ruleth in the fear of God,"
Previously we discussed that Moses's staff, מטה, gave him control over the lower levels. The name of the archangel Metatron מטטרון who is above Moses also implies control over the lower levels. Above them all is the Holy One that controls everything. The same way the soul keeps the life force of a person, so does God keep and maintain the forces of all angels and levels below.
Changing name and place affects the connection of the person to the life force but the essence of God, that is in everything, never changes.
A tzadik that controls the evil inclination on the lower level achieves a connection to the Sefirah of Yessod and holds the central column as holding Moses's staff. Yessod is the level above Malchut and it gives him full control over the life force. He can change judgement to mercy, Gevurah to Chessed.
{||}