Daily Zohar – Tikunim – # 723 – Without that we are in the dark
Click here to listen to the Daily Zohar [audio:https://dailyzohar.com/wp-content/uploads/audio/dz723.mp3|titles=Daily Zohar 723]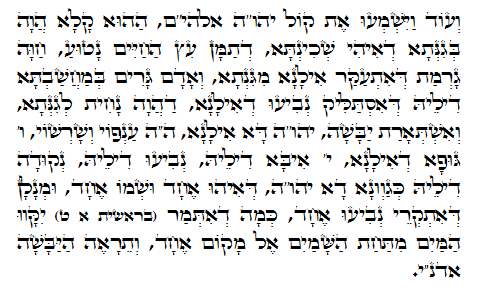 Hebrew translation:
וְעוֹד, וַיִּשְׁמְעוּ אֶת קוֹל יהו"ה אֱלֹהִי"ם, אוֹתוֹ הַקּוֹל הָיָה בַגָּן, שֶׁהִיא הַשְּׁכִינָה, שֶׁשָּׁם עֵץ הַחַיִּים נָטוּעַ, חַוָּה גָרְמָה שֶׁנֶּעֱקַר הָאִילָן מִן הַגָּן, וְאָדָם גָּרַם בְּמַחֲשַׁבְתּוֹ שֶׁהִסְתַּלְּקָה נְבִיעַת הָאִילָן, שֶׁהָיְתָה יוֹרֶדֶת לַגָּן, וְנִשְׁאֲרָה יַבָּשָׁה. יהו"ה זֶה הָאִילָן, ה"ה עֲנָפָיו וְשָׁרָשָׁיו, ו' גּוּף הָאִילָן, י' פִּרְיוֹ, מַעְיָנוֹ, וְהַנְּקֻדָּה שֶׁלּוֹ כְּמוֹ זֶה: יהו"ה, שֶׁהוּא אֶחָד וּשְׁמוֹ אֶחָד. וּמִנַּיִן לָנוּ שֶׁנִּקְרֵאת הַנְּבִיעָה אַחַת? כְּמוֹ שֶׁנֶּאֱמַר יִקָּווּ הַמַּיִם מִתַּחַת הַשָּׁמַיִם אֶל מָקוֹם אֶחָד וְתֵרָאֶה הַיַּבָּשָׁה, אדנ"י.
Tikkun 61 – 2
The Tree of Life in the Garden of Eden is the aspect of the YHVH.
י – Y – The spring and the fruit of the Tree
ה – H – The roots of the Tree
ו – V – The trunk of the Tree
ה – H – The leaves of the Tree
The Garden of Eden was where the rivers flowed to nourish the entire existence. Eve caused a disconnection from the Tree of Life and the source of nourishment to the entire existence that is the Lower level.
Adam's wrong consciousness caused the disconnection of the Tree from its supernal source that is the Upper level.
We have daily choices to connect to the Tree of Life, or disconnect from it. We need a pure vessel and pure consciousness. Without that we are in the dark, which is chaos.
{||}