Daily Zohar – Tikunim – # 760 – Can you pass through the 'Flaming Sword'?
Click here to listen to the Daily Zohar [audio:https://dailyzohar.com/wp-content/uploads/audio/dz760.mp3|titles=Daily Zohar 760]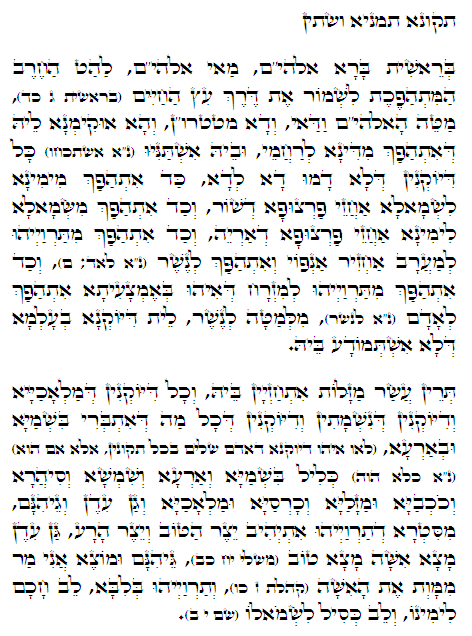 Hebrew translation:
תִּקּוּן שְׁמוֹנָה וְשִׁשִּׁים
בְּרֵאשִׁית בָּרָ"א אֱלֹהִי"ם, מַה זֶּה אֱלֹהִי"ם? לַהַט הַחֶרֶב הַמִּתְהַפֶּכֶת לִשְׁמֹר אֶת דֶּרֶךְ הַחַיִּים, מַטֵּה הָאֱלֹהִי"ם וַדַּאי, וְזֶה מטטרו"ן, וַהֲרֵי בֵּאַרְנוּ שֶׁמִּתְהַפֵּךְ מִדִּין לְרַחֲמִים, וּבוֹ הִשְׁתַּנּוּ (נִמְצְאוּ) כָּל הַדְּמֻיּוֹת שֶׁלֹּא דָמוּ זוֹ לָזוֹ. כְּשֶׁמִּתְהַפֵּךְ מִיָּמִין לִשְׂמֹאל, הוּא מַרְאֶה פַּרְצוּף שֶׁל שׁוֹר. וּכְשֶׁמִּתְהַפֵּךְ מִשְּׂמֹאל לְיָמִין, מַרְאֶה פַּרְצוּף שֶׁל אַרְיֵה. וּכְשֶׁמִּתְהַפֵּךְ מִשְּׁנֵיהֶם לַמַּעֲרָב, מַחֲזִיר פָּנָיו וּמִתְהַפֵּךְ לְנֶשֶׁר (לְאָדָם). וּכְשֶׁמִּתְהַפֵּךְ מִשְּׁנֵיהֶם לַמִּזְרָח, שֶׁהוּא בָאֶמְצַע, מִתְהַפֵּךְ לְאָדָם (לְנֶשֶׁר), מִלְּמַטָּה לְנֶשֶׁר, אֵין דְּמוּת בָּעוֹלָם שֶׁלֹּא נוֹדַעַת בּוֹ.
שְׁנֵים עָשָׂר מַזָּלוֹת נִרְאִים בּוֹ, וְכָל הַדְּמֻיּוֹת שֶׁל הַמַּלְאָכִים, וְהַדְּמֻיּוֹת שֶׁל הַנְּשָׁמוֹת, וְהַדְּמֻיּוֹת שֶׁל כָּל מַה שֶּׁנִּבְרָא בַשָּׁמַיִם וּבָאָרֶץ, (אֵינוֹ דְּמוּת שֶׁל אָדָם שָׁלֵם בְּכָל הַתִּקּוּנִים, אֶלָּא אִם הוּא) (כְּלֹא הָיָה) כָּלוּל בַּשָּׁמַיִם וּבָאָרֶץ וְשֶׁמֶשׁ וְיָרֵחַ וְכוֹכָבִים וּמַזָּלוֹת וְהַכִּסֵּא וְהַמַּלְאָכִים וְגַן עֵדֶן וְגֵיהִנֹּם, מֵהַצַּד שֶׁל שְׁנֵיהֶם נִתָּן הַיֵּצֶר הַטּוֹב וְהַיֵּצֶר הָרָע. גַּן עֵדֶן – מָצָא אִשָּׁה מָצָא טוֹב, גֵּיהִנֹּם – וּמוֹצֶא אֲנִי מַר מִמָּוֶת אֶת הָאִשָּׁה, וּשְׁנֵיהֶם בַּלֵּב, לֵב חָכָם לִימִינוֹ וְלֵב כְּסִיל לִשְׂמֹאלוֹ.
Tikkun 68
"בְּרֵאשִׁית בָּרָ"א אֱלֹהִי"ם", "In the Beginning God Created….". The Zohar asks "What is God (ELHYM)?" and answers that God is a force that controls the world and moves between Judgment (Left) and Mercy (Right).
The act of Creation was done solely by ELHYM and after it was completed, YHVH appeared with the aspect of Mercy.
After the sin, YHVH ELHYM sent the man away from the Garden of Eden and placed 'the flaming sword which turned every way' to protect the way to the Tree of Life.
Genesis 3:24
"וַיְגָרֶשׁ, אֶת-הָאָדָם; וַיַּשְׁכֵּן מִקֶּדֶם לְגַן-עֵדֶן אֶת-הַכְּרֻבִים, וְאֵת לַהַט הַחֶרֶב הַמִּתְהַפֶּכֶת, לִשְׁמֹר, אֶת-דֶּרֶךְ עֵץ הַחַיִּים."
"So He drove out the man; and He placed at the east of the Garden of Eden the cherubim, and the flaming sword which turned every way, to keep the way to the tree of life."
The Zohar says that the flaming sword is the aspect of the Archangel Metatron that controls the border between the world of Tikkun, ELHYM and YHVH. We no longer have free access to the Tree of Life. We need to earn the light and pass the angel Metatron to connect to the light of YHVH.
Metatron also controls all the spiritual directions, the 12 constellations of the Zodiac and all that is in heavens and earth. The only way to get through him is by using the central column. There are no 'short cuts' to it because the only way we can get there is when we bring the right and restrict the left. Then both columns get merged and the central column is formed. The Shechina can then ascend and take our prayers and meditation up to Metatron. If we are worthy then we pass through, otherwise we are ignored. YHVH does not listen to prayers that don't pass through Metatron.
{||}