Daily Zohar – Tikunim – # 827 – YHVH is our warrior
Click here to listen to the Daily Zohar [audio:https://dailyzohar.com/wp-content/uploads/audio/dz827.mp3|titles=Daily Zohar 827]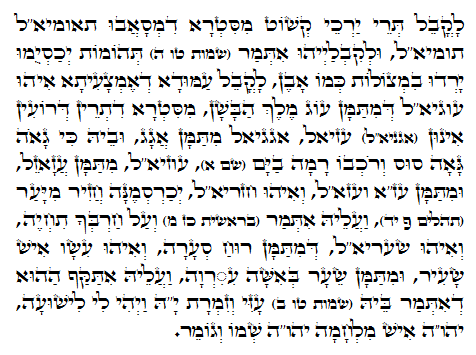 Hebrew translation:
כְּנֶגֶד שְׁנֵי יַרְכֵי הָאֱמֶת מִצַּד הַטֻּמְאָה תאומיא"ל תומיא"ל, וּכְנֶגְדָּם נֶאֱמַר תְּהֹמֹת יְכַסְיֻמוּ יָרְדוּ בִמְצוֹלֹת כְּמוֹ אָבֶן, כְּנֶגֶד הָעַמּוּד הָאֶמְצָעִי הוּא עוגיא"ל, שֶׁמִּשָּׁם עוֹג מֶלֶךְ הַבָּשָׁן, מִצַּד שְׁתֵּי הַזְּרוֹעוֹת הֵם (אגניא"ל) עזיא"ל, אגגיא"ל מִשָּׁם אֲגָג, וּבוֹ כִּי גָאֹה גָּאָה סוּס וְרֹכְבוֹ רָמָה בַיָּם. עוזיא"ל מִשָּׁם עֲזָאזֵל, וּמִשָּׁם עז"א וַעזא"ל, וְהוּא חזריא"ל, יְכַרְסְמֶנָּה חֲזִיר מִיָּעַר, וְעָלָיו נֶאֱמַר וְעַל חַרְבְּךָ תִחְיֶה, וְהוּא שעריא"ל, שֶׁמִּשָּׁם רוּחַ סְעָרָה, וְהוּא עֵשָׂו אִישׁ שָׂעִיר, וּמִשָּׁם שֵׂעָר בְּאִשָּׁה עֶרְוָה, וְעָלָיו הִתְגַּבֵּר אוֹתוֹ שֶׁנֶּאֱמַר בּוֹ עָזִּי וְזִמְרָת יָ"הּ וַיְהִי לִי לִישׁוּעָה, יהו"ה אִישׁ מִלְחָמָה יהו"ה שְׁמוֹ וְגוֹמֵר.
Tikkun 69 – 67
Against the holy Malchut there is the impure and evil Malchut.
The negative angels of the evil side in the aspect of the right and left leg (Netzach and Hod) are תאומיא"ל and תומיא"ל.
The following verse implies the end of their negativity.
Exodus 15:5
"תְּהֹמֹת, יְכַסְיֻמוּ; יָרְדוּ בִמְצוֹלֹת, כְּמוֹ-אָבֶן. "
"The deeps cover them–they went down into the depths like a stone"
Against the central column we have עוגיא"ל that is the aspect of the evil Og king of Bashan (Numbers 21:33).
Against the Right and left arms (Chessed and Gevurah) we have אגגיא"ל, the aspect of the Agag, king of Amalek (1 Samuel 15:8 ) (that from his seeds came Haman) and עז"א and עזא"ל
The power against these negativity are taught to us in Exodus 15:2
"עָזִּי וְזִמְרָת יָהּ, וַיְהִי-לִי לִישׁוּעָה; "
"YHVH is my strength (עָזִּי) and song (יָהּ), and He is become my salvation "
עָזִּי is עז and י. The two letter עז with numerical value of 77 is the aspect of Torah and also equals to מזל, meaning 'luck'. The י is representing the entire system as it is the first letter of the YHVH name.
Exodus 15:3 "יְהוָה, אִישׁ מִלְחָמָה; יְהוָה, שְׁמוֹ"
"YHVH is a man of war, YHVH is His name."
With the power of the name we win the wars against the negative side.
{||}