Daily Zohar – Tikunim – # 832 – "I will take away the stony heart out of your flesh…"
Click here to listen to the Daily Zohar [audio:https://dailyzohar.com/wp-content/uploads/audio/dz832.mp3|titles=Daily Zohar 832]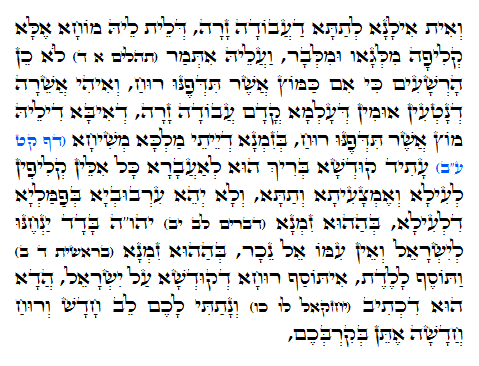 Hebrew translation:
וְיֵשׁ עֵץ לְמַטָּה שֶׁל עֲבוֹדָה זָרָה שֶׁאֵין לוֹ מֹחַ, אֶלָּא קְלִפָּה מִבִּפְנִים וּמִבַּחוּץ, וְעָלָיו נֶאֱמַר לֹא כֵן הָרְשָׁעִים כִּי אִם כַּמּוֹץ אֲשֶׁר תִּדְּפֶנּוּ רוּחַ, וְהִיא הָאֲשֵׁרָה שֶׁנּוֹטְעִים אֻמּוֹת הָעוֹלָם לִפְנֵי עֲבוֹדָה זָרָה, שֶׁפִּרְיָהּ מוֹץ אֲשֶׁר תִּדְּפֶנּוּ רוּחַ. בִּזְמַן שֶׁיָּבֹא מֶלֶךְ הַמָּשִׁיחַ, עָתִיד הַקָּדוֹשׁ בָּרוּךְ הוּא לְהַעֲבִיר אֶת כָּל הַקְּלִפּוֹת הַלָּלוּ לְמַעְלָה וּבָאֶמְצַע וּלְמַטָּה, וְלֹא תִהְיֶה עִרְבּוּבְיָה בְּפָמַלְיָה שֶׁל מַעְלָה, בְּאוֹתוֹ זְמַן יהו"ה בָּדָד יַנְחֶנּוּ, לְיִשְׂרָאֵל, וְאֵין עִמּוֹ אֵל נֵכָר, בְּאוֹתוֹ זְמַן וַתּוֹסֶף לָלֶדֶת, נוֹסֶפֶת רוּחַ שֶׁל קֹדֶשׁ עַל יִשְׂרָאֵל. זֶהוּ שֶׁכָּתוּב וְנָתַתִּי לָכֶם לֵב חָדָשׁ וְרוּחַ חֲדָשָׁה אֶתֵּן בְּקִרְבְּכֶם.

Tikkun 69 – 72
When Mashiach comes, the Holy one, Bless be He will separate and remove the Klipot from all levels of existence.
There will be no more mix of Good and Bad, only the pure system of YHVH.
Deuteronomy 32:12
"יְהוָה, בָּדָד יַנְחֶנּוּ; וְאֵין עִמּוֹ, אֵל נֵכָר"
"YHVH alone will lead him, and there was no strange god (Klipot, negativity) with Him"
The Zohar points to the next verse as a secret to bringing the holyness to the world. Cain was a mix of Good and Bad because of the sin but Able, who is the soul of Moses, came after Cain as a pure person.
Genesis 4:2
" וַתֹּסֶף לָלֶדֶת, אֶת-אָחִיו אֶת-הָבֶל"
"And again she bore his brother Abel."
At the end of the tikkun we are promised the renewal of body and soul.
Ezekiel 36:26
" וְנָתַתִּי לָכֶם לֵב חָדָשׁ, וְרוּחַ חֲדָשָׁה אֶתֵּן בְּקִרְבְּכֶם; וַהֲסִרֹתִי אֶת-לֵב הָאֶבֶן, מִבְּשַׂרְכֶם, וְנָתַתִּי לָכֶם, לֵב בָּשָׂר "
"A new heart also will I give you, and a new spirit will I put within you; and I will take away the stony heart out of your flesh, and I will give you a heart of flesh."
One aspect of the promised new heart is related to a new Torah that will have no tikkun process. We will receive additional soul level that is above the level of Neshamah. The 'heart of flesh' implies greater ability to change a progress beyond limitations.
{||}