Daily Zohar – Tikunim – # 833 – Adam Kadmon part – 1
Click here to listen to the Daily Zohar [audio:https://dailyzohar.com/wp-content/uploads/audio/dz833.mp3|titles=Daily Zohar 833]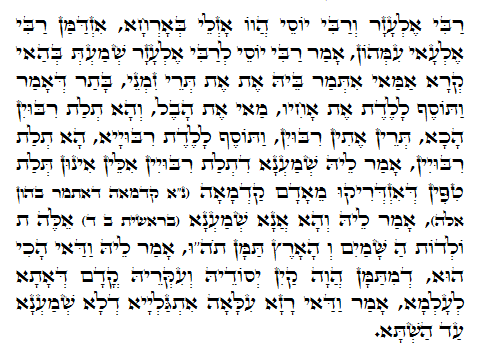 Hebrew translation:
רַבִּי אֶלְעָזָר וְרַבִּי יוֹסֵי הָיוּ הוֹלְכִים בַּדֶּרֶךְ, הִזְדַּמֵּן רַבִּי אֶלְעַאי עִמָּהֶם. אָמַר רַבִּי יוֹסֵי לְרַבִּי אֶלְעָזָר, שָׁמַעְתָּ בַּפָּסוּק הַזֶּה לָמָּה נֶאֱמַר בּוֹ אֶת אֶת פַּעֲמַיִם, אַחַר שֶׁאָמַר וַתּוֹסֶף לָלֶדֶת אֶת אָחִיו, מַה זֶּה אֶת הָבֶל? וַהֲרֵי שְׁלֹשָׁה רִבּוּיִים יֵשׁ כָּאן: שְׁנֵי אֶתִים – רִבּוּיִים, וַתּוֹסֶף לָלֶדֶת – רִבּוּי, הֲרֵי שְׁלֹשָׁה רִבּוּיִים? אָמַר לוֹ, שָׁמַעְתִּי שֶׁשְּׁלֹשָׁה רִבּוּיִים אֵלּוּ הֵם שָׁלֹשׁ טִפּוֹת שֶׁנִּזְרְקוּ מֵאָדָם הָרִאשׁוֹן (הָרִאשׁוֹן שֶׁנֶּאֱמַר בָּהֶן אֵלֶּה). אָמַר לוֹ, וַהֲרֵי אֲנִי שָׁמַעְתִּי, אֵלֶּה ת'וֹלְדוֹת הַ'שָּׁמַיִם וְ'הָאָרֶץ – שָׁם תֹּה"וּ. אָמַר לוֹ, וַדַּאי כָּךְ הוּא, שֶׁמִּשָּׁם הָיָה קַיִן יְסוֹדוֹ וְעִקָּרוֹ לִפְנֵי שֶׁבָּא לָעוֹלָם. אָמַר, וַדַּאי סוֹד עֶלְיוֹן הִתְגַּלָּה שֶׁלֹּא שָׁמַעְנוּ עַד עַתָּה.
Tikkun 69 – 73
Genesis 4:2 " וַתֹּסֶף לָלֶדֶת, אֶת-אָחִיו אֶת-הָבֶל"
"And again she bore his brother Abel"
Three students of Rabbi Shimon, Rabbi Elazar, his son, Rabbi Yossi and Rabbi El'ai were studying together in an elevated state and the question was raised to why the verse above has three references to plural with the first, third and fifth words.
Genesis 2:4
"אֵלֶּה תוֹלְדוֹת הַשָּׁמַיִם וְהָאָרֶץ, בְּהִבָּרְאָם: בְּיוֹם, עֲשׂוֹת יְהוָה אֱלֹהִים–אֶרֶץ וְשָׁמָיִם"
"These are the generations of the heaven and of the earth when they were created, in the day that the LORD God made earth and heaven"
The students revealed from the secret of this verse that there were three drops which came from Adam Kadmon, something that they never heard before.
The following Zohar sections discuss the process of Creating the Tree of Life and the Ten Sefirot system.

(Continue on the next Daily Zohar)
{||}