Daily Zohar – Tikunim – # 837 – Kabbalah Joke
Click here to listen to the Daily Zohar [audio:https://dailyzohar.com/wp-content/uploads/audio/dz837.mp3|titles=Daily Zohar 837]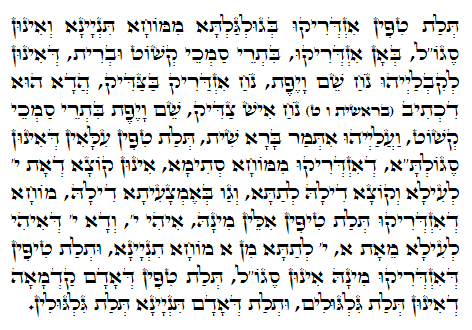 Hebrew translation:
שָׁלֹשׁ טִפּוֹת נִזְרְקוּ בַּגֻּלְגֹּלֶת מִן הַמֹּחַ הַשֵּׁנִי, וְהֵן סֶגּוֹ"ל, אֵיפֹה נִזְרְקוּ? בִּשְׁנֵי עַמּוּדֵי אֱמֶת וּבְרִית, שֶׁהֵם כְּנֶגֶד נֹחַ שֵׁם וְיֶפֶת. נֹחַ נִזְרָק בְּצַדִּיק, זֶהוּ שֶׁכָּתוּב נֹחַ אִישׁ צַדִּיק, שֵׁם וְיֶפֶת בִּשְׁנֵי עַמּוּדֵי אֱמֶת, וַעֲלֵיהֶם נֶאֱמַר בָּרָא שִׁית. שָׁלֹשׁ טִפּוֹת עֶלְיוֹנוֹת שֶׁהֵן סֶגוֹלְתָּ"א, שֶׁנִּזְרְקוּ מֵהַמֹּחַ הַנִּסְתָּר, הֵן הַקּוֹץ שֶׁל הָאוֹת י' לְמַעְלָה, וְהַקּוֹץ שֶׁלָּהּ לְמַטָּה, וְהַגַּו בְּאֶמְצָעִיתָהּ, הַמֹּחַ שֶׁנִּזְרְקוּ שְׁלֹשׁ הַטִּפּוֹת הַלָּלוּ מִמֶּנּוּ, הוּא י', וְזוֹ י' שֶׁהִיא מֵעַל לָאוֹת א, י' לְמַטָּה מִן א – הַמֹּחַ הַשֵּׁנִי, וּשְׁלֹשׁ הַטִּפּוֹת שֶׁנִּזְרְקוּ מִמֶּנָּה הֵן סֶגּוֹ"ל, שְׁלֹשׁ הַטִּפּוֹת שֶׁל אָדָם הָרִאשׁוֹן שֶׁהֵם שְׁלֹשָׁה גִלְגּוּלִים, וְשָׁלֹשׁ שֶׁל הָאָדָם הַשֵּׁנִי שְׁלֹשָׁה גִלְגּוּלִים.
Tikkun 69 – 77
Three drops were injected into the 'skull' and they are called "Segol"
The 'skull' is reference to the light that surrounds Keter of Arich Anpin that represents the world of Atzilut, Emanation.
These lights came out from the middle of the 'belly' 'טיבור' of Adam Kadmon.
The three drops were Keter, Chokmah and Binah of Atik that formed the first head of Atzilut and allowed Arich Anpin to be 'dressed' in it.
These are the secrets רזין and secrets of secrets רזין דרזין of the world of Atzilut.
It is very hard to understand concepts for new kabbalah students but the value of this study is in letting the brain absorb the terms rather than the logic.
To 'lighten' up this study I will share a 'kabbalistic' joke.
Q. "What is the different between 'secrets' and 'secrets of secrets'?"
A. "Secrets are things that the teacher knows but not the students. Secrets of Secrets are when both teacher and students have no understanding."
Tikkun 69 of the Tikunei Zohar that we study on the Daily Zohar is 'heavy' with secrets of the Tree of Life.
I've added study of the Tree of Life to the site and the link can be found on the top menu bar, under "Tree of Life" title. Please add your comments and questions to get into this deep level of Kabbalah and draw awesome light that comes with this study.
{||}