Daily Zohar – Tikunim – # 890 – When will we all experience immortality?
Click here to listen to the Daily Zohar [audio:https://dailyzohar.com/wp-content/uploads/audio/dz890.mp3|titles=Daily Zohar 890]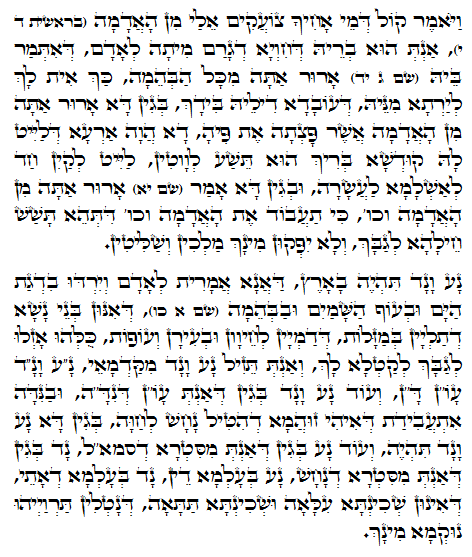 Hebrew translation:
וַיֹּאמֶר קוֹל דְּמֵי אָחִיךָ צֹעֲקִים אֵלַי מִן הָאֲדָמָה, אַתָּה הוּא בְנוֹ שֶׁל הַנָּחָשׁ שֶׁגָּרַם מִיתָה לָאָדָם, שֶׁנֶּאֱמַר בּוֹ אָרוּר אַתָּה מִכָּל הַבְּהֵמָה, כָּךְ יֵשׁ לְךָ לִירַשׁ מִמֶּנּוּ, שֶׁמַּעֲשֵׂהוּ בְיָדְךָ, בִּגְלַל זֶה אָרוּר אַתָּה מִן הָאֲדָמָה אֲשֶׁר פָּצְתָה אֶת פִּיהָ, זוֹ הָיְתָה הָאָרֶץ שֶׁקִּלֵּל אוֹתָהּ הַקָּדוֹשׁ בָּרוּךְ הוּא תֵּשַׁע קְלָלוֹת, וְקִלֵּל אֶת קַיִן אַחַת לְהַשְׁלִים לַעֲשָׂרָה, וּמִשּׁוּם זֶה אָמַר אָרוּר אַתָּה מִן הָאֲדָמָה וְכוּ', כִּי תַעֲבֹד אֶת הָאֲדָמָה וְכוּ', שֶׁכֹּחָהּ יִהְיֶה תָשׁוּשׁ אֵלֶיךָ, וְלֹא יֵצְאוּ מִמְּךָ מְלָכִים וְשַׁלִּיטִים.נָע וָנָד תִּהְיֶה בָאָרֶץ, שֶׁאֲנִי אָמַרְתִּי לְאָדָם וְיִרְדּוּ בִדְגַת הַיָּם וּבְעוֹף הַשָּׁמַיִם וּבַבְּהֵמָה, שֶׁהֵם בְּנֵי אָדָם שֶׁתְּלוּיִים בַּמַּזָּלוֹת, שֶׁדּוֹמִים לְחַיּוֹת וּבְהֵמוֹת וְעוֹפוֹת, כֻּלָּם הוֹלְכִים אֵלֶיךָ לַהֲרֹג אוֹתְךָ, וְאַתָּה תֵלֵךְ נָע וָנָד מֵהָרִאשׁוֹנִים, נָ"ע וָנָ"ד עָוֹ"ן דָּ"ן. וְעוֹד נָע וָנָד, מִשּׁוּם שֶׁאַתָּה עָוֹ"ן שֶׁל נִדָּ"ה, וּבְנִדָּה נַעֲשֵׂיתָ, שֶׁהִיא הַזֻּהֲמָה שֶׁהִטִּיל הַנָּחָשׁ בְּחַוָּה, בִּגְלַל זֶה נָע וָנָד תִּהְיֶה. וְעוֹד נָע, מִשּׁוּם שֶׁאַתָּה מֵהַצַּד שֶׁל סמא"ל, נָד מִשּׁוּם שֶׁאַתָּה מִצַּד הַנָּחָשׁ, נָע בָּעוֹלָם הַזֶּה, נָד בָּעוֹלָם הַבָּא, שֶׁהֵם שְׁכִינָה עֶלְיוֹנָה וּשְׁכִינָה תַחְתּוֹנָה, שֶׁיִּקְחוּ שְׁתֵּיהֶן מִמְּךָ נְקָמוֹת.
Tikkun 69 – 130
The Zohar in this section is explicitly saying that Cain was the child of the Snake that brought mortality to the world.
The Snake was the first one to be cursed in the Torah.
Genesis 3:14
"וַיֹּאמֶר יְהוָה אֱלֹהִים אֶל-הַנָּחָשׁ, כִּי עָשִׂיתָ זֹּאת, אָרוּר אַתָּה מִכָּל-הַבְּהֵמָה, וּמִכֹּל חַיַּת הַשָּׂדֶה; עַל-גְּחֹנְךָ תֵלֵךְ, וְעָפָר תֹּאכַל כָּל-יְמֵי חַיֶּיךָ."
"And the LORD God said unto the serpent: 'Because thou hast done this, cursed art thou from among all cattle, and from among all beasts of the field; upon thy belly shalt thou go, and dust shalt thou eat all the days of thy life "
Man, Women and the ground (earth) were cursed after that. See DailyZohar #736 https://dailyzohar.com/?p=5565 for details
Genesis 3:17
" וּלְאָדָם אָמַר, כִּי-שָׁמַעְתָּ לְקוֹל אִשְׁתֶּךָ, וַתֹּאכַל מִן-הָעֵץ, אֲשֶׁר צִוִּיתִיךָ לֵאמֹר לֹא תֹאכַל מִמֶּנּוּ–אֲרוּרָה הָאֲדָמָה, בַּעֲבוּרֶךָ, בְּעִצָּבוֹן תֹּאכְלֶנָּה, כֹּל יְמֵי חַיֶּיךָ "
"And unto Adam He said: 'Because thou hast hearkened unto the voice of thy wife, and hast eaten of the tree, of which I commanded thee, saying: Thou shalt not eat of it; cursed is the ground for thy sake; in toil shalt thou eat of it all the days of thy life."
Previously God cursed the Snake, Man and Woman each with 10 curses and the earth with 9 curses. Now with the killing of Abel, Cain received one curse to complete the tenth curse of the ground that opened her mouth for Abel's blood.
Genesis 4:11
" וְעַתָּה, אָרוּר אָתָּה, מִן-הָאֲדָמָה אֲשֶׁר פָּצְתָה אֶת-פִּיהָ, לָקַחַת אֶת-דְּמֵי אָחִיךָ מִיָּדֶךָ."
"And now cursed art thou from the ground, which hath opened her mouth to receive thy brother's blood from thy hand."
In 4:12 we read the details of the curse; " כִּי תַעֲבֹד אֶת-הָאֲדָמָה, לֹא-תֹסֵף תֵּת-כֹּחָהּ לָךְ; נָע וָנָד, תִּהְיֶה בָאָרֶץ" "When you work the ground, it will no longer yield its crops for you. You will be a restless wanderer on the earth".
As we will read in the next Daily Zohar, Cain repented immediately and the curse was lifted. For that, he merited completing his Tikkun with the reincarnation as Jethro.
The original 39 curses will be removed from existence when God brings down the Dew on earth.
Isaiah 26:19 "הָקִיצוּ וְרַנְּנוּ שֹׁכְנֵי עָפָר, כִּי טַל אוֹרֹת טַלֶּךָ" "You who dwell in the dust, awake and sing for joy! For your dew is a dew of light,"
Dew is טל and numerically 39 and is equivalent to the spelled form of the upper three letters of the name יהו as יוד-הא-ואו. When this name reveals its light, all curses will be removed from us and we will experience immortality with the resurrection of the dead.
Until then we should work hard to reveal the light of the Zohar to increase the global vessel for receiving this light.
{||}