Daily Zohar – Tikunim – # 900 – Hear, O Israel
Click here to listen to the Daily Zohar [audio:https://dailyzohar.com/wp-content/uploads/audio/dz900.mp3|titles=Daily Zohar 900]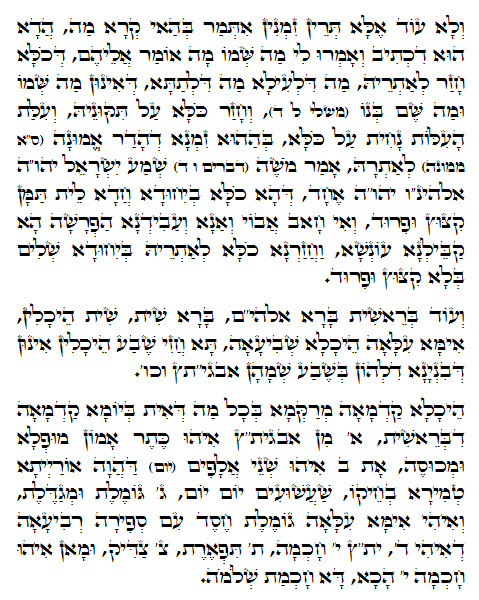 Hebrew translation:
וְלֹא עוֹד, אֶלָּא פַעֲמַיִם נֶאֱמַר בַּפָּסוּק הַזֶּה מָה, זֶהוּ שֶׁכָּתוּב וְאָמְרוּ לִי מַה שְּׁמוֹ מָה אֹמַר אֲלֵיהֶם, שֶׁהַכֹּל חָזַר לִמְקוֹמוֹ, מַה שֶּׁלְּמַעְלָה וּמַה שֶּׁלְּמַטָּה, שֶׁהֵם מַה שְּׁמוֹ וּמַה שֶּׁם בְּנוֹ, וְחָזַר הַכֹּל עַל תִּקּוּנוֹ, וְעִלַּת הָעִלּוֹת יָרַד עַל הַכֹּל. בְּאוֹתוֹ זְמַן שֶׁחָזְרָה אֱמוּנָה (מְמֻנָּה) לִמְקוֹמָהּ, אָמַר מֹשֶׁה שְׁמַע יִשְׂרָאֵל יהו"ה אֱלֹהֵינ"וּ יהו"ה אֶחָד, שֶׁהֲרֵי הַכֹּל בְּיִחוּד אֶחָד, אֵין שָׁם קִצּוּץ וּפֵרוּד, וְאִם חָטָא אָבִיו וַאֲנִי וְעָשִׂיתִי הַפְרָדָה, הֲרֵי קִבַּלְתִּי עֹנֶשׁ, וְהֶחֱזַרְתִּי הַכֹּל לִמְקוֹמוֹ בְּיִחוּד שָׁלֵם בְּלִי קִצּוּץ וּפֵרוּד.
וְעוֹד בְּרֵאשִׁית בָּרָא אֱלֹהִי"ם, בָּרָא שִׁית, שִׁשָּׁה הֵיכָלוֹת, הָאֵם הָעֶלְיוֹנָה הַהֵיכָל הַשְּׁבִיעִי. בֹּא וּרְאֵה, שִׁבְעָה הֵיכָלוֹת הֵם שֶׁבִּנְיָנָם בְּשִׁבְעָה שְׁמוֹת אבגית"ץ וְכוּ'.
הַהֵיכָל הָרִאשׁוֹן מְרֻקָּם בְּכָל מַה שֶּׁיֵּשׁ בַּיּוֹם הָרִאשׁוֹן שֶׁל בְּרֵאשִׁית, א' מִן אבגית"ץ הוּא כֶּתֶר אָמוֹן מֻפְלָא וּמְכֻסֶּה, הָאוֹת ב' הִיא שְׁנֵי אֲלָפִים (יוֹם) שֶׁהָיְתָה תוֹרָה טְמוּנָה בְחֵיקוֹ, שַׁעֲשׁוּעִים יוֹם יוֹם, ג' גּוֹמֶלֶת וּמְגַדֶּלֶת, וְהִיא הָאֵם הָעֶלְיוֹנָה, גּוֹמֶלֶת חֶסֶד עִם הַסְּפִירָה הָרְבִיעִית שֶׁהִיא ד', ית"ץ י' חָכְמָה, ת' תִּפְאֶרֶת, צ' צַדִּיק, וּמִי הוּא חָכְמָה י' כָּאן? זוֹ חָכְמַת שְׁלֹמֹה.
Tikkun 70-5
When God reveled himself to Moses in the 'Burning Bush' event, he said (Exodus 6:3)
" וָאֵרָא, אֶל-אַבְרָהָם אֶל-יִצְחָק וְאֶל-יַעֲקֹב–בְּאֵל שַׁדָּי; וּשְׁמִי יְהוָה, לֹא נוֹדַעְתִּי לָהֶם"
"and I appeared unto Abraham, unto Isaac, and unto Jacob, as God Almighty (אֵל שַׁדָּי), but by My name YHVH I made Me not known to them."
God Almighty (אֵל שַׁדָּי), is the aspect of Chessed with the numerical values of 31, 314 that represents the 'border' between the lower and upper worlds (circle).
Later Moses asked God with what name he is going to reveal himself to the people.
Exodus 3:13
"וַיֹּאמֶר מֹשֶׁה אֶל-הָאֱלֹהִים, הִנֵּה אָנֹכִי בָא אֶל-בְּנֵי יִשְׂרָאֵל, וְאָמַרְתִּי לָהֶם, אֱלֹהֵי אֲבוֹתֵיכֶם שְׁלָחַנִי אֲלֵיכֶם; וְאָמְרוּ-לִי מַה-שְּׁמוֹ, מָה אֹמַר אֲלֵהֶם"
"And Moses said unto God: 'Behold, when I come unto the children of Israel, and shall say unto them: The God of your fathers hath sent me unto you; and they shall say to me: What (מָה) is His name? what (מָה) shall I say unto them?'"
'What' is מָה (nunerically 45) that represents the name YHVH with the aspect of Zeir Anpin יוד-הא-ואו-הא (n. 45). This name is revealed when Moses came to his last Tikkun task.
and God answered (Exodus 3:15)
" וַיֹּאמֶר עוֹד אֱלֹהִים אֶל-מֹשֶׁה, כֹּה-תֹאמַר אֶל-בְּנֵי יִשְׂרָאֵל, יְהוָה אֱלֹהֵי אֲבֹתֵיכֶם אֱלֹהֵי אַבְרָהָם אֱלֹהֵי יִצְחָק וֵאלֹהֵי יַעֲקֹב, שְׁלָחַנִי אֲלֵיכֶם; זֶה-שְּׁמִי לְעֹלָם, וְזֶה זִכְרִי לְדֹר דֹּר"
"And God said moreover unto Moses: 'Thus shalt thou say unto the children of Israel: YHVH, the God of your fathers, the God of Abraham, the God of Isaac, and the God of Jacob, hath sent me unto you; this is My name for ever, and this is My memorial unto all generations."
Moses corrected the entire line of the central column and from this point on the Endless light could come down to Malchut. That gives us full connection to YHVH and the Torah could be revealed to all people.
Moses could then bring the powerful prayer to the world that unifies upper and lower as one.
In Deuteronomy 6:4 "שְׁמַע, יִשְׂרָאֵל: יְהוָה אֱלֹהֵינוּ, יְהוָה אֶחָד."
"Hear, O Israel: YHVH our God, YHVH is one "
{||}