Click here to listen to the Daily Zohar [audio:https://dailyzohar.com/wp-content/uploads/audio/dz961.mp3|titles=Daily Zohar 961]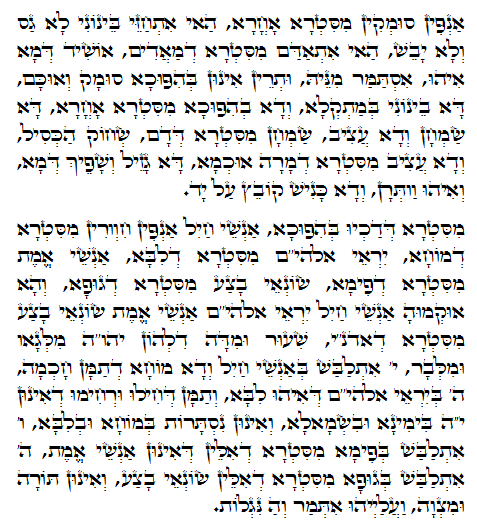 Hebrew translation:
Traduccion Sebastian Palen
Tikun 70-66
Gente del tipo de color rojo son por lo general del otro lado (negativo). Su tipo de cuerpo es medio, al igual que entre el agua y el fuego. Son controlados por el planeta Marte, מאדים cuyo nombre significa "hacer roja '. Estas personas son fáciles de "derramar sangre" y nosotros debemos tener cuidado de ellos.
El tipo "agua" es húmedo y frío, pero el rojo es del elemento de "aire" y tiene el agua y el fuego es húmedo y cálido. El rojo puede ser lúdico en el sentido negativo de seguir los deseos sexuales. Él puede derramar su sangre y tomar su dinero y gastarlo con facilidad.
El 'Negro' es de tipo "tierra", frío y seco, amargo y triste. Es barato y casi no gasta su dinero.
El lado positivo del "blanco" es que él se nutre de Jojma, la sabiduría y de la columna de la derecha. Su blancura proviene de un cerebro puro. Lo positivo del 'rojo' está desde el aspecto de Bina, a la izquierda de la columna y el corazón que se alimenta de pura energía en la sangre de color rojo.
Los aspectos positivos del tipo 'verde' es que tiene los atributos de la columna central y dice la verdad.
La Y del nombre de YHVH es 'vestida' con el 'blanco' y Jojma, la sabiduría de la Torá.
La H es 'vestida' con el 'rojo' y Bina, el temor en el corazón.
La V es 'vestida' en el 'verde' y Zeir Anpin, con decir la verdad y Jojma y Bina en el corazón.
La H es 'vestida' en el negro de Yesod y azul de Maljut, siguiendo los caminos de la luz.
{||}