Täglicher Zohar # 1088 Bleib bei weiß
Click here to listen to the Daily Zohar [audio:https://dailyzohar.com/wp-content/uploads/pinchas/audio/dp-1088.mp3|titles=Daily Zohar 1088]
Mobile devices, please touch here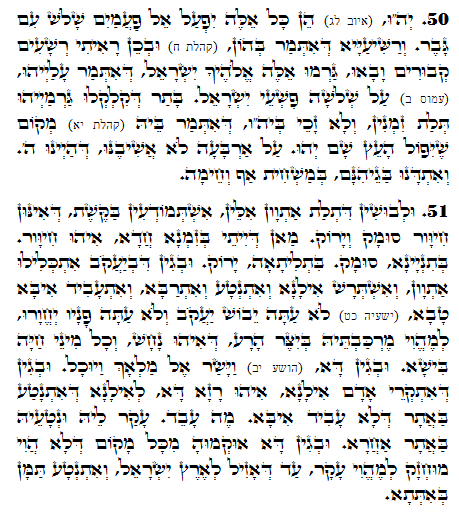 Hebrew translation:
50. יְה"וּ, (איוב לג) הֶן כָּל אֵלֶּה יִפְעַל אֵל פַּעֲמַיִם שָׁלוֹשׁ עִם גָּבֶר. וְהָרְשָׁעִים שֶׁנֶּאֱמַר בָּהֶם (קהלת ח) וּבְכֵן רָאִיתִי רְשָׁעִים קְבֻרִים וָבָאוּ, גָּרְמוּ (שמות לב) אֵלֶּה אֱלֹהֶיךָ יִשְׂרָאֵל, שֶׁנֶּאֱמַר עֲלֵיהֶם (עמוס ב) עַל שְׁלֹשָׁה פִּשְׁעֵי יִשְׂרָאֵל. אַחֲרֵי שֶׁקִּלְקְלוּ עַצְמָם שָׁלֹשׁ פְּעָמִים וְלֹא זָכוּ בְּיה"ו, שֶׁנֶּאֱמַר בּוֹ (קהלת יא) מְקוֹם שֶׁיִּפּוֹל הָעֵץ שָׁם יְהוּא. [וְ]עַל אַרְבָּעָה לֹא אֲשִׁיבֶנּוּ, דְּהַיְנוּ ה'. וְנִדּוֹנוּ בַגֵּיהִנֹּם בְּמַשְׁחִית אַף וְחֵמָה.
51. וּלְבוּשִׁים שֶׁל שָׁלֹשׁ אוֹתִיּוֹת הַלָּלוּ נוֹדָעִים בַּקֶּשֶׁת, שֶׁהֵם לָבָן, אָדֹם וְיָרֹק. מִי שֶׁיָּבֹא בִּזְמַן אֶחָד הוּא לָבָן, בַּשֵּׁנִי אָדֹם, בַּשְּׁלִישִׁי יָרֹק. וּמִשּׁוּם שֶׁבְּיַעֲקֹב נִכְלְלוּ הָאוֹתִיּוֹת, וְנִשְׁרַשׁ הָאִילָן וְנִנְטַע וְהִתְגַּדֵּל וְנַעֲשָׂה פְרִי טוֹב – (ישעיה כט) לֹא עַתָּה יֵבוֹשׁ יַעֲקֹב וְלֹא עַתָּה פָּנָיו יֶחֱוָרוּ, לִהְיוֹת מֶרְכַּבְתּוֹ בַּיֵּצֶר הָרָע, שֶׁהוּא נָחָשׁ וְכָל מִינֵי חַיָּה רָעָה, וּמִשּׁוּם זֶה – (הושע יב) וַיָּשַׂר אֶל מַלְאָךְ וַיּוּכָל. וּמִשּׁוּם שֶׁאָדָם נִקְרָא אִילָן, הוּא סוֹד זֶה לְאִילָן שֶׁנִּנְטַע בְּמָקוֹם שֶׁלֹּא עוֹשֶׂה פְרִי, מֶה עָשָׂה? עָקַר אוֹתוֹ וּנְטָעוֹ בְמָקוֹם אַחֵר. וּמִשּׁוּם זֶה פֵּרְשׁוּהָ בַּעֲלֵי הַמִּשְׁנָה, שֶׁלֹּא הָיָה מֻחְזָק לִהְיוֹת עָקָר, עַד שֶׁהָלַךְ לְאֶרֶץ יִשְׂרָאֵל וְנִנְטַע שָׁם בְּאִשָּׁה.
Pinchas 50,51
Die ersten drei Buchstaben des Namens YHVH, Yud Hei Vav stellen Aspekte auf drei Ebenen des Tikkun dar, die eine Seele durchläuft.
Job verstand den Tikkun Prozess und enthüllt ihn uns. Die Bösen müssen zur Korrektur zurück kommen.
Job 33:29
" הֶן-כָּל-אֵלֶּה, יִפְעַל-אֵל– פַּעֲמַיִם שָׁלוֹשׁ עִם-גָּבֶר "
´´Und so sah ich die Bösen begraben und sie kamen zurück´´.
Ecclesiastes 8:10
"וּבְכֵן רָאִיתִי רְשָׁעִים קְבֻרִים וָבָאוּ, "
"And so I saw the wicked buried, and they came back"
Was auch immer wir in einer Lebenszeit nicht korrigieren, muss im nächsten Leben korrigiert werden. Die zurück kehrende Seele geht durch einen härteren Reinigungs Prozess in was im Allgemeinen ´Hölle´ genannt wird.
Amos 2:6
"כֹּה, אָמַר יְהוָה, עַל-שְׁלֹשָׁה פִּשְׁעֵי יִשְׂרָאֵל, וְעַל-אַרְבָּעָה לֹא אֲשִׁיבֶנּוּ "
"So spricht YHVH: Für drei Verstöße von Israel, ja, für vier werde ich sie nicht zurück bringen."
Die drei Buchstaben des Namens Yud Hei Vav befinden sich im Regenbogen, weiß, rot und grün.
Die erste Art der Reinkarnation ist der Aspekt von ´weiß´ was Chessed und leichtes Tikkun bedeutet. Die zweite Art ist ´rot´, Gevurah, die mit Urteil und schwierigem Prozess kommt um Korrektur zu erreichen. Die dritte Art ist ´grün´für die mittlere Säule und es kombiniert den rechten und linken Aspekt des Tikkun.
Auf der ´grünen´ Ebene muss eine Person Ausgeglichenheit suchen und produktiver in ihren Handlungen werden.
{||}