Click here to listen to the Daily Zohar [audio:https://dailyzohar.com/wp-content/uploads/pinchas/audio/dp-1087.mp3|titles=Daily Zohar 1087]
Mobile devices, please touch here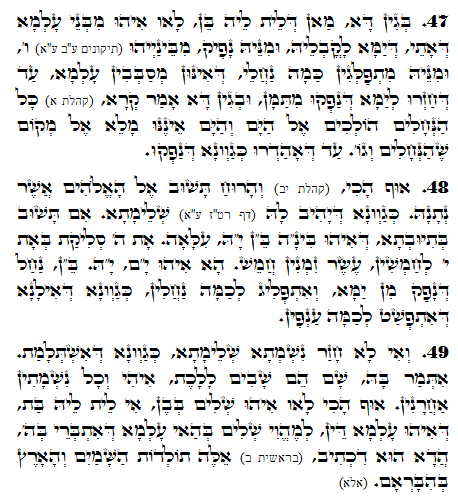 Hebrew translation:
47. בִּגְלַל זֶה מִי שֶׁאֵין לוֹ בֵּן אֵינוֹ מִבְּנֵי הָעוֹלָם הַבָּא, שֶׁהַיָּם לְמוּלוֹ, וּמִמֶּנּוּ יָצָא, מִבֵּינֵיהֶם ו', וּמִמֶּנּוּ נֶחֱלָקִים כַּמָּה נְחָלִים שֶׁמְּסוֹבְבִים אֶת הָעוֹלָם, עַד שֶׁחוֹזְרִים לַיָּם שֶׁיָּצְאוּ מִשָּׁם, וּמִשּׁוּם זֶה אָמַר הַפָּסוּק (קהלת א) כָּל הַנְּחָלִים הֹלְכִים אֶל הַיָּם וְהַיָּם אֵינֶנּוּ מָלֵא אֶל מְקוֹם שֶׁהַנְּחָלִים וְגוֹ'. עַד שֶׁחוֹזְרִים כְּמוֹ שֶׁיָּצְאוּ.
48. גַּם כָּךְ – (שם יב) וְהָרוּחַ תָּשׁוּב אֶל הָאֱלֹהִים אֲשֶׁר נְתָנָהּ. כְּמוֹ שֶׁנָּתַן אוֹתָהּ שְׁלֵמָה אִם תָּשׁוּב בִּתְשׁוּבָה, שֶׁהִיא בִּינָ"ה, בֶּ"ן יָ"הּ, עֶלְיוֹן. אוֹת ה' עוֹלָה בָּאוֹת י' לַחֲמִשִּׁים, עֶשֶׂר פְּעָמִים חָמֵשׁ. הֲרֵי הִיא יָ"ם, יָ"הּ. בֵּ"ן, נַחַל שֶׁיּוֹצֵא מֵהַיָּם וְנֶחֱלָק לְכַמָּה נְחָלִים, כְּמוֹ אִילָן שֶׁמִּתְפַּשֵּׁט לְכַמָּה עֲנָפִים.
49. וְאִם לֹא חָזְרָה נְשָׁמָה שְׁלֵמָה כְּמוֹ שֶׁהִשְׁתַּלְּמָה, נֶאֱמַר בָּהּ (שם א) שָׁם הֵם שָׁבִים לָלָכֶת, הִיא וְכָל הַנְּשָׁמוֹת הָאֲחֵרוֹת. גַּם כָּךְ אֵינֶנּוּ שָׁלֵם בְּבֵן אִם אֵין לוֹ בַּת, שֶׁהִיא הָעוֹלָם הַזֶּה, לִהְיוֹת שָׁלֵם בָּעוֹלָם הַזֶּה שֶׁנִּבְרָא בְה'. זֶהוּ שֶׁכָּתוּב (בראשית ב) אֵלֶּה תוֹלְדוֹת הַשָּׁמַיִם וְהָאָרֶץ בְּהִבָּרְאָם. (אֶלָּא)
Pinchas 47-49
Der Buchstabe Yud repräsentiert die Ebene von Chochmah und die spirituelle Welt, die in absoluter Ruhe ist. Der Zohar beschreibt es als ein feststehendes Rad, wartend auf eine eine lineare Kraft um es zu bewegen. Dies ist das Verhältnis zwischen dem Vav, Zeir Anpin das der Sohn und die Eltern ist; Chochmah, Vater und Binah, Mutter.
In der Welt von Malchut müssen Eltern Kinder haben, um die Räder der Seele weiterzuführen und den Tikkun Prozess bis zur endgültigen Erlösung fortzuführen.
Da´at (Wissen) nennt man die Sefira, die aus der Verbindung zwischen Chochmah und Binah (unseren spirituellen Eltern) gebildet wird. Es ist der Zustand von Vereinigung, der die Lebenskraft bis zu den unteren Ebenen weiterführt.
Ecclesiastic 1:7
"כָּל-הַנְּחָלִים הֹלְכִים אֶל-הַיָּם, וְהַיָּם אֵינֶנּוּ מָלֵא; אֶל-מְקוֹם, שֶׁהַנְּחָלִים הֹלְכִים–שָׁם הֵם שָׁבִים, לָלָכֶת "
´Alle Flüsse laufen ins Meer, dennoch ist das Meer nicht voll; an den Ort wohin die Flüsse gehen, dorthin gehen sie wieder.´´
Der Zohar erklärt, dass das Meer -Yud Final Mem- numerischer Wert 50, der Aspekt von Binah ist.
Die Flüsse sind der Aspekt von Zeir Anpin mit seinen sechs Sefirot. Sie gehen nach unten um Malchut zu nähren und gehen zu Binah zurück.
Es ist das gleiche mit der Seele einer Person.
Ecclesiastic 12:7
"וְיָשֹׁב הֶעָפָר עַל-הָאָרֶץ, כְּשֶׁהָיָה; וְהָרוּחַ תָּשׁוּב, אֶל-הָאֱלֹהִים אֲשֶׁר נְתָנָהּ. "
´´ Und der Staub kehrt zur Erde zurück wie es war und der Geist kehrt zu Gott zurück, der ihn gegeben hat.´´
Die Seele geht zu Binah zurück und erhält zur Reinigung die Wasser des Flusses (Zeir Anpin, Thora). Die Seele sollte in einem besseren Zustand sein als sie vorher war, denn das ist der Zweck des Lebens und des Tikkun Prozesses
{||}