Click here to listen to the Daily Zohar [audio:https://dailyzohar.com/wp-content/uploads/pinchas/audio/dp-1091.mp3|titles=Daily Zohar 1091]
Mobile devices, please touch here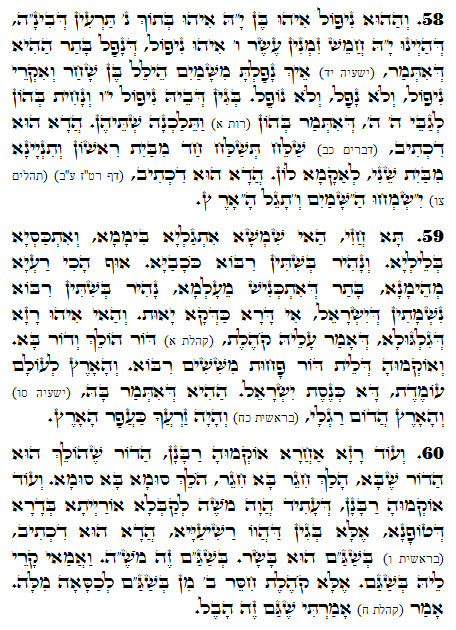 Hebrew translation:
58. וְאוֹתוֹ אֶפְרוֹחַ הוּא בֶּן יָ"הּ, הוּא בְּתוֹךְ חֲמִשִּׁים שַׁעֲרֵי בִינָ"ה, דְּהַיְנוּ יָ"הּ חָמֵשׁ פְּעָמִים עֶשֶׂר, ו' הוּא נִיפּוֹל, שֶׁנָּפַל אַחַר אוֹתָהּ שֶׁנֶּאֱמַר, (ישעיה יד) אֵיךְ נָפַלְתָּ מִשָּׁמַיִם הֵילֵל בֶּן שָׁחַר. וְנִקְרָא נִיפּוֹל, וְלֹא נָפַל, וְלֹא נוֹפֵל. מִשּׁוּם שֶׁבּוֹ נִיפּוֹל יֵשׁ י"ו, וְיוֹרֵד בָּהֶם לְגַבֵּי ה' ה', שֶׁנֶּאֱמַר בָּהֶן (רות א) וַתֵּלַכְנָה שְׁתֵּיהֶן. זֶהוּ שֶׁכָּתוּב (דברים כב) שַׁלֵּחַ תְּשַׁלַּח. אֶחָד מִבַּיִת רִאשׁוֹן, וְהַשֵּׁנִי מִבַּיִת שֵׁנִי, לַהֲקִימָם. זֶהוּ שֶׁכָּתוּב (תהלים צו) יִ"שְׂמְחוּ הַ"שָּׁמַיִם וְ"תָגֵל הָ"אָרֶץ.
59. בֹּא וּרְאֵה, הַשֶּׁמֶשׁ הַזֶּה מִתְגַּלֶּה בַיּוֹם, וּמִתְכַּסֶּה בַלַּיְלָה, וּמֵאִיר בְּשִׁשִּׁים רִבּוֹא כּוֹכָבִים. גַּם כָּךְ רוֹעֶה הַנֶּאֱמָן, כְּשֶׁהִתְכַּנֵּס מֵהָעוֹלָם, מֵאִיר בְּשִׁשִּׁים רִבּוֹא נִשְׁמוֹת יִשְׂרָאֵל, אִם הַדּוֹר כָּרָאוּי. וְזֶה סוֹד הַגִּלְגּוּל שֶׁאָמַר עָלָיו קֹהֶלֶת (קהלת א) דּוֹר הֹלֵךְ וְדוֹר בָּא. וּפֵרְשׁוּהָ שֶׁאֵין דּוֹר פָּחוֹת מִשִּׁשִּׁים רִבּוֹא. וְהָאָרֶץ לְעוֹלָם עֹמָדֶת – זוֹ כְּנֶסֶת יִשְׂרָאֵל, אוֹתָהּ שֶׁנֶּאֱמַר בָּהּ (ישעיה סו) וְהָאָרֶץ הֲדֹם רַגְלָי, (בראשית כח) וְהָיָה זַרְעֲךָ כַּעֲפַר הָאָרֶץ.
60. וְעוֹד סוֹד אַחֵר בֵּאֲרוּ הַחֲכָמִים, הַדּוֹר שֶׁהוֹלֵךְ הוּא הַדּוֹר שֶׁבָּא. הָלַךְ חִגֵּר בָּא חִגֵּר, הָלַךְ סוּמָא בָּא סוּמָא. וְעוֹד פֵּרְשׁוּהָ חֲכָמִים, שֶׁעָתִיד הָיָה מֹשֶׁה לְקַבֵּל תּוֹרָה בְּדוֹר הַמַּבּוּל, אֶלָּא מִשּׁוּם שֶׁהָיוּ רְשָׁעִים, זֶהוּ שֶׁכָּתוּב (שם ו) בְּשַׁגַּ"ם הוּא בָשָׂר. בְּשַׁגַּ"ם זֶה מֹשֶׁ"ה. וְלָמָּה קָרָא לוֹ בְּשַׁגַּ"ם? אֶלָּא קֹהֶלֶת חִסֵּר ב' מִבְּשַׁגַּ"ם לְכַסּוֹת הַדָּבָר. אָמַר, (קהלת ח) אָמַרְתִּי שֶׁגַּם זֶה הָבֶל.
Pinchas 58-60
Die Sonne, das ist der Aspekt von Zeir Anpin, ist am Tag enthüllt. Es ist während der Nacht verborgen und enthüllt durch 600.000 Sterne. Ähnlich wie der ´Getreue Hirte´ der Moses ist, nach dem Verlassen dieser Welt wiedergeboren wurde und sein Licht in die 600.000 Wurzeln der Israeliten Seelen scheint.
Der Zohar enthüllt, dass Moses die Thora in der Generation der Flut erhalten sollte, aber weil sie böse waren erhielt er sie nicht.
In unseren Reinkarnationen haben wir Gelegenheiten großes Licht zu enthüllen, aber es hängt von uns ab, die richtigen Entscheidungen zu treffen. Die meisten Menschen machen einfach eine Liste, um ihre Leben in dieser Welt zu verbessern. Das schließt Geld, Gesundheit und Beziehungen ein. Sehr wenige listen verpasste Gelegenheiten auf, um mit Güte zu handeln und anderen in Not zu helfen.
Was wir für uns tun in diesem Leben bleibt hier und wird mit uns beerdigt. NUR was wir Gutes für andere tun, gilt als Enthüllung des Lichts und ist an unserer Seele befestigt.
Sogar wenn wir den Zohar studieren sollten wir meditieren Licht zu enthüllen oder es zumindest zu Menschen die Unterstützung brauchen zu kanalisieren.
{||}