Click here to listen to the Daily Zohar [audio:https://dailyzohar.com/wp-content/uploads/audio/dz983.mp3|titles=Daily Zohar 983]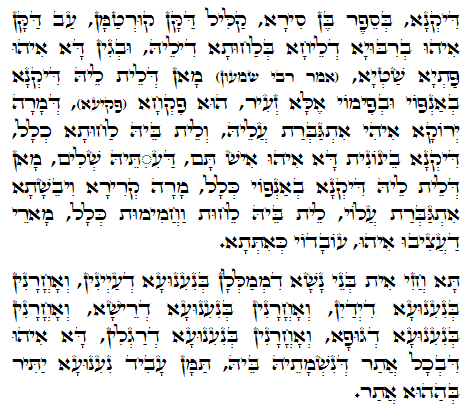 Hebrew translation:
Tikkun 70 – 88
Ein dünner Bart mit wenig Haar weist auf einen weisen Mann mit einem scharfen Verstand hin. Ein dicker und voller Bart weist auf eine naive Person hin, die leicht zu täuschen ist. Kleine Härchen auf dem Gesicht und um den Mund herum, weisen auf einen smarten Mann hin, aber er hat keine innere Balance.
Sie benutzen ihre Gewitztheit in negativer Weise um andere zu betrügen. Menschen mit normalem verhältnismässig dichtem Bart, sind von der mittleren Säule. Diejenigen die keinen Bart im Gesicht haben, haben die Tendenz in Richtung Traurigkeit oder in negative emotionale Zustände zu fallen, weil sie nicht viel Licht halten können.
.
Die Haare des Bartes repräsentieren eine Verbindung mit Arich Anpin, welches einer der Köpfe von Keter, zusammen mit Atik Yomin, ist . Die 13 Attribute Gottes kommen aus Arich Anpin und bringen Weisheit und Barmherzigkeit in alle unteren Welten. Sich einen Bart wachsen zu lassen, begünstigt einen Mann imstande zu sein, sich damit zu verbinden und dieses hohe Licht zu kanalisieren.
Es gibt eine Geschicht über den Baba Sali (Rabbi Israel Abu-Chatzeira), einen großen Kabbaliste aus früheren Generationen. Er lehrte seine Studenten die Vorteile von dem wachsen lassen eines Bartes und sie folgtem ihrem Meister. Nach einer Weile kam einer von ihnen ohne einen Bart. Auf die Frage: ´´Was ist passiert?´´ antwortete er: ´´Meine Frau hat mich gezwungen ihn abzurasieren ". Der Baba Sali sagte seinem Studenten, geh zu deiner Frau zurück und erzähle ihr, wenn sie es nicht zulässt dir einen Bart wachsen zu lassen, wird er bei ihr selbst wachsen. Da sie von Baba Sali's Macht wusste, sorgte sie dafür dass ihrem Ehemann ein Bart wuchs und er ihn behielt.
Wenn jemand große Probleme hat mit dem wachsen lassen eines Bartes, rate ich dazu sich nicht mit scharfen Klingen zu rasieren, denn wenn man scharfe Klingen direkt auf der Haut plaziert, bringt es den Aspekt von Urteil herein. Es ist besser eine Art Trimmer zu benutzen.
Baba Sali hat seinen Bart niemals geschnitten und benutzte seine Augen für Heilige Zwecke, Er war darür bekannt, viele Wunder zu machen. Sein wirklicher Name war Rabbi Israel Abu Chatzeira, aber die Menschen nannten ihn Baba Sali, das bedeutet, der betende Vater, denn er betete für andere und seine Gebete wurden in der Regel beantwortet. Er war derjenige der die Synagoge des Heiligen Ari in Safed for die Menschen geöffnet hat. Davor brachten alle Versuche die Synagoge zu nutzen, Schaden und sogar Tod zu den Menschen. Er machte eine spezielle Meditation und balancierte die Energie so in diesem Platz aus.
Denn der Kopf ist vollständiges 'Gesicht', das alle 10 that Sefirot enthält. Das macht es zu einem spirituellen Gerät, welches uns mit dem spirituellen Reich verbindet. Alle 7 Öffnungen von Augen (2), Ohren (2), Nase (2) und Mund (1) für Heilige Zwecke zu bewahren, wird uns große Fähigkeiten garantieren, inneres Chochmah (linkes Gehirn) und Binah (rechtes Gehirn) als Werkzeuge zu benutzen, um Licht aus Keter zu Da'at und den unteren Welten zu ziehen.
Frauen haben keinen Bart und sollten auch keine Gesichtshaare wachsen lassen, weil sie Gefäße sind und ihr Schwerpunkt sollte der Aufbau größerer Wünsche sein, um das Licht in die Welt zu ziehen und es zu manifesteiren.
{||}