Daily Zohar – Tikunim – #59 – Letters of Creation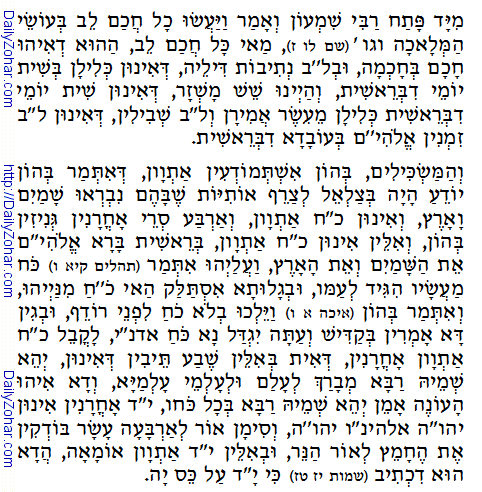 מקור הקטע: הקדמת תיקוני הזוהר עם פרוש מעלות הסולם (רבי יהודה צבי ברנדויין זל) פסקה 287
Rabbi Shimon opened and said "and the wise in heart were doing the work …" (of building the Tabernacle). Why it said wise in heart when wisdom is in the head (not like the professional do with their hands). He answers, the wise in Chokmah (Wisdom) and its 32 paths, which are the 32 times the name Elokim "אלהים " appears in the story of creation. !0 times it said "And Elokim said" for the ten Sefirot and 22 Hebrew letters.
The actual builder of the Tabernacle, Betzalel בצלאל was a13 years old and he knew how to permute the letters that were used in the act of Creation.
When we add the spelled name of God in Chokmah יוד הי ויו הי we have the revelation of the 42 letter name in the act of Creation. Manifestation by Zeir Anpin 6 sides times 7 days = 42.
The table below shows the letters used in creation.
The flow was from the first letter א to the last letter ת .
Day #
Day Name
Numerical value of day name
The force of creation/ The 42 letter name
Numerical value of the daily force
1
Sun

א

חד

13Numerical value = Love = אהבה

א

ב

גי

תץ

506Numerical value = Love for no reason
2
Mon

שני

360

קרעשטן

729
3
Tue

שלישי

650

נגדיכש

387
4
Wed

רביעי

292

בטרצתג

704
5
Thu

חמישי

368

חקבטנע

239
6
Fri

הששי

615

יגלפזק

230
7
Sat

שב

ת/

השביעי

397/702

שקוצי

ת

506+400
= 28
28 letters7 times the letter

ש

(7 lower sefirot)7

ש

= 21 Vav + 7 days = 28
Sum = 2695/3000
42 letters3

ש

for Upper 3 sefirot
וצית

= 506

שקוצי

= 506The first 5 letter and the last 5 letters add to 506
There are 7 words and 28 letters in the first verse of the Torah, which starts the story of creation.
28 is the same as hand יד ( 14) + hand יד (= 14) = force כח
The force of creation, 42 letters plus 28 equal 70 to create the weekly, 7 days, and generation cycle of 70 years. 42 have 14 more than 28 (2×14) to signify the third hand of God, יד רמה , the Elevated/supernal hand.