Click here to listen to the Daily Zohar [audio:https://dailyzohar.com/wp-content/uploads/audio/dz638.mp3|titles=Daily Zohar 638]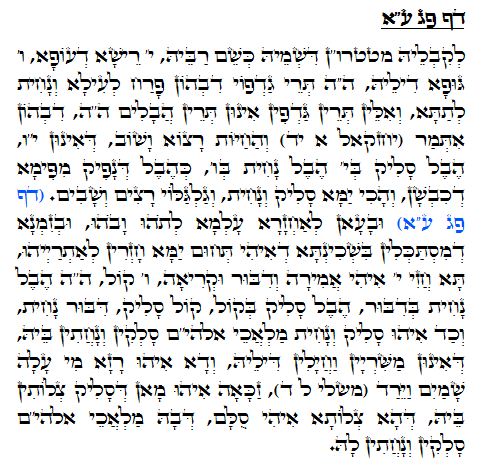 Hebrew translation:
כְּנֶגְדּוֹ מטטרו"ן שֶׁשְּׁמוֹ כְּשֵׁם רַבּוֹ, י' הָרֹאשׁ שֶׁל הָעוֹף, ו' הַגּוּף שֶׁלּוֹ, ה"ה שְׁנֵי כְנָפָיו, שֶׁבָּהֶם פּוֹרֵחַ לְמַעְלָה וְיוֹרֵד לְמַטָּה, וְאֵלּוּ שְׁנֵי הַכְּנָפַיִם הֵם שְׁנֵי הֲבָלִים ה"ה, שֶׁבָּהֶם נֶאֱמַר וְהַחַיּוֹת רָצוֹא וָשׁוֹב, שֶׁהֵם י"ו, הֶבֶל עוֹלֶה בְי', הֶבֶל יוֹרֵד בְּו', כְּהֶבֶל שֶׁיּוֹצֵא מִפִּי הַכִּבְשָׁן, וְכָךְ הַיָּם עוֹלֶה וְיוֹרֵד וְגַלָּיו רָצִים וְשָׁבִים, וְרוֹצִים לְהַחֲזִיר אֶת הָעוֹלָם לְתֹהוּ וָבֹהוּ, וּבִזְמַן שֶׁמִּסְתַּכְּלִים בַּשְּׁכִינָה, שֶׁהִיא תְחוּם הַיָּם, חוֹזְרִים לִמְקוֹמָם. בֹּא וּרְאֵה, י' הִיא אֲמִירָה וְדִבּוּר וּקְרִיאָה, ו' קוֹל, ה"ה הֶבֶל שֶׁיּוֹרֵד בַּדִּבּוּר, הֶבֶל עוֹלֶה בַקּוֹל, הַקּוֹל עוֹלֶה, דִּבּוּר יוֹרֵד, וּכְשֶׁהוּא עוֹלֶה וְיוֹרֵד, מַלְאֲכֵי אֱלֹהִי"ם עוֹלִים וְיוֹרְדִים בּוֹ, שֶׁהֵם הַמַּחֲנוֹת וְהַחֲיָלוֹת שֶׁלּוֹ, וְזֶה סוֹד מִי עָלָה שָׁמַיִם וַיֵּרַד. אַשְׁרֵי מִי שֶׁמַּעֲלֶה בּוֹ תְּפִלּוֹת, שֶׁהֲרֵי הַתְּפִלָּה הִיא סֻלָּם שֶׁבָּהּ מַעֲלִים וּמוֹרִידִים אוֹתָהּ מַלְאֲכֵי אֱלֹהִי"ם.
Tikkun 45-2
O segredo da oração está no Santo nome YHVH.
Y está para Keter e Chochmah e é o aspecto de nossa consciência, as palavras da oração e da conexão do olho.
V está para Zeir Anpin e o aspecto do som das palavras.
H para Binah e H para Malchut são as "asas" que carregam a oração.
H que está para Binah é aspecto do fogo que vem do vapor das palavras proferidas. Elas sobem com o som das palavras.
O vapor carrega a concisão para abrir as portas de cima, onde o arcanjo Metatron as aceita ou rejeita. Quando as palavras de orações aceitas descem elas trazem a luz com elas. A onda de subir e descer são o aspecto dos anjos na escada de Jacó.
Mais sobre orações:
Diário Zohar # 137 Como conseguir suas orações respondidas? https://dailyzohar.com/?p=1205
Diário Zohar # 189 – Acender a Luz https://dailyzohar.com/?p=1445
{||}