Zoharjev dnevnik Št. 1071 – Najboljša investicija
Click here to listen to the Daily Zohar [audio:https://dailyzohar.com/wp-content/uploads/pinchas/audio/dzp-0003.mp3,https://dailyzohar.com/wp-content/uploads/pinchas/audio/dzp-0004.mp3,https://dailyzohar.com/wp-content/uploads/pinchas/audio/dzp-0005.mp3,https://dailyzohar.com/wp-content/uploads/pinchas/audio/dzp-0006.mp3|titles=Zohar Pinchas 3,Zohar Pinchas 4,Zohar Pinchas 5,Zohar Pinchas 6 ]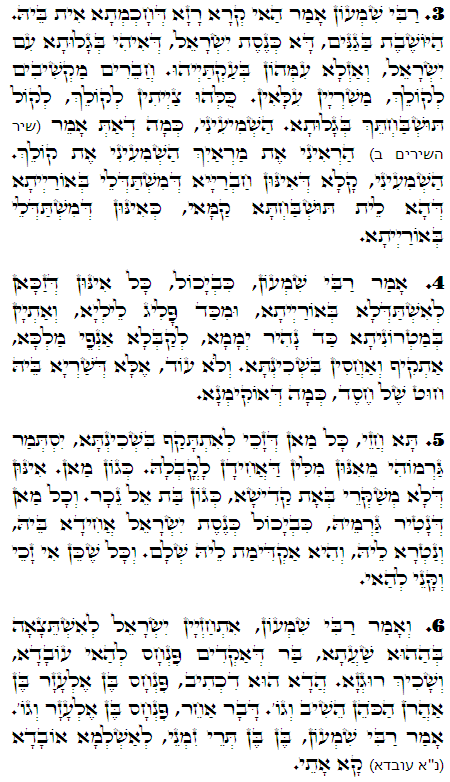 Hebrew translation:
3. רַבִּי שִׁמְעוֹן אָמַר, פָּסוּק זֶה יֵשׁ בּוֹ סוֹד חָכְמָה. הַיּוֹשֶׁבֶת בַּגַּנִּים – זוֹ כְּנֶסֶת יִשְׂרָאֵל שֶׁהִיא בַּגָּלוּת עִם יִשְׂרָאֵל וְהוֹלֶכֶת עִמָּם בְּצָרָתָם. חֲבֵרִים מַקְשִׁיבִים לְקוֹלֵךְ – מַחֲנוֹת עֶלְיוֹנִים כֻּלָּם מַקְשִׁיבִים לְקוֹלֵךְ, לְקוֹל תִּשְׁבַּחְתֵּךְ בַּגָּלוּת. הַשְׁמִיעִנִי, כְּמוֹ שֶׁנֶּאֱמַר (שיר השירים ב) הַרְאִינִי אֶת מַרְאַיִךְ הַשְׁמִיעִנִי אֶת קוֹלֵךְ. הַשְׁמִיעִינִי קוֹל אוֹתָם הַחֲבֵרִים שֶׁמִּשְׁתַּדְּלִים בַּתּוֹרָה, שֶׁהֲרֵי אֵין תִּשְׁבַּחַת לְפָנַי כְּאוֹתָם שֶׁמִּשְׁתַּדְּלִים בַּתּוֹרָה. 4. אָמַר רַבִּי שִׁמְעוֹן, כִּבְיָכוֹל כָּל אוֹתָם שֶׁזַּכָּאִים לְהִשְׁתַּדֵּל בַּתּוֹרָה, וּמִכְּשֶׁנֶּחֱצָה הַלַּיְלָה וּבָאִים עִם הַמַּלְכָּה כְּשֶׁמֵּאִיר הַיּוֹם לְקַבֵּל פְּנֵי הַמֶּלֶךְ, מִתְחַזֵּק וְיוֹרֵשׁ בַּשְּׁכִינָה. וְלֹא עוֹד, אֶלָּא שֶׁשּׁוֹרֶה בּוֹ חוּט שֶׁל חֶסֶד, כְּמוֹ שֶׁבֵּאַרְנוּ. 5. בֹּא וּרְאֵה, כָּל מִי שֶׁזּוֹכֶה לְהִתְחַזֵּק בַּשְּׁכִינָה, יִשְׁמֹר עַצְמוֹ מֵאוֹתָם דְּבָרִים שֶׁאֲחוּזִים מוּלָהּ, כְּמוֹ מִי? אוֹתָם שֶׁלֹּא מְשַׁקְּרִים בָּאוֹת הַקָּדוֹשׁ, כְּגוֹן בַּת אֵל נֵכָר. וְכָל מִי שֶׁשּׁוֹמֵר עַצְמוֹ, כִּבְיָכוֹל כְּנֶסֶת יִשְׂרָאֵל אֲחוּזָה בּוֹ וְשׁוֹמֶרֶת אוֹתוֹ וְהִיא מַקְדִּימָה לוֹ שָׁלוֹם, וְכָל שֶׁכֵּן אִם זוֹכֶה וְקוֹנֶה אֶת זֶה. 6. וְאָמַר רַבִּי שִׁמְעוֹן, רְאוּיִים הָיוּ יִשְׂרָאֵל לִהְיוֹת מֻשְׁמָדִים בְּאוֹתָהּ שָׁעָה, פְּרָט לָזֶה שֶׁהִקְדִּים פִּנְחָס לַמַּעֲשֶׂה הַזֶּה וְשִׁכֵּךְ אֶת הָרֹגֶז. זֶהוּ שֶׁכָּתוּב פִּינְחָס בֶּן אֶלְעָזָר בֶּן אַהֲרֹן הַכֹּהֵן הֵשִׁיב וְגוֹ'. דָּבָר אַחֵר פִּינְחָס בֶּן אֶלְעָזָר וְגוֹ' – אָמַר רַבִּי שִׁמְעוֹן, בֶּן בֶּן פַּעֲמַיִם, בָּא לְהַשְׁלִים הָאֲבֵדָה (הַמַּעֲשֶׂה).P
Pinchas 3-6
Ta razdelek Zoharja nas poduči o pomembni vrednosti pročevanja Tore. Ponovno citira verz iz :
Visoka Pesem 8:13
" הַיּוֹשֶׁבֶת בַּגַּנִּים, חֲבֵרִים מַקְשִׁיבִים לְקוֹלֵךְ–הַשְׁמִיעִנִי"
"Ti, ki si nastanjena v vrtovih ( Vrtovi Raja ) s spremljavalci (Pravične duše), ki slišijo tvoj glas: Naj ga ( Bog ) uslišim."
Da si lahko pojasnimo zakaj, velja citirati naslednje besede iz modrosti modrecev Talmuda. Slednji paragraf je del naših jutranjih molitev.
אֵלּוּ דְבָרִים שֶׁאָדָם אוֹכֵל פֵּרוֹתֵיהֶם בָּעוֹלָם הַזֶּה, וְהַקֶּרֶן קַיֶּמֶת לוֹ לָעוֹלָם הַבָּא: כִּבּוּד אָב וָאֵם, וּגְמִילוּת חֲסָדִים, וַהֲבָאַת שָׁלוֹם בֵּין אָדָם לַחֲבֵרוֹ; וְתַלְמוּד תּוֹרָה כְּנֶגֶד כֻּלָּם.
V prevodu:
To so osnove, katerih sadove uživa človek v tem svetu. Vendar hkrati zavedajoč, da izvorni principi so del SVETA, ki šele PRIHAJA:
spoštovanje očeta in matere
delovanje z blagostjo in prijaznostjo
prinašanje miru med človeka in njegove sobivance ( sosede, sodržavljane, soobčane, sodelavce , … )
Vendar proučevanje Tore je popolnoma enakovredno tem osnovam.
Zastavlja se zelo očitno vprašanje:
"Kako lahko ima preučevanje enako vrednost in moč kot ostala velika dejanja, kljub temu, da ne vsebuje živih odnosov z drugimi ljudmi in sodelovanja v skupnosti?
Večina ljudi se odvrne od svojih poti, da bi pomagala drugim in se ob tem počutila pravične.
Seveda je to veličastno in upravičeno se počutimo prijetno nad seboj. Namreč na nek ponižen način medtem ko počnemo stvari za druge. Vendar za razumevenje globljega pomena za besedami modrecev velja preiskati vsak odstavek v spodnjem seznamu.
1. Spoštovanje in čaščenje Očeta in Matere.
To je temeljno izhodiščno dejanje, ki mu velja slediti že zaradi prednosti ( skorajda iz sebičnih razlogov ). Namreč naveže nas na Modrost-Chohmah ( Oče ) in Razumevanje- Binah ( Mati ). Prejemanje te svetlobe lahko uživamo v tem svetu. Hkrati pa nam pomaga pri vstopanju v prihodnji svet.
2. Delovanje z Blagostjo – Ob pomoči sobivancem ostalim ljudem povečujemo veličino in svetlobo naše sprejemajoče biti.
3. Prinašanje miru med ljudi. To je dejanje na višji ravni. Namreč s tem prelomimo negativnost in delitve z namenom prinašanja miru med ljudi. Prinaša stanje boljšega življenja za ljudi in ostala okolja.
4.Preučevanje Tore je nad vsem. Kajti med preučevanjem Tore odstiramo svetlobo Stvaritve v svetu. In vsak lahko pridobi od te svetlobe. Ni omejena na specifične ljudi ali skupnosti. Razširja se po vsem svetu.
Rabin Šimon je 13 let bival v jami in odkrival Zohar. Svetloba že prihaja v ta svet. In več kot je delimo, več od nje pridobiva ves svet skupaj z nami.
Kadar investiramo čas v proučevanje Zoharja, dajemo svetu. Modreci nas nagovarjajo, da s tem ohranjamo in oživljamo večno bistvo.
Ni je banke na svetu, ki lahko zagotovi pridobitve investicije za prihajajoči svet. UnityZohar.com spletišče je učinkovito orodje za širjenje svetlobe Zoharja v svet. Zohar je na svetišču prikazan kot metoda s katero na najboljš način odstremo svetlobo na globalni ravni.
Seveda je pomembno, da nam ne uide nobena priložnost kjer lahko delujemo z blagostjo proti drugim. Kajti to je povezano s procesom osebne Poprave. Vendar ne bi smeli pozabiti na najvišji cilj vsakega Izraelita: podpirati globalno popravo in pritegniti svetlobo v svet do KONČNE ODREŠITVE. To pa je ob izboru vseh pridobitev našega duhovnega dela.
{||}