Zoharjev Dnevnik Št. 1102 – Ali te Bog ljubi?
Click here to listen to the Daily Zohar [audio:https://dailyzohar.com/wp-content/uploads/pinchas/audio/dp-1102.mp3|titles=Daily Zohar 1102]
Mobile devices, please touch here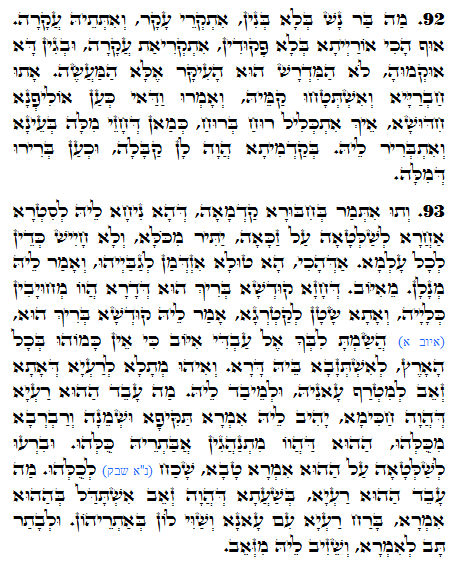 Hebrew translation:
92. מָה אָדָם בְּלִי בָנִים נִקְרָא עָקָר וְאִשְׁתּוֹ עֲקָרָה, גַּם כָּךְ תּוֹרָה בְּלִי מִצְווֹת נִקְרֵאת עֲקָרָה. וְלָכֵן פֵּרְשׁוּהָ, לֹא הַמִּדְרָשׁ הוּא עִקָּר אֶלָּא הַמַּעֲשֶׂה. בָּאוּ הַחֲבֵרִים וְהִשְׁתַּטְּחוּ לְפָנָיו וְאָמְרוּ, כָּעֵת לָמַדְנוּ חִדּוּשׁ אֵיךְ נִכְלֶלֶת רוּחַ בְּרוּחַ, כְּמִי שֶׁרָאָה דָבָר בָּעַיִן וְהֻבְרַר לוֹ. מִקֹּדֶם זֶה הָיָה קַבָּלָה לָנוּ, וְכָעֵת בֵּרוּר הַדָּבָר. 93. וְעוֹד נֶאֱמַר בְּחִבּוּר רִאשׁוֹן, שֶׁהֲרֵי נוֹחַ לוֹ לַסִּטְרָא אַחֲרָא לִשְׁלֹט עַל הַצַּדִּיק יוֹתֵר מֵהַכֹּל, וְלֹא חוֹשֵׁשׁ אָז לְכָל הָעוֹלָם. בֵּין כָּךְ הֲרֵי צֵל הִזְדַּמֵּן לִפְנֵיהֶם, וְאָמַר לוֹ, מִנַּיִן? מֵאִיּוֹב. שֶׁרָאָה הַקָּדוֹשׁ בָּרוּךְ הוּא שֶׁהַדּוֹר מְחֻיָּבִים כְּלָיָה, וּבָא שָׂטָן לְקַטְרֵג, אָמַר לוֹ הַקָּדוֹשׁ בָּרוּךְ הוּא: (איוב ב) הֲשַׂמְתָּ לִבְּךָ אֶל עַבְדִּי אִיּוֹב כִּי אֵין כָּמֹהוּ בָּ[בְּכָל הָ]אָרֶץ, לְהַצִּיל אֶת הַדּוֹר. וְהוּא מָשָׁל לְרוֹעֶה שֶׁבָּא הַזְּאֵב לִטְרֹף אֶת צֹאנוֹ וּלְהַאֲבִידוֹ. מֶה עָשָׂה אוֹתוֹ רוֹעֶה שֶׁהָיָה חָכָם? נָתַן לוֹ תַּיִשׁ חָזָק וְשָׁמֵן וְגָדוֹל מִכֻּלָּם, אוֹתוֹ שֶׁכֻּלָּם נוֹהֲגִים אַחֲרָיו, וּבְרָצוֹן לִשְׁלֹט עַל אוֹתוֹ תַּיִשׁ טוֹב, שָׁכַח (הִשְׁאִיר) אֶת כֻּלָּם. מֶה עָשָׂה אוֹתוֹ רוֹעֶה? בְּשָׁעָה שֶׁהַזְּאֵב הָיָה מִתְעַסֵּק עִם אוֹתוֹ תַּיִשׁ, בָּרַח הָרוֹעֶה עִם הַצֹּאן וְשָׂם אוֹתָם בִּמְקוֹמָם, וְאַחַר כָּךְ שָׁב לַתַּיִשׁ וְהִצִּילוֹ מֵהַזְּאֵב.
Pinhas 92,93
Človek brez otrok je imenovan za jalovega, neplodnega. Poodobne so okoliščine, kadar opustimo Toro brez dejanj zapovedi. Tora je svetloba, ki se lahko odkrije samo kadar jo uporabljamo. Zapovedi so posebna dejanja, ki odstrnejo različne luči in nahranijo našo dušo. S temi lučmi lahko očistimo naše duše in duhovno zrastemo. Zohar nas poduči o Jobovi zgodbi in navaja verz, kjer Bog "pošlje" Satana nad Joba.
Job 2:3

"וַיֹּאמֶר יְהוָה אֶל הַשָּׂטָן, הֲשַׂמְתָּ לִבְּךָ אֶל עַבְדִּי אִיּוֹב–כִּי אֵין כָּמֹהוּ בָּאָרֶץ אִישׁ תָּם וְיָשָׁר יְרֵא אֱלֹהִים, וְסָר מֵרָע; וְעֹדֶנּוּ מַחֲזִיק בְּתֻמָּתוֹ, וַתְּסִיתֵנִי בוֹ לְבַלְּעוֹ חִנָּם"

"Potem YHVH poreče Satanu: 'Ali si pretehtal glede mojega zvestega služabnika Job-a. Ni ga na zemlji enakega njemu; Mož je brez krivde in; Mož, ki se boji Boga in se izogiba zla. In ob tem še vedno ohranja svojo celovitostm čeprav si me nagovarjal, da ga uničim brez vsakega razloga."
Job je bil pravičen ter počel vse dobre stvari. Vendar se je izogibal boju z negativnostjo. Bil je Faraonov svetovalec. Ko pa je Faraon želel ubiti Izraelite, je Job namesto tega predlagal težko delo. Bog mu je dal priložnost, da pristopi svoji POPRAVI in se povzdigne na višji duhovni nivo. Test je prišel v času, ko so Izraeliti zapuščali Egipt. Bog je želel odvrniti Satana od namere, da bi se usmeril proti Izraelitom. Tako je zaposlil Satana, da se je ta usmeril v Jobov neuspeh. Job je rešil generacije s svojim procesom trpljenja in bojem z negativnostjo. Zohar nam podaja primer pastirja, ki je videl velikega volka prihajajočega, da napade pastirjev trop. Zato je volku nastavil veliko in močno kozo, da ga je zaposlil. Medtem pa je odgnal trop na varno mesto. Zgodba nam sporoča, da se ne moremo izogniti procesu POPRAVE. Ne moremo kar narediti nekaj dobrih stvari in se izogibati priložnostim za boj proti negativnostim in pričakovati svojo rast. Drugo sporočilo zgodbe je, da ne glede nato kako ostra in zahtevna sta naša POPRAVA in trpljenje v tem življenju, vse to prihaja od Svetlobe z ljubeznijo in skrbjo za našo dušo.
{|}