Zoharjev dnevnik Št. 1115 – Temu bo sledilo radostno petje dreves iz gozda
Pritisni tukaj za poslušanje Zoharjevega dnevnika[audio:https://dailyzohar.com/wp-content/uploads/pinchas/audio/dp-1115.mp3|titles=Daily Zohar 1115]
Za mobilne naprave dotaknite tukaj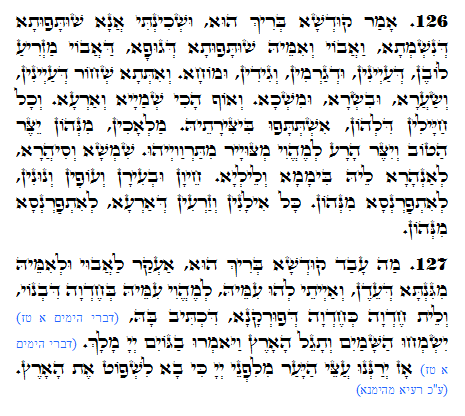 Hebrew translation:
126. אָמַר הַקָּדוֹשׁ בָּרוּךְ הוּא, אֲנִי וּשְׁכִינָתִי שֻׁתָּפוּת הַנְּשָׁמָה, וְאָבִיו וְאִמּוֹ שֻׁתָּפוּת הַגּוּף. שֶׁאָבִיו מַזְרִיעַ לֹבֶן שֶׁל הָעֵינַיִם וְשֶׁל הָעֲצָמוֹת וְשֶׁל הַגִּידִים וְהַמֹּחַ, וְהָאִשָּׁה שָׁחֹר שֶׁבָּעֵינַיִם וְשֵׂעָר וּבָשָׂר וְעוֹר. וְגַם כָּךְ שָׁמַיִם וָאָרֶץ וְכָל חֵילֵיהֶם הִשְׁתַּתְּפוּ בִיצִירָתוֹ: מַלְאָכִים, מֵהֶם יֵצֶר הַטּוֹב וְיֵצֶר הָרָע לִהְיוֹת מְצֻיָּר מִשְּׁנֵיהֶם. שֶׁמֶשׁ וּלְבָנָה לְהָאִיר לוֹ בַּיּוֹם וּבַלַּיְלָה. חַיּוֹת וּבְהֵמוֹת וְעוֹפוֹת וְדָגִים לְהִתְפַּרְנֵס מֵהֶם, וְכָל עֵצִים וְזַרְעֵי הָאָרֶץ לְהִתְפַּרְנֵס מֵהֶם. 127. מֶה עָשָׂה הַקָּדוֹשׁ בָּרוּךְ הוּא? עָקַר אֶת אָבִיו וְאִמּוֹ מִגַּן עֵדֶן וֶהֱבִיאָם עִמּוֹ, לִהְיוֹת עִמּוֹ בְּחֶדְוַת בְּנוֹ, וְאֵין חֶדְוָה כְּחֶדְוַת הַגְּאֻלָּה, שֶׁכָּתוּב בָּהּ (דברי הימים-א טז) יִשְׂמְחוּ הַשָּׁמַיִם וְתָגֵל הָאָרֶץ וְיֹאמְרוּ בַגּוֹיִם ה' מָלָךְ. אָז יְרַנְּנוּ עֲצֵי הַיָּעַר מִלִּפְנֵי ה' כִּי בָא לִשְׁפּוֹט אֶת הָאָרֶץ. (עד כאן
רעיא מהימנא
).
Zoharjev dnevnik Št. 1115 – Temu bo sledilo radostno petje dreves iz gozda
Pinhas 126,127
Celotna stvaritev se je izvedla za namene človeka. Sam človek je bil ustvarjen na pslednji dan procesa Stvarjenja. Bog je potreboval dva partnerja pri procesu Stvaritve.
In sicer očeta in mater, ki dajeta človeku obliko. Bog pa prinaša dušo, ki predstavlja življensko silo.
Oče prinaša vidik svetlega, vidike desnega debla Drevesa življenja s svetlim semenom. Ti vidiki se odstirajo v svetlejših predelih oči, kosti, mišic in možganov.
Mati prinaša v človekovo stvaritev vidike levega debla Drevesa življenja. Ti vidiki se manifestirajo v temnejših predelih oči, mišic in kože. To so sestavni deli zunanjejših predelov človeka kot telesno mentalne biti.
Tudi nebesa in zemlja so bili partnerji v stvaritvi človeka. Ti so vgradili dobra in zla nagnenja v sistem.
Ker je bil človek stvarjen kot zadnji korak procesa Stvaritve, so bile v tem zadnjem koraku vključene vse predhodne entitete stvaritve. To je omogočilo postavitev človeka v vlogo v kateri ima lahko navezavo z vsako entiteto Stvaritve.
S tem mu je dana moč in možnost obvladovanja in upravljanja.
Prva kroniška knjiga 16:31
" יִשְׂמְחוּ הַשָּׁמַיִם, וְתָגֵל הָאָרֶץ"
"Naj se nebesa veselijo in zemlja naj se radosti."
Prva kroniška knjiga 16:33
" אָז יְרַנְּנוּ, עֲצֵי הַיָּעַר מִלִּפְנֵי יְהוָה–כִּי-בָא, לִשְׁפּוֹט אֶת-הָאָרֶץ."
"Potem bodo drevesa v gozdu radostno pela pred YHVH. Kajti On prihaja kot sodnik* zemlji."
Zohar nam odstira, da bo v času Odrešitve Bog pripeljal očeta in mater za radostitev z nami. To za nas pomeni, odprto možnost za navezavo na vse elemente stvaritve. Tudi prikrite korenine stvaritve.
———————————————————————————————————————————————————————–
SODNIK* – vidik osrednjega debla Drevesa življenja.
{||}