Zoharjev dnevnik št. 1266 – Podeli zasluženje
Zoharjev Dnevnik št. 1266
Zoharjev Dnevnik št. 1266 Zohar Pinhas, Knjiga št. 20 (ANG)/Knjiga št. 15 (HEB)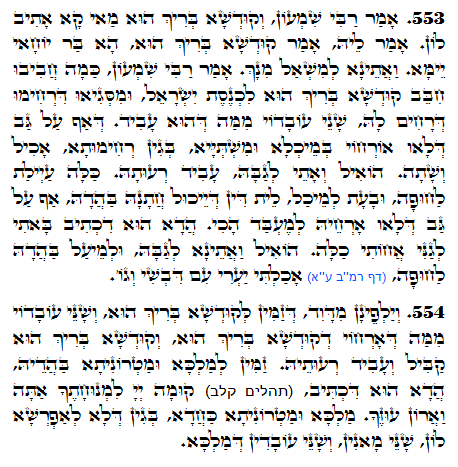 Pinhas 553-554

Nadaljevanje predhodnega dnevnika
Iz naslednje zgodbe se podučimo, da Bog želi in čaka na besedo pravičnih. Z ljubeznijo jim tudi sledi.
Visoka pesem 5:1
בָּאתִי לְגַנִּי, אֲחֹתִי כַלָּה–אָרִיתִי מוֹרִי עִם-בְּשָׂמִי, אָכַלְתִּי יַעְרִי
עִם-דִּבְשִׁי שָׁתִיתִי יֵינִי עִם-חֲלָבִי; אִכְלוּ רֵעִים, שְׁתוּ וְשִׁכְרוּ
. דּוֹדִים
Črkovano Heb besedilo:
בָּאתִי ba'ti לְגַנִּי leganni, אֲחֹתִי achoti כַלָּה–אָרִיתִי challah–ariti מוֹרִי mori עִם-בְּשָׂמִי im-besami, אָכַלְתִּי achaltti יַעְרִי ya'ri עִם-דִּבְשִׁי im-divshi שָׁתִיתִי shatiti יֵינִי yeini עִם-חֲלָבִי im-chalavi; אִכְלוּ ichlu רֵעִים re'im, שְׁתוּ shetu וְשִׁכְרוּ veshichru דּוֹדִים dodim.
Prihajam v svoj vrt, sestra moja, nevesta moja. Ubral sem mire s svojo dišavo. Zaužil sem medenega satovja in svojega medu. Popils sem vina s svojim mlekom. Jejte, O prijatelji, pijte in se napijte, O preljubi.
YHVH prihaja v vrt za navezavo z Šekina, Malkhut. Zohar se sprašuje zakaj je rečeno: "Zaužil sem medenega satovja in svojega medu". Kajti YHVH ni ta, ki použije hrano. Zohar pojasni: ko je svetloba združena z nosilcem/osnova, ta podeduje njene lastnosti. Predstavlja Božjo brezpogojno ljubezen do vse njegove stvaritve.
Kot je bila Eva del Adama pred njuno delitvijo, tako je bila Šekina eno s Svetlobo pred stvaritvijo sveta poprave.
Kralj David je vidik oz. manifestacija Malkut-a. V Psalmu 132:8 sprašuje Boga:
. קוּמָה יְהוָה, לִמְנוּחָתֶךָ: אַתָּה, וַאֲרוֹן עֻזֶּךָ
Črkovano Heb besedilo:
קוּמָה kumah יְהוָה Adonai, לִמְנוּחָתֶךָ limnuchatecha: אַתָּה attah, וַאֲרוֹן va'aron עֻזֶּךָ uzzecha.
Povzdigni se, O YHVH, na kraj Tvojega počitka. Ti in skrinja tvoje moči.
Arise, O LORD, unto Thy resting-place; Thou, and the ark of Thy strength.
Počitek/מנוחה je stanje neprekinjenega toka Svetlobe, ki se dogaja pri združevanju Svetlobe in nosilca. Tak počitek predstavlja Šabat.
V navezavi na predhodni Zoharjev dnevnik sedaj lahko razumemo, da je Bog srečen pri izpolnjevanju besed Rabina Šimona. Namreč te ustvarjajo ustrezno združitev med Bogom, Svetlobo, Šekino in nosilcem.
Zohar je orodje, ki ga je Rabin Šimon zapustil temu svetu v podporo Šekini, medtem, ko je ta v pregnanstvu. Vsakič kadar beremo ali poslušamo Zohar, se navežemo na izvorni namen Zoharja in delimo zasluženje Rabina Šimona.
Heb prevod:
553. אָמַר רַבִּי שִׁמְעוֹן, וְהַקָּדוֹשׁ בָּרוּךְ הוּא מַה הֵשִׁיב לָהֶם? אָמַר לוֹ, אָמַר הַקָּדוֹשׁ בָּרוּךְ הוּא, הֲרֵי בַּר יוֹחַאי יֹאמַר, וּבָאתִי לִשְׁאֹל מִמְּךָ. אָמַר רַבִּי שִׁמְעוֹן, כַּמָּה חֲבִיבוּת חִבֵּב הַקָּדוֹשׁ בָּרוּךְ הוּא לִכְנֶסֶת יִשְׂרָאֵל, וּמֵרִבּוּי הָאַהֲבָה שֶׁאוֹהֵב אוֹתָהּ, שִׁנָּה מַעֲשָׂיו מִמַּה שֶּׁהוּא עוֹשֶׂה. שֶׁאַף עַל גַּב שֶׁאֵין דְּרָכָיו בַּאֲכִילָה וּשְׁתִיָּה – בִּגְלַל הָאַהֲבָה אָכַל וְשָׁתָה. הוֹאִיל וּבָא אֶצְלָהּ, עָשָׂה רְצוֹנָהּ. כַּלָּה נִכְנֶסֶת לַחֻפָּה וְרוֹצָה לֶאֱכֹל, אֵין זֶה דִּין שֶׁיֹּאכַל חֲתָנָהּ עִמָּהּ אַף עַל גַּב שֶׁאֵין דַּרְכּוֹ לַעֲשׂוֹת כָּךְ?! זֶהוּ שֶׁכָּתוּב בָּאתִי לְגַנִּי אֲחֹתִי כַלָּה. הוֹאִיל וּבָאתִי אֶצְלָהּ וְלַעֲלוֹת עִמָּהּ לַחֻפָּה, אָכַלְתִּי יַעְרִי עִם דִּבְשִׁי וְגוֹ'.
554. וְלָמַדְנוּ מִדָּוִד, שֶׁהִזְמִין לְהַקָּדוֹשׁ בָּרוּךְ הוּא וְשִׁנָּה מַעֲשָׂיו מִמַּה שֶּׁדְּרָכָיו שֶׁל הַקָּדוֹשׁ בָּרוּךְ הוּא, וְהַקָּדוֹשׁ בָּרוּךְ הוּא קִבֵּל וְעָשָׂה רְצוֹנוֹ. זִמֵּן לַמֶּלֶךְ וְהַמַּלְכָּה עִמּוֹ – זֶהוּ שֶׁכָּתוּב (תהלים קלב) קוּמָה ה' לִמְנוּחָתֶךָ אַתָּה וַאֲרוֹן עֻזֶּךָ. מֶלֶךְ וּמַלְכָּה כְּאֶחָד, כְּדֵי שֶׁלֹּא לְהַפְרִיד אוֹתָם, שִׁנָּה כֵּלִים וְשִׁנָּה מַעֲשִׂים שֶׁל הַמֶּלֶךְ.