Daily Zohar # 1267 – Pinchas – Build proper vessels
Daily Zohar 1267
Daily Zohar 1267
Zohar Pinchas, Vol. 20 (English)/Vol 15 (Hebrew)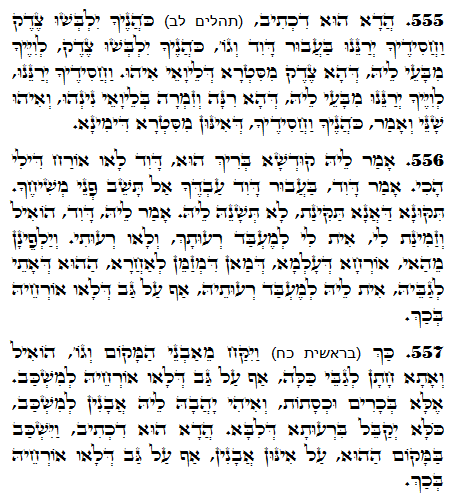 Hebrew translation:
555. זֶהוּ שֶׁכָּתוּב (שם) כֹּהֲנֶיךָ יִלְבְּשׁוּ צֶדֶק וַחֲסִידֶיךָ יְרַנֵּנוּ בַּעֲבוּר דָּוִד וְגוֹ'. כֹּהֲנֶיךָ יִלְבְּשׁוּ צֶדֶק?! לְוִיֶּיךָ צָרִיךְ לִכְתֹּב! שֶׁהֲרֵי צֶדֶק מִצַּד הַלְוִיִּם הוּא. וַחֲסִידֶיךָ יְרַנֵּנוּ?! לְוִיֶּיךָ יְרַנֵּנוּ צָרִיךְ לִכְתֹּב! שֶׁהֲרֵי רִנָּה וְזִמְרָה הִיא בַּלְוִיּם. וְהוּא שִׁנָּה וְאָמַר כֹּהֲנֶיךָ וַחֲסִידֶיךָ, שֶׁהֵם מִצַּד הַיָּמִין.
556. אָמַר לוֹ הַקָּדוֹשׁ בָּרוּךְ הוּא, דָּוִד, אֵין דַּרְכִּי כָּךְ. אָמַר דָּוִד, בַּעֲבוּר דָּוִד עַבְדֶּךָ אַל תָּשֵׁב פְּנֵי מְשִׁיחֶךָ. תִּקּוּן שֶׁאֲנִי תִּקַּנְתִּי, אַל תְּשַׁנֶּה אוֹתוֹ. אָמַר לוֹ, דָּוִד, הוֹאִיל וְזִמַּנְתָּ אוֹתִי, יֵשׁ לִי לַעֲשׂוֹת רְצוֹנְךָ, וְלֹא רְצוֹנִי. וּלְמֵדִים מִכָּאן דֶּרֶךְ הָעוֹלָם, שֶׁמִּי שֶׁמְּזַמֵּן לְאַחֵר, אוֹתוֹ שֶׁבָּא אֶצְלוֹ יֵשׁ לוֹ לַעֲשׂוֹת רְצוֹנוֹ אַף עַל גַּב שֶׁאֵין דַּרְכּוֹ בְּכָךְ.
557. כָּךְ (בראשית כח) וַיִּקַּח מֵאַבְנֵי הַמָּקוֹם וְגוֹ'. הוֹאִיל וּבָא חָתָן אֵצֶל הַכַּלָּה, אַף עַל גַּב שֶׁאֵין דַּרְכּוֹ לִשְׁכַּב אֶלָּא בְּכָרִים וּכְסָתוֹת, וְהִיא נָתְנָה לוֹ אֲבָנִים לִשְׁכַּב – הַכֹּל יְקַבֵּל בִּרְצוֹן הַלֵּב. זֶהוּ שֶׁכָּתוּב וַיִּשְׁכַּב בַּמָּקוֹם הַהוּא, עַל אוֹתָם אֲבָנִים, אַף עַל גַּב שֶׁאֵין דַּרְכּוֹ בְּכָךְ.
Pinchas 555-557
Psalms 132:9
"כֹּהֲנֶיךָ יִלְבְּשׁוּ-צֶדֶק; וַחֲסִידֶיךָ יְרַנֵּנוּ"
"May your priests be clothed with your righteousness; may your faithful people (חֲסִידֶיךָ) sing for joy"
King David mixed the Right and the Left. He connected the Priests that are from the Right with צֶדֶק, righteousness that is related to left column and Malchut.
The Levites are left column and they serve the Priests in the Holy Temple with singing and joy. King David connected them to Chessed which is Right column.
He didn't make a mistake but he wanted God to follow his request and allow this joint light to be revealed in balance. The following verse reveals his request from God.
Psalms 132:10
"בַּעֲבוּר, דָּוִד עַבְדֶּךָ– אַל-תָּשֵׁב, פְּנֵי מְשִׁיחֶךָ"
"For the sake of your servant David, do not reject the one you have anointed (to be a King)"
He humbled himself as a servant and asked not to reject his special connection of words.
This is the power of King David and Psalms that he left for us as a great tool of connection to the Light of the Creator. We use Psalms in all of our prayers. The Zohar quotes Psalms in many studies and reveals the inner secrets as in this one.
This Zohar section continued the study of the previous one to teach us that when we draw down the light to the vessel it follows our desires.
Build the proper vessel and the Light will fulfill it. King David and Rabbi Shimon didn't write the great secrets for their own connection or glory. They built great vessels for us to use and continue the Light to the world.
{||}