Zoharjev dnevnik št. 1270 – Svoje veličine ne podelim nikomur
Zoharjev dnevnik št. 1270
Zoharjev dnevnik št. 1270 Zohar Pinhas, knjiga št. 20 (ANG)/knjiga št. 15 (HEB)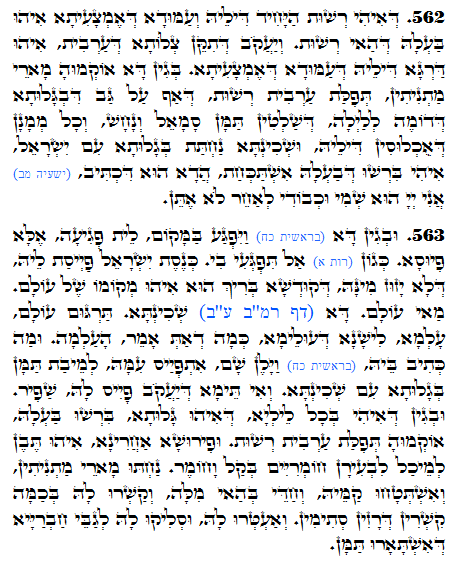 Pinhas 562-563
Večerna molitev je vidik osrednjega debla: Tiferet/ תפארת / Lepota in praočak Jakob. Ob vstopu dneva v noč je svetloba odsotna. Šekina* / שכינה / ( božanska duhovna entiteta prisotnosti svetlobe v tem svetu ) je v stanju pregnanstva.
Noč je pod nadzorom druge strani. Vendar Šekina nikoli ne pade pod ta nadzor.
.אֲנִי יְהוָה, הוּא שְׁמִי; וּכְבוֹדִי לְאַחֵר לֹא-אֶתֵּן, וּתְהִלָּתִי לַפְּסִילִים
I am the LORD, that is My name; and My glory will I not give to another, neither My praise to graven images.
Črkovano HEB besedilo:
אֲנִי ani יְהוָה Adonai, הוּא hu שְׁמִי shemi; וּכְבוֹדִי uchevodi לְאַחֵר le'acher לֹא-אֶתֵּן lo-etten, וּתְהִלָּתִי utehillati לַפְּסִילִים lapesilim.
Jaz sem YHVH, ki je moje ime. In moje veličine ne podelim nikomur. Niti moje slave ne podelim malikom.
Duhovni sistem je uravnovešen in varovan. Samo ljudje lahko pokvarijo okolje s predajo svoje luči drugi strani in z negativnim vplivom na druge, da počno enako.
Nočna molitev ni obvezna. Namreč Šekhina je v stanju priprtja. Svetloba se začne pojavljati po polnoči in sicer nekje na polovici med sončnim vzhodom in sončnim zahodom. Kar pomeni, da to ni nujno ob 00:00.
Za navezo na Osrednje deblo v toku noči pristopimo duhovni navezavi in sicer njenemu najpombnejšemu delu, ki ga predstavlja molitev Shema Izrael**.
Šekhina* –
Shema Izrael** – https://dailyzohar.com/daily-zohar-1264-povzdigni-svojo-duso/?lang=sl