Daily Zohar # 1181 – Pinchas – How to 'dig' Light?
Daily Zohar 1181
Daily Zohar 1181
Zohar Pinchas, Vol. 20 (English)/Vol 15 (Hebrew)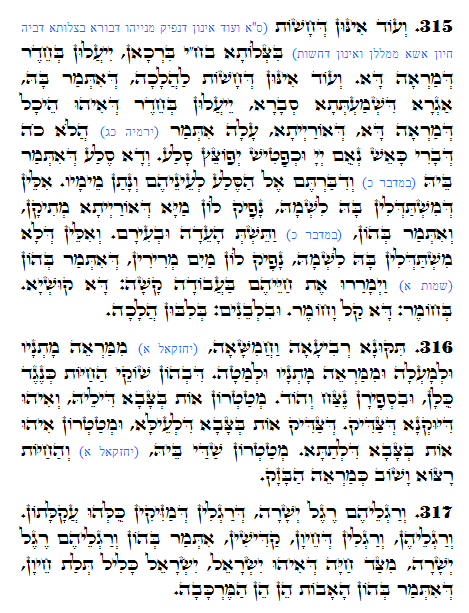 Hebrew translation:
315. וְעוֹד, שֶׁאֵלּוּ שֶׁשּׁוֹתְקוֹת (וְעוֹד אֵלּוּ שֶׁיּוֹצֵא מֵהֶם דִּבּוּר בַּתְּפִלָּה שֶׁבּוֹ חַיּוֹת אֵשׁ מְדַבְּרוֹת וְהֵן שׁוֹתְקוֹת) בַּתְּפִלָּה בְּח"י בְּרָכוֹת, יִכָּנְסוּ בְּחֶדֶר שֶׁל מַרְאֶה זֶה. וְעוֹד, אֵלּוּ שֶׁשּׁוֹתְקִים לַהֲלָכָה, שֶׁנֶּאֱמַר בָּהּ שְׂכַר הַשְּׁמוּעָה הֲבָנָה, יִכָּנְסוּ בְּחֶדֶר שֶׁהוּא הֵיכָל שֶׁל מַרְאֶה זֶה, שֶׁהַתּוֹרָה, עָלֶיהָ נֶאֱמַר (ירמיה כג) הֲלֹא כֹה דְבָרִי כָּאֵשׁ נְאֻם ה' וּכְפַטִּישׁ יְפֹצֵץ סָלַע. וְזֶה הַסֶּלַע שֶׁנֶּאֱמַר בּוֹ (במדבר כ) וְדִבַּרְתֶּם אֶל הַסֶּלַע לְעֵינֵיהֶם וְנָתַן מֵימָיו. אֵלּוּ שֶׁמִּשְׁתַּדְּלִים בָּהּ לִשְׁמָהּ, יוֹצֵא לָהֶם מַיִם שֶׁל הַתּוֹרָה מְתוּקִים, וְנֶאֱמַר בָּהֶם (שם) וַתֵּשְׁתְּ הָעֵדָה וּבְעִירָם. וְאֵלּוּ שֶׁלֹּא מִשְׁתַּדְּלִים בָּהּ לִשְׁמָהּ, יוֹצֵא לָהֶם מַיִם מָרִים, שֶׁנֶּאֱמַר בָּהֶם (שמות א) וַיְמָרֲרוּ אֶת חַיֵּיהֶם בַּעֲבֹדָה קָשָׁה – זֶה קֻשְׁיָה. בְּחֹמֶר – זֶה קַל וָחֹמֶר. וּבִלְבֵנִים – בְּלִבּוּן הֲלָכָה.
316. תִּקּוּן רְבִיעִי וַחֲמִישִׁי – (יחזקאל א) מִמַּרְאֵה מָתְנָיו וּלְמָעְלָה וּמִמַּרְאֵה מָתְנָיו וּלְמַטָּה. שֶׁבָּהֶם שׁוֹקֵי הַחַיּוֹת כְּנֶגֶד כֻּלָּם, וּבִסְפִירוֹת נֵצַח וְהוֹד. מְטַטְרוֹן הוּא אוֹת בַּצָּבָא שֶׁלּוֹ, וְהוּא צוּרַת הַצַּדִּיק. שֶׁהַצַּדִּיק הוּא אוֹת בַּצָּבָא שֶׁל מַעְלָה, וּמְטַטְרוֹן הוּא אוֹת בַּצָּבָא שֶׁל מַטָּה. מְטַטְרוֹן שַׁדַּי בּוֹ נֶאֱמַר, (שם) וְהַחַיּוֹת רָצוֹא וָשׁוֹב כְּמַרְאֵה הַבָּזָק.
317. וְרַגְלֵיהֶם רֶגֶל יְשָׁרָה – שֶׁרַגְלֵיהֶם שֶׁל הַמַּזִּיקִים כֻּלָּם עֲקַלָּתוֹן. וְרַגְלֵיהֶם – וְהָרַגְלַיִם שֶׁל חַיּוֹת הַקֹּדֶשׁ, נֶאֱמַר בָּהֶן וְרַגְלֵיהֶם רֶגֶל יְשָׁרָה, מִצַּד חַיָּה שֶׁהִיא יִשְׂרָאֵל, יִשְׂרָאֵל כָּלוּל בְּשָׁלֹשׁ חַיּוֹת, שֶׁנֶּאֱמַר בָּהֶם, הָאָבוֹת הֵן הֵן הַמֶּרְכָּבָה.
Pinchas 315-317
Continue from previous DZ
Jeremiah 23:29
"הֲלוֹא כֹה דְבָרִי כָּאֵשׁ, נְאֻם-יְהוָה; וּכְפַטִּישׁ, יְפֹצֵץ סָלַע. "
" Is not My word like as fire? Said YHVH; and like a hammer that breaketh the rock in pieces? "
'My Word' is the aspect of the Torah and the sacred words that have the power of manifestation in the material world. The Zohar references this part to the command God gave Moses to speak to the rock to bring water to the people.
Numbers 20:8
"קַח אֶת-הַמַּטֶּה, וְהַקְהֵל אֶת-הָעֵדָה אַתָּה וְאַהֲרֹן אָחִיךָ, וְדִבַּרְתֶּם אֶל-הַסֶּלַע לְעֵינֵיהֶם, וְנָתַן מֵימָיו; וְהוֹצֵאתָ לָהֶם מַיִם מִן-הַסֶּלַע, וְהִשְׁקִיתָ אֶת-הָעֵדָה וְאֶת-בְּעִירָם. "
" 'Take the rod, and assemble the congregation, thou, and Aaron thy brother, and speak ye unto the rock before their eyes, that it give forth its water; and thou shalt bring forth to them water out of the rock; so thou shalt give the congregation and their cattle drink.' "
The Zohar tells us that people, who deal with the Torah for its purpose of revealing light, merit 'pure water' in their lives. Those who don't, get the bitter aspect of life.
Exodus 1:14
" וַיְמָרְרוּ אֶת-חַיֵּיהֶם בַּעֲבֹדָה קָשָׁה, בְּחֹמֶר וּבִלְבֵנִים, וּבְכָל-עֲבֹדָה, בַּשָּׂדֶה"
"And they made their lives bitter with hard service, in mortar and in brick, and in all manner of service in the field"
The Israelites in Egypt experienced a disconnection from the Light and it made their lives 'bitter' in all aspects of the material life.
The lesson is that when we follow the Torah, listen to it and study it, we are nourished from the 'pure' water.
The Zohar words are the aspect of the pure water that comes from the Torah. Without the Zohar, the Torah is like a rock for us and we can not get anything from it. When we open the scroll on Shabbat and listen to the words, we connect to the pure water. With every Zohar paragraph that we listen to and study, we dig a well of light that benefits us and the world. Our best plan is to keep digging.
{||}