Zoharjev dnevnik št. 1277 – To je boj, ki ga lahko dobimo
Zoharjev dnevnik št. 1277
Zoharjev dnevnik št. 1277 Zohar Pinhas, Knjiga št. 20 (ANG)/Knjiga št. 15 (HEB)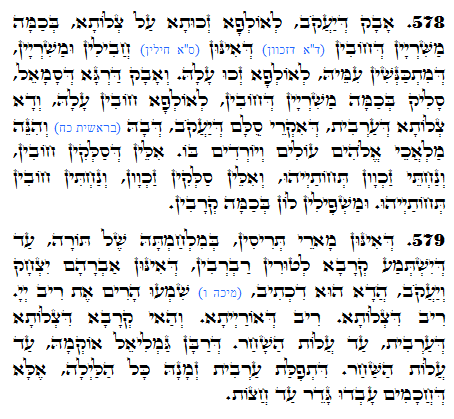 Pinhas 578-579
Prva Mojzesova knjiga 28:12
;וַיַּחֲלֹם, וְהִנֵּה סֻלָּם מֻצָּב אַרְצָה, וְרֹאשׁוֹ, מַגִּיעַ הַשָּׁמָיְמָה
. וְהִנֵּה מַלְאֲכֵי אֱלֹהִים, עֹלִים וְיֹרְדִים בּוֹ
Črkovano Heb besedilo:
וַיַּחֲלֹם vayachalom, וְהִנֵּה vehinneh סֻלָּם sullam מֻצָּב mutzav אַרְצָה artzah, וְרֹאשׁוֹ vero'sho, מַגִּיעַ magia הַשָּׁמָיְמָה hashamayemah; וְהִנֵּה vehinneh מַלְאֲכֵי mal'achei אֱלֹהִים elohim, עֹלִים olim וְיֹרְדִים veyoredim בּוֹ bo.
In v sanjah se je zazrl v lestev, ki je bila umeščena na zemeljska tla. Vrh lestve je dosegal nebo. In zrl je v Božje angele, ki so se vzpenjali in sestopali na lestvi.
Nočna molitev je vidik Jakobove lestve. Je naveza na osrednje deblo po katerem molitve potujejo navzgor. Navzdol pa teče tok Svetlobe. Zohar nas poduči, da je to način s katerim razbijemo zatočišča negativne strani, ki se vzpostavijo v času noči.
Prva Mojzesova knjiga 32:25
. וַיִּוָּתֵר יַעֲקֹב, לְבַדּוֹ; וַיֵּאָבֵק אִישׁ עִמּוֹ, עַד עֲלוֹת הַשָּׁחַר
Črkovano Heb besedilo:
וַיִּוָּתֵר vayivater יַעֲקֹב ya'akov, לְבַדּוֹ levado; וַיֵּאָבֵק vaye'avek אִישׁ ish עִמּוֹ immo, עַד ad עֲלוֹת alot הַשָּׁחַר hashachar.
In Jakob je postal odzadaj. Tako se je spopadel z moškim in se ruval z njim do konca dneva.
Boj z negativno stranjo se odvija skozi Noč. Naša nočna molitev in meditacije pošljejo sle/angele navzgor. In vrnejo se s Svetlobo, ki nam pomaga preseči negativnost. Prav tako, kot je Jakob zmogel preseči angela negativne strani.
Zohar ( in sicer razdelek Chaye Sara št. 242 ) nas poduči o nočni molitvi ערבית / Arvit kot neobvezni. Namreč zjutraj ob navezavi na Blagost / Chessed ter popoldan ob navezavi na Sodbo/Gevurah, oblikujemo osrednje deblo in svetloba tako potuje navzdol skozi ves dan.
Kralj David ni molil nočne molitve Arvit vendar je običajno vstajal ob polnoči ( takrat se začne vračati Svetloba ) ter pel pesmi in častil Boga za njegovo Stvaritev. To je tudi razlog zakaj naj ne bi ponoči recitirali Psalmov.
Rabin Šimon ni molil k nočni molitvi Arvit. S tem bi namreč prispeval ravnotežju celotnega duhovnega sistema še pred časom Mesije. To mu pa ni bilo dovoljeno.
Ampak mi nismo ne Kralj David niti Rabin Šimon. Zato potrebujemo vsako priložnost za duhovno navezavo, da izženemo negativnosti iz naših življenj.
{||}