Zohar Pinchas, Vol. 20 (English)/Vol 15 (Hebrew)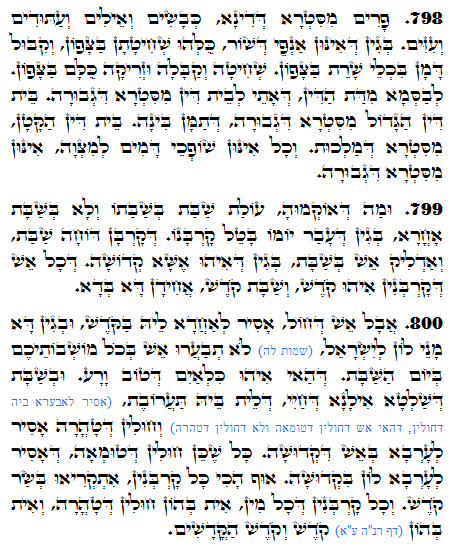 Hebrew translation:
798. פָּרִים – מִצַּד הַדִּין, וְכֵן כְּבָשִׂים וְאֵילִים וְעַתּוּדִים וְעִזִּים. מִשּׁוּם שֶׁהֵם פְּנֵי שׁוֹר, כֻּלָּם שְׁחִיטָתָם בַּצָּפוֹן, וְקִבּוּל דָּמָם בִּכְלִי שָׁרֵת בַּצָּפוֹן. שְׁחִיטָה וְקַבָּלָה וּזְרִיקָה כֻּלָּם בַּצָּפוֹן, לְבַסֵּם מִדַּת הַדִּין שֶׁבָּאָה לְבֵית דִּין מִצַּד הַגְּבוּרָה. בֵּית דִּין הַגָּדוֹל מִצַּד הַגְּבוּרָה, שֶׁשָּׁם בִּינָה. בֵּית דִּין הַקָּטָן מִצַּד הַמַּלְכוּת. וְכָל אוֹתָם שׁוֹפְכֵי דָמִים לְמִצְוָה הֵם מִצַּד הַגְּבוּרָה.
799. וּמַה שֶּׁבֵּאֲרוּהָ עֹלַת שַׁבַּת בְּשַׁבַּתּוֹ – וְלֹא בְּשַׁבָּת אַחֶרֶת, מִשּׁוּם שֶׁעָבַר יוֹמוֹ בָּטֵל קָרְבָּנוֹ. שֶׁקָּרְבָּן דּוֹחֶה שַׁבָּת, וּמַדְלִיק אֵשׁ בְּשַׁבָּת, מִשּׁוּם שֶׁהוּא אֵשׁ שֶׁל קְדֻשָּׁה. שֶׁכָּל אֵשׁ שֶׁל קָרְבָּנוֹת הוּא קֹדֶשׁ, וְשַׁבָּת קֹדֶשׁ, אֲחוּזִים זֶה בָּזֶה.
800. אֲבָל אֵשׁ שֶׁל חֹל אָסוּר לָתֵת לוֹ אֲחִיזָה בַּקֹּדֶשׁ, וּמִשּׁוּם זֶה צִוָּה לָהֶם לְיִשְׂרָאֵל, (שמות לה) לֹא תְבַעֲרוּ אֵשׁ בְּכֹל מֹשְׁבֹתֵיכֶם בְּיוֹם הַשַּׁבָּת. שֶׁזֶּהוּ כִּלְאַיִם שֶׁל טוֹב וָרָע. וּבְשַׁבָּת שֶׁשּׁוֹלֵט עֵץ הַחַיִּים, שֶׁאֵין בּוֹ תַּעֲרֹבֶת, (אָסוּר לְהַבְעִיר בּוֹ חֻלִּין, שֶׁזֶּה הָאֵשׁ שֶׁל חֻלִּין שֶׁל טֻמְאָה, וְלֹא שֶׁל חֻלִּין שֶׁל טָהֳרָה) וְחֻלִּין שֶׁל טָהֳרָה אָסוּר לְעָרֵב בְּאֵשׁ שֶׁל קְדֻשָּׁה. כָּל שֶׁכֵּן חֻלִּין שֶׁל טֻמְאָה שֶׁאָסוּר לְעָרֵב אוֹתָם בִּקְדֻשָּׁה. אַף כָּךְ כָּל קָרְבָּנוֹת נִקְרָאִים בְּשַׂר קֹדֶשׁ, וְכָל קָרְבָּנוֹת שֶׁל כָּל מִין יֵשׁ בָּהֶם חֻלִּין שֶׁל טָהֳרָה, וְיֵשׁ בָּהֶם קֹדֶשׁ וְקֹדֶשׁ הַקֳּדָשִׁים.
Pinchas 798-800
Exodus 35:3
" לֹא-תְבַעֲרוּ אֵשׁ, בְּכֹל מֹשְׁבֹתֵיכֶם, בְּיוֹם, הַשַּׁבָּת."
"You shall kindle no fire throughout your habitations upon the sabbath day"
The Torah forbids us from turning on fire on Sabbath. As we studied in early Daily Zohars, the reason is because fire causes a process of transformation. On the material level we see how it turns solid to fluid and vapor.
When we turn on fire on Shabbat we activate a process of transformation in Malchut that creates dis-affinity with Binah and disconnects us from the light of Shabbat.
Numbers 28:9
"וּבְיוֹם, הַשַּׁבָּת–שְׁנֵי-כְבָשִׂים בְּנֵי-שָׁנָה, תְּמִימִם; וּשְׁנֵי עֶשְׂרֹנִים, סֹלֶת מִנְחָה בְּלוּלָה בַשֶּׁמֶן–וְנִסְכּוֹ"
"And on the Sabbath day two he-lambs of the first year without blemish, and two tenth parts of an ephah of fine flour for a meal-offering, mingled with oil, and the drink-offering thereof"
This tells us about the sacrifices that were made on Shabbat and for that they had to set fire. The Zohar explains that the fire set on Shabbat in the Holy Temple is a holy fire that has no connection to the fire of the weekdays.
On Shabbat we have connection to the Tree of Life on the level of Binah and there should not be a mix of good and bad that comes from unholy.
The Torah forbids from putting fire on 'throughout your habitations', because it is done in an unholy place. This limitation did not include the Holy Temple.
When we come to the Redemption time and the flow of Light from Binah will be continuous, there will be no more restrictions because everything will become holy. In the Final Redemption every day will be called Shabbat. Rabbi Shimon and other tzadikkim that achieved continuous connection to the upper levels were called Shabbat.
May we all merit the time that is all Shabbat.
Related readings;
Daily Zohar #529 – Anger is a hell of a tikkun
https://dailyzohar.com/daily-zohar-529/
Daily Zohar # 656 – Keep it cool on Shabbat
https://dailyzohar.com/daily-zohar-656/