Daily Zohar # 1625 – Ha'azinu – The Gates of Moses and Rabbi Shimon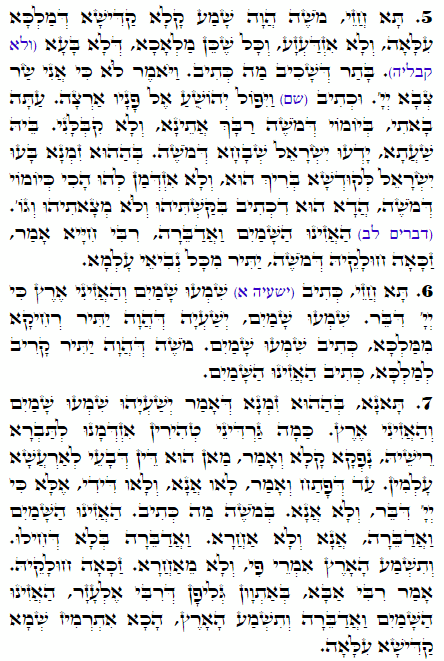 .
Hebrew translation:
5. בֹּא רְאֵה, מֹשֶׁה הָיָה שׁוֹמֵעַ קוֹל קָדוֹשׁ שֶׁל הַמֶּלֶךְ הָעֶלְיוֹן וְלֹא נִזְדַּעֲזַע, וְכָל שֶׁכֵּן מַלְאָךְ שֶׁלֹּא רָצָה (וְלֹא קִבְּלוֹ). אַחַר שֶׁמֵּת מֹשֶׁה, מַה כָּתוּב? וַיֹּאמֶר לֹא כִּי אֲנִי שַׂר צְבָא ה'. וְכָתוּב (שם) וַיִּפֹּל יְהוֹשֻׁעַ אֶל פָּנָיו אַרְצָה. עַתָּה בָאתִי, בְּיָמָיו שֶׁל מֹשֶׁה רַבְּךָ בָּאתִי וְלֹא קִבְּלַנִי. בְּאוֹתָהּ שָׁעָה יָדְעוּ יִשְׂרָאֵל שִׁבְחוֹ שֶׁל מֹשֶׁה. בְּאוֹתוֹ זְמַן בִּקְּשׁוּ יִשְׂרָאֵל לְהַקָּדוֹשׁ בָּרוּךְ הוּא וְלֹא נִזְדַּמֵּן לָהֶם כָּךְ כְּבִימֵי מֹשֶׁה. זֶהוּ שֶׁכָּתוּב בִּקַּשְׁתִּיהוּ וְלֹא מְצָאתִיהוּ וְגוֹ'.
6. הַאֲזִינוּ הַשָּׁמַיִם וַאֲדַבֵּרָה (דברים לב). רַבִּי חִיָּיא אָמַר, אַשְׁרֵי חֶלְקוֹ שֶׁל מֹשֶׁה יוֹתֵר מִכָּל נְבִיאֵי הָעוֹלָם. בֹּא רְאֵה, כָּתוּב (ישעיה א) שִׁמְעוּ שָׁמַיִם וְהַאֲזִינִי אֶרֶץ כִּי ה' דִּבֵּר. שִׁמְעוּ שָׁמַיִם. יְשַׁעְיָה שֶׁהָיָה רָחוֹק יוֹתֵר מֵהַמֶּלֶךְ, כָּתוּב שִׁמְעוּ שָׁמַיִם. מֹשֶׁה שֶׁהָיָה קָרוֹב יוֹתֵר לַמֶּלֶךְ, כָּתוּב הַאֲזִינוּ הַשָּׁמַיִם.
7. לָמַדְנוּ, בְּאוֹתוֹ זְמַן שֶׁאָמַר יְשַׁעְיָהוּ שִׁמְעוּ שָׁמַיִם וְהַאֲזִינִי אֶרֶץ, כַּמָּה בַּעֲלֵי דִינִים מְאִירִים הִזְדַּמְּנוּ לִשְׁבֹּר אֶת רֹאשׁוֹ. יָצָא קוֹל וְאָמַר: מִי הוּא זֶה שֶׁרוֹצֶה לְהַרְעִישׁ עוֹלָמוֹת? עַד שֶׁפָּתַח וְאָמַר: לֹא אֲנִי וְלֹא שֶׁלִּי, אֶלָּא כִּי ה' דִּבֵּר, וְלֹא אֲנִי. בְּמֹשֶׁה מַה כָּתוּב? הַאֲזִינוּ הַשָּׁמַיִם וַאֲדַבֵּרָה, אֲנִי וְלֹא אַחֵר. וַאֲדַבֵּרָה – בְּלֹא פַחַד. וְתִשְׁמַע הָאָרֶץ אִמְרֵי פִי – וְלֹא מֵאַחֵר. אַשְׁרֵי חֶלְקוֹ. אָמַר רַבִּי אַבָּא, בְּאוֹתִיּוֹת חֲקוּקוֹת שֶׁל רַבִּי אֶלְעָזָר, הַאֲזִינוּ הַשָּׁמַיִם וַאֲדַבֵּרָה וְתִשְׁמַע הָאָרֶץ – כָּאן נִרְמָז שֵׁם הַקָּדוֹשׁ הָעֶלְיוֹן.
.
Zohar Ha'azinu
In the Zohar portion of Haazinu, we find a special section called "Idra Zuta". In this part, Rabbi Shimon revealed the secrets of Zeir Anpin (six sefirot of Chessed, Gevurah, Tiferet, Netzach, Hod, and Yesod) and the connection to the final Tikkun. In addition, the Idra Zuta has the story of the departure of Rabbi Shimon from this world.
Why was the Idra Zuta placed inside Zohar Haazinu?
The Ari tells us that Rabbi Shimon had a spark of the soul of Moses. He came to the world to reveal the Zohar, in order to support the Shechina at the days before the revelation of Mashiach and to give us a powerful tool of connection and protection.
The Zohar and Rabbi Shimon are directing us to the gates that lead to Zeir Anpin, the "Light".
Moses and Rabbi Shimon shared a mission. Just before he passed away, Moses created the gate in the Torah at the level of Zeir Anpin. Rabbi Shimon created the parallel gate at the level of Malchut with the seventy Tikunei Zohar.
Moses opened his song in Haazinu with "Give ear, O heavens, and I will speak; and let the earth hear the words of my mouth" (Deuteronomy 32:1)
Rabbi Shimon opened his revelations of the Idra Zuta with "I will speak alone. All will listen to my words, uppers and lowers."
The last paragraph of Zohar Haazinu, just before the Idra Zuta, says "When Moses said "Give ear O heavens…" the worlds shook and a voice said, "Moshe, Moshe why are you shaking the whole world, you are only human, and because of you the world is shaking". Moses answered, "Because I call with the name of God" (Deuteronomy 32:3). At that moment, they became silent and listened to his words.
As you will read in the Idra Zuta, Rabbi Shimon started his revelations with the gates of the heavens opened and in the presence of the Shechinah and seventy righteous souls from the highest level of the Garden of Eden.
The Tikunei Zohar is the key to the gates created for us by Moses and Rabbi Shimon. The Zohar testified to that in the section of Naso, "Because the Israelites will taste from the Tree of Life, which is this book of the Zohar, they will go out of exile with mercy".
Complete Idra Zuta with partial translation and commentary
A complete reading of the Idra Zuta
הוצאה מיוחדת של האידרא זוטא קדישא (Idra Zuta-All Hebrew with commentary)
{||}