Daily Zohar – Tikunim – # 1014 – Con el apoyo de los padres podemos hacer que sea seguro.
Click here to listen to the Daily Zohar [audio:https://dailyzohar.com/wp-content/uploads/audio/dz1014.mp3|titles=Daily Zohar 1014]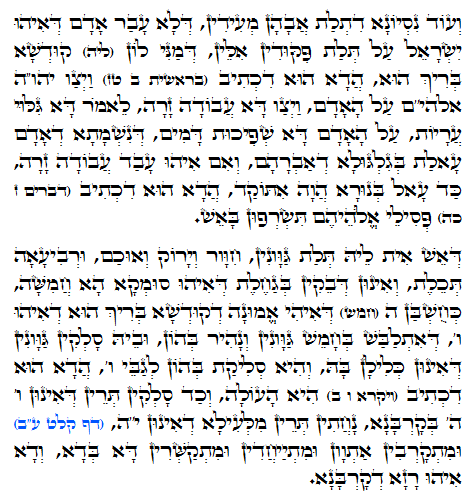 Traduccion Sebastian Palen
Tikun 2 – 3 (refiere a Tikun 22 y 23)
"וַיְצַו יְהוָה אֱלֹהִים, עַל – הָאָדָם לֵאמֹר:. מִכֹּל עֵץ – הַגָּן, אָכֹל תֹּאכֵל"
"Y YHVH Dios ordenó al hombre (Adán), diciendo: de todo árbol del jardin podrás comer;"
El Zohar nos dice que las pruebas de los patriarcas pasaron por debían corregir los pecados e impurezas que Adán hizo.
Adán es la raíz de todos los hijos de Israel y la orden en el versículo anterior se relaciona con todos nosotros.
"Y YHVH Dios ordenó" es idolatría, que no está siguiendo el sistema espiritual del Árbol de la Vida.
"Diciendo" es una referencia a los pecados sexuales. Esto fue corregido por Jacob a lo largo del trabajo de su vida, realizando las conexiones adecuadas con sus esposas para extraer hacia abajo las almas superiores.
"Para el hombre" es "derramar sangre", corregido por Isaac cuando él mismo se sometió a su atadura y que estaba dispuesto a dar su alma por esa corrección. Isaac tenía 37 años y su padre tenía 99 años en ese evento.
Este estudio es una preparación para Rosh Hashaná que viene en unos pocos días. Cuando tenemos este conocimiento y la corrección que los Patriarcas hicieron por todos nosotros, pueden beneficiarse de ella en el día del juicio final (48 horas al día) y para el resto de nuestras vidas.
Más acerca de la corrección de Abraham, Isaac y Jacob en el DZ siguiente. Incluso si usted está ocupado preparándose para las vacaciones, haga un tiempo para estudiarlo, ya que le ayudará enormemente.
{||}