Daily Zohar # 1085 – Pinchas – Study your protection
Click here to listen to the Daily Zohar [audio:https://dailyzohar.com/wp-content/uploads/pinchas/audio/dp-1085.mp3|titles=Daily Zohar 1085]
Mobile devices, please touch here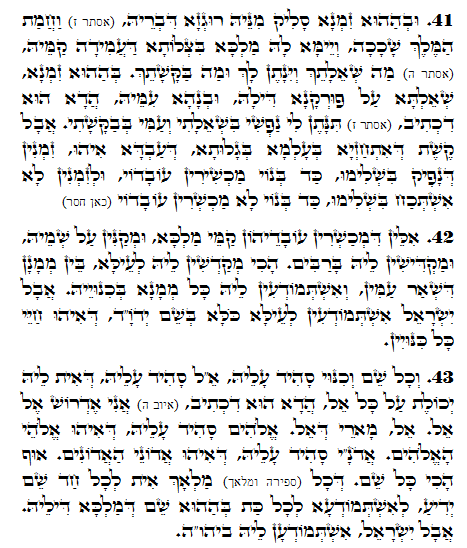 Hebrew translation:
41. וּבְאוֹתוֹ זְמַן עוֹלֶה מִמֶּנּוּ רֹגֶז בְּנוֹ, (אסתר ז) וַחֲמַת הַמֶּלֶךְ שָׁכָכָה, וְיֹאמַר לָהּ הַמֶּלֶךְ בִּתְפִלַּת הָעֲמִידָה לְפָנָיו, (שם ה) מַה שְּׁאֵלָתֵךְ וְיִנָּתֶן לָךְ וּמַה בַּקָּשָׁתֵךְ. בְּאוֹתוֹ זְמַן שׁוֹאֶלֶת עַל גְּאֻלָּתָהּ וּבָנֶיהָ עִמָּהּ, זֶהוּ שֶׁכָּתוּב (שם ז) תִּנָּתֶן לִי נַפְשִׁי בִּשְׁאֵלָתִי וְעַמִּי בְּבַקָּשָׁתִי. אֲבָל קֶשֶׁת שֶׁנִּרְאֵית בָּעוֹלָם בַּגָּלוּת, שֶׁעֶבֶד הוּא, לִפְעָמִים יוֹצֵא בִשְׁלֵמוּת, כְּשֶׁבָּנָיו מַכְשִׁירִים מַעֲשֵׂיהֶם, וְלִפְעָמִים לֹא נִמְצָא בִשְׁלֵמוּת, כְּשֶׁבָּנָיו לֹא מַכְשִׁירִים מַעֲשֵׂיהֶם.
42.[ וְאִם לֹא בִּגְלַל אוֹת יוֹ"ד שֶׁל שַׁדַּ"י שֶׁקִּנֵּא עָלֶיהָ פִּנְחָס שֶׁהֵגֵנָּה עָלָיו מִשִּׁבְטוֹ שֶׁל שִׁמְעוֹן, הָיוּ הוֹרְגִים אוֹתוֹ וּמְאַבְּדִים אוֹתוֹ מִן הָעוֹלָם. וּמִשּׁוּם זֶה, (איוב ד) זְכָר נָא מִי הוּא נָקִי אָבָד – זֶה פִּנְחָס. וְאֵיפֹה רְשָׁעִים נִכְחָדוּ -]
אֵלּוּ שֶׁמַּעֲשֵׂיהֶם כְּשֵׁרִים לִפְנֵי הַמֶּלֶךְ וּמְקַנְּאִים עַל שְׁמוֹ וּמְקַדְּשִׁים אוֹתוֹ בָּרַבִּים, כָּךְ מְקַדְּשִׁים אוֹתוֹ לְמַעְלָה בֵּין מְמֻנֵּי שְׁאָר הָעַמִּים, וְנוֹדָעִים לוֹ כָּל מְמֻנֶּה בְּכִנּוּיוֹ. אֲבָל יִשְׂרָאֵל נוֹדָעִים לְמַעְלָה הַכֹּל בְּשֵׁם יְהֹוָ"ה, שֶׁהוּא מְחַיֶּה כָּל הַכִּנּוּיִים.
43. וְכָל שֵׁם וְכִנּוּי מֵעִיד עָלָיו. אֵ"ל מֵעִיד עָלָיו שֶׁיֵּשׁ לוֹ יְכֹלֶת עַל כָּל אֵל, זֶהוּ שֶׁכָּתוּב אֲנִי אֶדְרֹשׁ אֶל אֵל. אֵל – בַּעַל הָאֵל. אֱלֹהִים מֵעִיד עָלָיו שֶׁהוּא אֱלֹהֵי הָאֱלֹהִים. אֲדֹנָ"י מֵעִיד עָלָיו שֶׁהוּא אֲדוֹנֵי הָאֲדוֹנִים. גַּם כָּךְ כָּל שֵׁם. שֶׁלְּכָל (סְפִירָה וּמַלְאָךְ) מַלְאָךְ יֵשׁ שֵׁם יָדוּעַ, לְהוֹדִיעַ לְכָל כַּת בְּאוֹתוֹ שֵׁם שֶׁל מַלְכּוֹ. אֲבָל יִשְׂרָאֵל נוֹדָעִים לוֹ בְּיהו"ה.
Pinchas 41-43
The seventy nations of the world have their own ministers who are spiritual entities that provide them with a connection to the spiritual system and sustenance.
Job 5:8
" אוּלָם–אֲנִי, אֶדְרֹשׁ אֶל-אֵל; וְאֶל-אֱלֹהִים, אָשִׂים דִּבְרָתִי"
"But as for me, I would seek unto God, and unto God would I commit my words;"
The Israelites are different form the other nations because they are connected to YHVH, which is a name that is above all and provides for all ministers of the other nations. The YHVH name controls the entire Creation and allows the Israelites to have higher a spiritual connection and ability to receive unlimited sustenance on all levels, spiritual and physical.
While the other nations have the influence of the 12 constellations, Israelites can go above that and control the outcome of their life and Tikkun process.
Those people who study and become 'jealous' (see previous articles) of the YHVH name through the study of Zohar, reveal the secrets of the YHVH name. These studies empower them and give them protection of the name.
{||}