Click here to listen to the Daily Zohar [audio:https://dailyzohar.com/wp-content/uploads/pinchas/audio/dp-1084.mp3|titles=Daily Zohar 1084]
Mobile devices, please touch here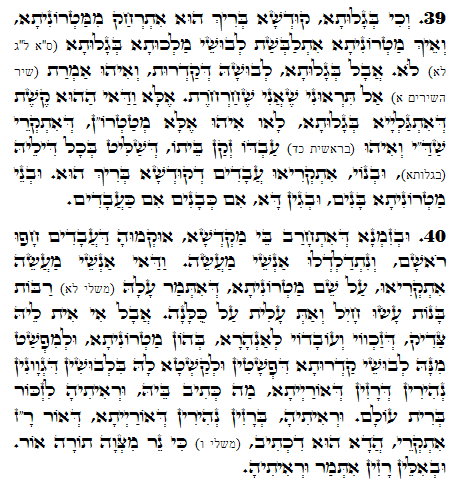 Hebrew translation:
39. וְכִי בַגָּלוּת הִתְרַחֵק הַקָּדוֹשׁ בָּרוּךְ הוּא מֵהַמַּלְכָּה? וְאֵיךְ הַמַּלְכָּה הִתְלַבְּשָׁה לְבוּשֵׁי מַלְכוּת בַּגָּלוּת? לֹא. אֲבָל בַּגָּלוּת לְבוּשָׁהּ שֶׁל קַדְרוּת, וְהִיא אוֹמֶרֶת, (שיר השירים א) אַל תִּרְאֻנִי שֶׁאֲנִי שְׁחַרְחֹרֶת. אֶלָּא וַדַּאי אוֹתָהּ קֶשֶׁת שֶׁנִּגְלֵית בַּגָּלוּת אֵינָהּ אֶלָּא מְטַטְרוֹ"ן, שֶׁנִּקְרָא שַׁדַּ"י, וְהוּא עַבְדּוֹ זְקַן בֵּיתוֹ שֶׁשּׁוֹלֵט בְּכָל אֲשֶׁר לוֹ (בַּגָּלוּת), וּבָנָיו נִקְרָאִים עַבְדֵי הַקָּדוֹשׁ בָּרוּךְ הוּא. וּבְנֵי הַמַּלְכָּה בָּנִים, וּמִשּׁוּם זֶה אִם כְּבָנִים אִם כַּעֲבָדִים.
40. וּכְשֶׁחָרַב בֵּית הַמִּקְדָּשׁ, פֵּרְשׁוּהָ שֶׁעֲבָדִים חָפוּ רֹאשָׁם וְנִדַּלְדְּלוּ אַנְשֵׁי מַעֲשֶׂה. וַדַּאי אַנְשֵׁי מַעֲשֶׂה נִקְרְאוּ עַל שֵׁם הַמַּלְכָּה, שֶׁנֶּאֱמַר עָלֶיהָ (משלי לא) רַבּוֹת בָּנוֹת עָשׂוּ חָיִל וְאַתְּ עָלִית עַל כֻּלָּנָה. אֲבָל אִם יֵשׁ צַדִּיק שֶׁזְּכֻיּוֹתָיו וּמַעֲשָׂיו לְהָאִיר בָּהֶם אֶת הַמַּלְכָּה, וְלִפְשֹׁט מִמֶּנָּה לְבוּשֵׁי קַדְרוּת הַפְּשׁוּטִים וּלְקַשֵּׁט אוֹתָהּ בִּלְבוּשִׁים שֶׁל גְּוָנִים מְאִירִים שֶׁל סוֹדוֹת הַתּוֹרָה, מַה כָּתוּב בּוֹ? וּרְאִיתִיהָ לִזְכֹּר בְּרִית עוֹלָם. וּרְאִיתִיהָ, בְּסוֹדוֹת מְאִירִים שֶׁל הַתּוֹרָה, שֶׁאוֹ"ר נִקְרָא רָ"ז. זֶהוּ שֶׁכָּתוּב (משלי ו) כִּי נֵר מִצְוָה וְתוֹרָה אוֹר. וּבַסּוֹדוֹת הַלָּלוּ נֶאֱמַר וּרְאִיתִיהָ.
Pinchas 39 – 40
Proverb 31:29
"רַבּוֹת בָּנוֹת, עָשׂוּ חָיִל; וְאַתְּ, עָלִית עַל-כֻּלָּנָה "
"'Many daughters have done (worked) valiantly, but thou excellest them all.' "
Work exists only in the world of Malchut. The Shechinah is the one that 'energizes' all actions in the world of Malchut.
After the destruction of the Holy Temple, the number of people that worked to bring the light lessened. The Shechinah then, was gloomy.
Song of Songs 1:6 "אַל-תִּרְאוּנִי שֶׁאֲנִי שְׁחַרְחֹרֶת, "
"Look not upon me, that I am swarthy"
The righteous can bring light and dress the Shechinah with the study and by revealing the secrets of the Torah.
The Zohar teaches us that, the simple study of Torah doesn't remove the dark dress. Only the study of secrets (as we do with the Zohar study) can 'decorate' the Shechinah with light and beauty.
Proverb 6:23
" כִּי נֵר מִצְוָה, וְתוֹרָה אוֹר "
"For the commandment is a lamp, and the teaching is light, "
Genesis 9:16
"וְהָיְתָה הַקֶּשֶׁת, בֶּעָנָן; וּרְאִיתִיהָ, לִזְכֹּר בְּרִית עוֹלָם, בֵּין אֱלֹהִים, וּבֵין כָּל-נֶפֶשׁ חַיָּה בְּכָל-בָּשָׂר אֲשֶׁר עַל-הָאָרֶץ. "
"And the bow shall be in the cloud; and I will look upon it, that I may remember the everlasting covenant between God and every living creature of all flesh that is upon the earth.' "
The Zohar quotes this verse to teach us that the study of the secrets of the Torah is like the rainbow and when God sees it, He 'remembers' the covenant to remove judgments from the world.
{||}