Daily Zohar # 1139 – Pinchas – Hod, Yessod, Bride
Click here to listen to the Daily Zohar


Zohar Pinchas, Vol. 20 (English)/Vol 15 (Hebrew)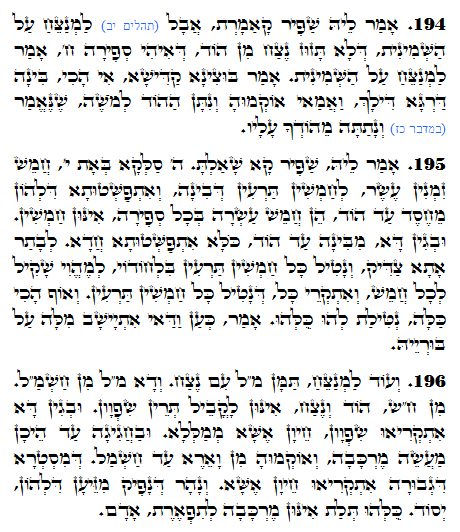 Hebrew translation:
194. אָמַר לוֹ, יָפֶה אָמַרְתָּ, אֲבָל (תהלים יב) לַמְנַצֵּחַ עַל הַשְּׁמִינִית, שֶׁלֹּא תָזוּז נֵצַח מֵהוֹד, שֶׁהִיא סְפִירָה שְׁמִינִית, אָמַר לַמְנַצֵּחַ עַל הַשְּׁמִינִית. אָמַר הַמְּנוֹרָה הַקְּדוֹשָׁה, אִם כָּךְ, בִּינָה דַּרְגָּתְךָ, וְלָמָּה פֵּרְשׁוּהָ וְנִתַּן הַהוֹד לְמֹשֶׁה, שֶׁנֶּאֱמַר (במדבר כז) וְנָתַתָּה מֵהוֹדְךָ עָלָיו?
195. אָמַר לוֹ, יָפֶה שָׁאַלְתָּ. ה' עוֹלָה בָּאוֹת י', חָמֵשׁ פְּעָמִים עֶשֶׂר, לַחֲמִשִּׁים שַׁעֲרֵי בִינָה. וְהִתְפַּשְּׁטוּתָם מֵחֶסֶד וְעַד הוֹד הֵן חָמֵשׁ, עֶשֶׂר בְּכָל סְפִירָה, הֵם חֲמִשִּׁים. וּמִשּׁוּם זֶה מִבִּינָה עַד הוֹד, הַכֹּל הִתְפַּשְּׁטוּת אַחַת. אַחַר כָּךְ בָּא צַדִּיק, וְלָקַח כָּל הַחֲמִשִּׁים שְׁעָרִים לְבַדּוֹ, לִהְיוֹת שָׁקוּל לְכָל הֶחָמֵשׁ, וְנִקְרָא כֹּל, שֶׁנּוֹטֵל כָּל חֲמִשִּׁים שְׁעָרִים. וְגַם כָּךְ כַּלָּה לָקְחָה אֶת כֻּלָּם. אָמַר, כָּעֵת הִתְיַשֵּׁב דָּבָר זֶה עַל בֻּרְיוֹ.
196. וְעוֹד לַמְנַצֵּחַ – שָׁם מ"ל עִם נֵצַח. וְזֶה מ"ל מֵחַשְׁמַ"ל. מִן ח"ש – הוֹד וְנֵצַח, הֵם כְּנֶגֶד שְׁתֵּי הַשְּׂפָתַיִם. וְלָכֵן נִקְרְאוּ שְׂפָתַיִם, חַיּוֹת אֵשׁ מְדַבְּרוֹת. וּבַחֲגִיגָה, עַד הֵיכָן מַעֲשֵׂה מֶרְכָּבָה? וּפֵרְשׁוּהָ מִן וָאֵרֶא, עַד חַשְׁמַל. שֶׁמִּצַּד הַגְּבוּרָה נִקְרְאוּ חַיּוֹת אֵשׁ. וְנָהָר שֶׁיּוֹצֵא מֵהַזֵּעָה שֶׁלָּהֶם – יְסוֹד. כָּל שְׁלֹשֶׁת אֵלֶּה מֶרְכָּבָה לְתִפְאֶרֶת, אָדָם.
Pinchas 194-196
Psalms 12:1
"לַמְנַצֵּחַ עַל-הַשְּׁמִינִית, מִזְמוֹר לְדָוִד"
"For the Leader; on the Sheminith (Eighth). A Psalm of David."
Rabbi Shimon and Moses discuss the ten kinds of music from Psalms and explain that the first word in the verse above, לַמְנַצֵּחַ, is the aspect of Netzach. Rabbi Shimon explains that 'on the eighth' refers to the strong connection of Netzach and Hod that is the eighth Sefira.
He continues and says that Moses is Binah, but why does Numbers 27:20 say that Moses is Hod?
"וְנָתַתָּה מֵהוֹדְךָ, עָלָיו"
"And you shall put of your honor (Hod הוֹדְךָ) upon him"
Moses answers and explains that the H ה of the name that is numerically 5 is multiplied by the Y י of the name because Hod is the fifth of the Lower seven that goes up through the 5 Sefirst. Each of them has ten inner Sefirot. Together they reveal the 50 gates of Binah and that is how Hod is connected to Binah.
This is also why the word כל numerically 50, refers to Yessod that connects the 50 gates from Malchut to Binah. Malchut is also called the 'Bride' , כלה. As we see in the Hebrew word for Bride 'כלה is constructed from the 50 כל and the ה of Malchut. Yessod (= כל=50) connects to five Sefirot above and reveals Zeir Anpin that is male. Malchut is the female and when Yessod reaches Binah through the 50 gates, it brings light through Yessod to Malchut and transforms her to a state of 'Bride' , כלה.
In a proper wedding ceremony, the bride surrounds the groom seven times to connect to all levels up to Binah. Then come seven blessings and later the groom MUST channel the high energy that is from the level of Ruach to his bride.
For similar reasons Friday night that is the seventh day, is also preferred for unification between man and his wife.
Moses was considered the husband of the Shechina because he always channeled the light from Binah to Malchut. He brought down the Torah that is the aspect of Zeir Anpin to allow all people in Malchut to connect to it.
{||}