Daily Zohar # 1138 – Pinchas – Tikkun Haklali
Click here to listen to the Daily Zohar

Zohar Pinchas, Vol. 20 (English)/Vol 15 (Hebrew)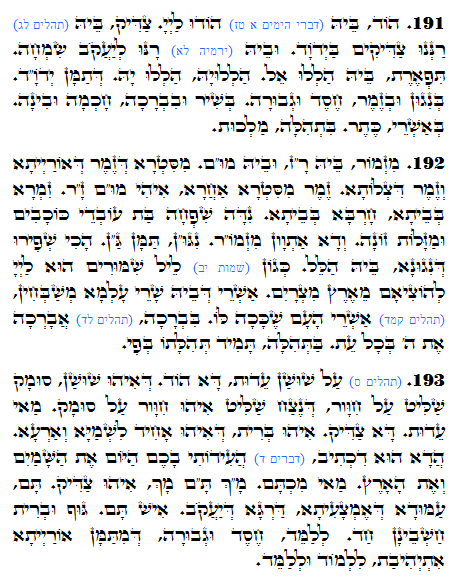 Hebrew translation:
191. הוֹד – בּוֹ הוֹדוּ לַה'. צַדִּיק – בּוֹ (תהלים לג) רַנְּנוּ צַדִּיקִים בַּה', וּבוֹ (ירמיה לא) רָנּוּ לְיַעֲקֹב שִׂמְחָה. תִּפְאֶרֶת – בּוֹ (תהלים קנ) הַלְלוּ אֵל. הַלְלוּיָהּ, הַלְלוּ יָהּ, שֶׁשָּׁם יְהֹוָ"ה. בְּנִגּוּן וּבְזֶמֶר – חֶסֶד וּגְבוּרָה. בְּשִׁיר וּבִבְרָכָה – חָכְמָה וּבִינָה. בְּאַשְׁרֵי – כֶּתֶר. בִּתְהִלָּה – מַלְכוּת.
192. מִזְמוֹר – בּוֹ רָ"ז וּבוֹ מוּ"ם. מִצַּד הַזֶּמֶר שֶׁל תּוֹרָה וְזֶמֶר שֶׁל תְּפִלָּה. זֶמֶר מִצַּד אַחֵר הוּא מוּ"ם זָ"ר. זֶמֶר בַּבַּיִת – חֶרֶב בַּבַּיִת. נִדָּה שִׁפְחָה בַּת עוֹבְדֵי כוֹכָבִים וּמַזָּלוֹת זוֹנָה. וְזֶה אוֹתִיּוֹת מִזְמוֹ"ר. נִגּוּ"ן – שָׁם גַּ"ן. כָּךְ יְפִי הַנִּגּוּן, בּוֹ הַלֵּל, כְּמוֹ (שמות יב) לֵיל שִׁמֻּרִים הוּא לַה' לְהוֹצִיאָם מֵאֶרֶץ מִצְרָיִם. אַשְׁרֵי שֶׁבּוֹ שָׁרוּי הָעוֹלָם מְשַׁבְּחִים. (תהלים קמד) אַשְׁרֵי הָעָם שֶׁכָּכָה לּוֹ. בִּבְרָכָה – (שם לד) אֲבָרְכָה אֶת ה' בְּכָל עֵת. בִּתְהִלָּה – תָּמִיד תְּהִלָּתוֹ בְּפִי.
193. עַל שׁוּשַׁן עֵדוּת (שם ס) – זֶה הוֹד, שֶׁהוּא שׁוֹשַׁן, אָדֹם שׁוֹלֵט עַל לָבָן, שֶׁהַנֵּצַח שׁוֹלֵט הוּא לָבָן עַל אָדֹם. מַה זֶּה עֵדוּת? זֶה צַדִּיק. הוּא בְּרִית, שֶׁהוּא אוֹחֵז אֶת הַשָּׁמַיִם וְאֶת הָאָרֶץ. זֶהוּ שֶׁכָּתוּב (דברים ד) הַעִידֹתִי בָכֶם הַיּוֹם אֶת הַשָּׁמַיִם וְאֶת הָאָרֶץ. מַה זֶּה מִכְתָּם? מָ"ךְ תָּ"ם. מָךְ הוּא צַדִּיק, תָּם עַמּוּד הָאֶמְצָעִי, דַּרְגַּת יַעֲקֹב, (בראשית כה) אִישׁ תָּם. גּוּף וּבְרִית נֶחְשָׁבִים לְאֶחָד. לְלַמֵּד – חֶסֶד וּגְבוּרָה, שֶׁמִּשָּׁם נִתְּנָה תוֹרָה לִלְמֹד וּלְלַמֵּד.
Pinchas 191-193
Psalms was written with the secret of "Ten kinds of music" that correspond to the ten Sefirot. In Tikun thirteen of Tikunei Zohar we learn the relation between the Sefirot and the ten kinds of music that King David used to channel Light to the world.
אַשְׁרֵי – Keter
שִׁיר – Chokmah
בְרָכָה – Binah
מזמור – Chessed
נִגּוּן – Gevurah
הללויה – Tiferet
נצוח – Netzach
הודו – Hod
רַנְּנוּ – Yessod
תְהִלָּה – We learn it in this part of Zohar because it isn't mentioned in Tikun 13. In another place it also refers to תפלה , 'prayer'.
The significance of these Pslams are in their connection to the power of Creation. We know that God created the world with Ten Sayings of "And God said let there be….". It is the secret of the formation of the Ten Sefirot from the Endless. The Ten Commandments also correspond to the Ten Sefirot.
Rabbi Nachman of Breslov revealed to us a special selection of ten Psalms that help us correct impurities of the soul. It is called התיקון הכללי, "Tikkun HaKlali".
The Psalms chapters that make this are 16, 32, 41, 42, 59, 77, 90, 105, 137, and 150. It should be read in this order.
The Tikkun Haklali can be read and downloaded using the following link. tikun-haklali (PDF)
Psalms is from the aspect of Malchut and we can reveal its light during time of day light. The connection can be done after midnight because the light of the day begins to build up, but it is better to do it after the first light of the morning and before sundown. There are no time related issues or potential loss of light when reading Psalms in translations of other languages.
{||}