Daily Zohar # 1150 – Pinchas – The vessel of the Endless
Click here to listen to the Daily Zohar


Zohar Pinchas, Vol. 20 (English)/Vol 15 (Hebrew)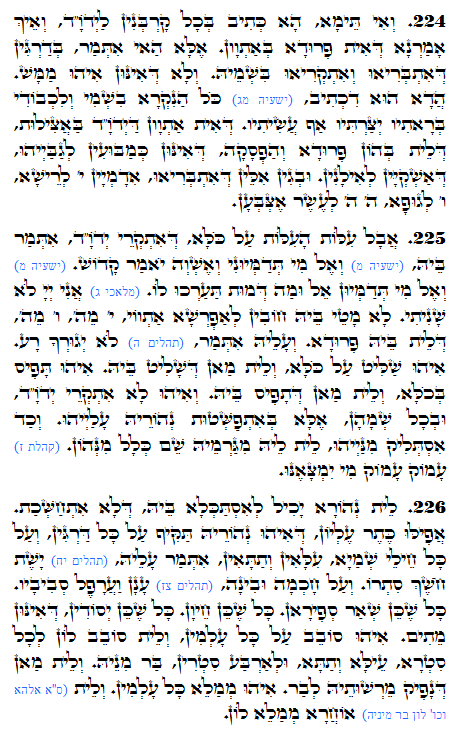 Hebrew translation:
224. וְאִם תֹּאמַר, הֲרֵי כָּתוּב בְּכָל הַקָּרְבָּנוֹת לַיהֹוָ"ה, וְאֵיךְ אָמַרְנוּ שֶׁיֵּשׁ פֵּרוּד בָּאוֹתִיּוֹת? אֶלָּא זֶה נֶאֱמַר בַּדְּרָגוֹת שֶׁנִּבְרְאוּ וְנִקְרְאוּ בִשְׁמוֹ, וְלֹא שֶׁהֵם הוּא מַמָּשׁ. זֶהוּ שֶׁכָּתוּב (ישעיה מג) כֹּל הַנִּקְרָא בִשְׁמִי וְלִכְבוֹדִי בְּרָאתִיו יְצַרְתִּיו אַף עֲשִׂיתִיו. שֶׁיֵּשׁ אוֹתִיּוֹת שֶׁל יְהֹוָ"ה בָּאֲצִילוּת, שֶׁאֵין בָּהֶן פֵּרוּד וְהַפְסָקָה, שֶׁהֵן כְּמוֹ מַבּוּעִין אֲלֵיהֶם שֶׁמַּשְׁקִים אֶת הָאִילָנוֹת. וּמִשּׁוּם אֵלֶּה שֶׁנִּבְרְאוּ מִתְדַּמִּים י' לָרֹאשׁ, ו' לַגּוּף, ה' ה' לְעֶשֶׂר אֶצְבָּעוֹת.
225. אֲבָל עִלַּת הָעִלּוֹת עַל הַכֹּל, שֶׁנִּקְרָא יְהֹוָ"ה, נֶאֱמַר בּוֹ (שם מ) וְאֶל מִי תְדַמְּיוּנִי וְאֶשְׁוֶה יֹאמַר קָדוֹשׁ. (שם) וְאֶל מִי תְּדַמְּיוּן אֵל וּמַה דְּמוּת תַּעַרְכוּ לוֹ. (מלאכי ג) אֲנִי ה' לֹא שָׁנִיתִי. לָא מַגִּיעַ אֵלָיו חֲטָאִים לְהַפְרִיד אוֹתִיּוֹתָיו – י' מֵה', ו' מֵה'. שֶׁאֵין בָּהֶם פֵּרוּד. וְעָלָיו נֶאֱמַר (תהלים ה) לֹא יְגֻרְךָ רָע. הוּא שׁוֹלֵט עַל הַכֹּל, וְאֵין מִי שֶׁשּׁוֹלֵט בּוֹ. הוּא תּוֹפֵס אֶת הַכֹּל, וְאֵין מִי שֶׁתּוֹפֵס בּוֹ. וְהוּא לֹא נִקְרָא יְהֹוָ"ה, וּבְכָל הַשֵּׁמוֹת, אֶלָּא בְּהִתְפַּשְּׁטוּת אוֹרוֹ עֲלֵיהֶם. וּכְשֶׁמִּסְתַּלֵּק מֵהֶם, אֵין לוֹ מֵעַצְמוֹ שֵׁם כְּלָל מֵהֶם. עָמֹק עָמֹק מִי יִמְצָאֶנּוּ.
226. אֵין אוֹר יָכוֹל לְהִסְתַּכֵּל בּוֹ, שֶׁלֹּא נֶחְשָׁךְ. אֲפִלּוּ כֶּתֶר עֶלְיוֹן, שֶׁאוֹרוֹ חָזָק עַל כָּל הַדְּרָגוֹת וְעַל כָּל חֵילוֹת הַשָּׁמַיִם, עֶלְיוֹנִים וְתַחְתּוֹנִים, נֶאֱמַר עָלָיו (שם יח) יָשֶׁת חֹשֶׁךְ סִתְרוֹ. וְעַל חָכְמָה וּבִינָה – (שם צג) עָנָן וַעֲרָפֶל סְבִיבָיו. כָּל שֶׁכֵּן שְׁאָר הַסְּפִירוֹת, כָּל שֶׁכֵּן הַחַיּוֹת, כָּל שֶׁכֵּן יְסוֹדוֹת, שֶׁהֵם מֵתִים. הוּא סוֹבֵב עַל כָּל הָעוֹלָמוֹת, וְאֵין סוֹבֵב אוֹתָם לְכָל צַד, לְמַעְלָה וּלְמַטָּה וּלְאַרְבָּעָה צְדָדִים, פְּרָט לוֹ. וְאֵין מִי שֶׁיּוֹצֵא מֵרְשׁוּתוֹ הַחוּצָה. הוּא מְמַלֵּא כָּל הָעוֹלָמוֹת, וְאֵין (אֱלוֹהַּ וְכוּ' לָהֶם חוּץ מִמֶּנּוּ) אַחֵר שֶׁמְּמַלֵּא אוֹתָם.
Pinchas 224-226
Continue from Daily Zohar 1148,1149
Moses continues his discussion with Rabbi Shimon and explains that when the sins grow the letters of the YHVH name get separated. To correct that, we use the Torah that is the complete name of YHVH. With that we bring the letters closer to each other. It is the aspect of sacrifices and it helps us correct our sins and impurities.
Meditations and the actions of the precepts create angels that come closer to the Light and open channels like the actual sacrifices. They connect the upper levels represented by letters יה YH, with the lower levels represented by the letters וה VH.
These methods connect the Light to different vessels that bring it down to the world. This light is revealed through the elements of nature (fire, water, air and earth) and the angels Michael, Gabriel, Uriel and Raphael. Without our actions to draw the light these great forces lose their power and we are left without protection.
He (Moses) makes it clear for us that the Light is one and has no separation. The only separation is what we experience when our vessel lacks the Light.
Isaiah 43:7
"כֹּל הַנִּקְרָא בִשְׁמִי, וְלִכְבוֹדִי בְּרָאתִיו: יְצַרְתִּיו, אַף-עֲשִׂיתִיו"
"Every one that is called by My name (Atziluth, emanation), and whom I have created (B'riah, Creation) for My glory, I have formed (Yetzirah, Formation) him, yea, I have made (Asiah, Action) him.'"
The Endless Light, created the four worlds and all that they include within them to reveal the name YHVH. The YHVH itself is a vessel for the Endless Light that doesn't change and we can never form an image of him. The second commandment instructs us to avoid making an image of God.
Isaiah 40:25
" וְאֶל-מִי תְדַמְּיוּנִי, וְאֶשְׁוֶה–יֹאמַר, קָדוֹשׁ"
"To whom then will ye liken Me, that I should be equal? saith the Holy One."
Malachi 3:6
"כִּי אֲנִי יְהוָה, לֹא שָׁנִיתִי; וְאַתֶּם בְּנֵי-יַעֲקֹב, לֹא כְלִיתֶם"
"For I YHVH change not; and ye, O sons of Jacob, are not consumed."
As vessels, it is our responsibility to maintain connection to the Light with the spiritual tools that we have. Without them we disconnect from the Torah and the name of YHVH that is our key to the Endless Light. The verse from Malachi reveals to us that we, the sons of Jacob, the Israelites, can live forever when we are one with YHVH.
{||}