Daily Zohar # 1154 – Pinchas – Make your wife happy
Click here to listen to the Daily Zohar
Listen to the Zohar
Zohar Pinchas, Vol. 20 (English)/Vol 15 (Hebrew)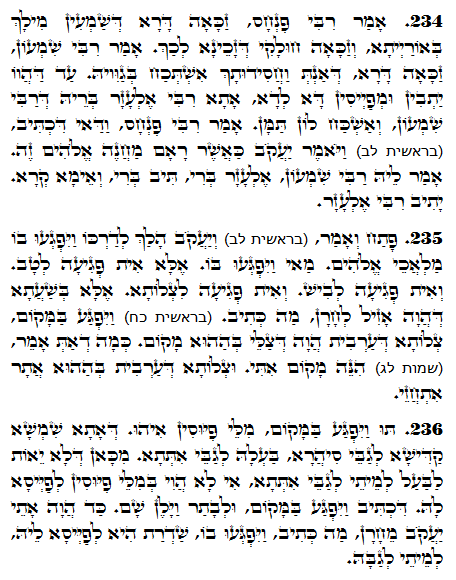 Hebrew translation:
234. אָמַר רַבִּי פִּנְחָס, אַשְׁרֵי הַדּוֹר שֶׁשּׁוֹמְעִים דִּבְרֵי הַתּוֹרָה שֶׁלְּךָ, וְאַשְׁרֵי חֶלְקִי שֶׁזָּכִיתִי לְכָךְ. אָמַר רַבִּי שִׁמְעוֹן, אַשְׁרֵי הַדּוֹר שֶׁאַתָּה וַחֲסִידוּת שֶׁלְּךָ נִמְצָא בְתוֹכוֹ. עַד שֶׁהָיוּ יוֹשְׁבִים וּמְפַיְּסִים זֶה אֶת זֶה, בָּא רַבִּי אֶלְעָזָר בֶּן רַבִּי שִׁמְעוֹן וּמָצָא אוֹתָם שָׁם. אָמַר רַבִּי פִּנְחָס, וַדַּאי שֶׁכָּתוּב (בראשית לב) וַיֹּאמֶר יַעֲקֹב כַּאֲשֶׁר רָאָם מַחֲנֵה אֱלֹהִים זֶה. אָמַר לוֹ רַבִּי שִׁמְעוֹן, אֶלְעָזָר בְּנִי, שֵׁב בְּנִי וֶאֱמֹר הַפָּסוּק. יָשַׁב רַבִּי אֶלְעָזָר.
235. פָּתַח וְאָמַר, (שם) וְיַעֲקֹב הָלַךְ לְדַרְכּוֹ וַיִּפְגְּעוּ בוֹ מַלְאֲכֵי אֱלֹהִים. מַה זֶּה וַיִּפְגְּעוּ בוֹ? אֶלָּא יֵשׁ פְּגִיעָה לְטוֹב וְיֵשׁ פְּגִיעָה לְרַע וְיֵשׁ פְּגִיעָה לִתְפִלָּה. אֶלָּא בְּשָׁעָה שֶׁהָיָה הוֹלֵךְ לְחָרָן מַה כָּתוּב? (שם כח) וַיִּפְגַּע בַּמָּקוֹם. תְּפִלַּת עַרְבִית הָיָה מִתְפַּלֵּל בְּאוֹתוֹ מָקוֹם, כְּמוֹ שֶׁנֶּאֱמַר (שמות לג) הִנֵּה מָקוֹם אִתִּי. וּתְפִלַּת עַרְבִית בְּאוֹתוֹ מָקוֹם נִרְאֲתָה.
236. עוֹד וַיִּפְגַּע בַּמָּקוֹם – דִּבְרֵי פִיּוּסִים הֵם. שֶׁבָּא הַשֶּׁמֶשׁ הַקָּדוֹשׁ אֶל הַלְּבָנָה, בַּעְלָהּ אֶל אִשְׁתּוֹ. מִכָּאן שֶׁלֹּא רָאוּי לַבַּעַל לָבֹא לָאִשָּׁה אִם לֹא הָיָה בְדִבְרֵי פִיּוּסִים לְפַיְּסָהּ, שֶׁכָּתוּב וַיִּפְגַּע בַּמָּקוֹם, וְאַחַר כָּךְ וַיָּלֶן שָׁם. כְּשֶׁהָיָה בָּא יַעֲקֹב מֵחָרָן, מַה כָּתוּב? וַיִּפְגְּעוּ בוֹ. שָׁלְחָה הִיא לְפַיֵּס אוֹתוֹ לָבֹא אֵלֶיהָ.
Pinchas 234-236
Genesis 32:2, 3
"וְיַעֲקֹב, הָלַךְ לְדַרְכּוֹ; וַיִּפְגְּעוּ-בוֹ, מַלְאֲכֵי אֱלֹהִים. "
"וַיֹּאמֶר יַעֲקֹב כַּאֲשֶׁר רָאָם, מַחֲנֵה אֱלֹהִים זֶה; וַיִּקְרָא שֵׁם-הַמָּקוֹם הַהוּא, מַחֲנָיִם. "
"And Jacob went on his way, and the angels of God met (hit פגע) him. "
"And Jacob said when he saw them: 'This is God's camp.' And he called the name of that place Mahanaim."
The word 'met' in the verse above has the Hebrew root of ' פגע' , meaning 'hit'. Like in English, it can be used as in 'He hit the place' meaning, 'he arrived at the place' or use 'hit' in its negative aspect.
Genesis 28:11
" וַיִּפְגַּע בַּמָּקוֹם וַיָּלֶן שָׁם, כִּי-בָא הַשֶּׁמֶשׁ "
"And he reached the place, and tarried there all night, because the sun was set "
This verse explains that 'Jacob arrived to the place' that describes a connection of Zeir Anpin and Malchut. Jacob stopped for the evening prayer to 'please' Malchut to accept his connection.
Malchut is female and the aspect of the left column. Zeir Anpin is male and the aspect of right column. The husband brings back the light of Chassadim to Malchut with the actual unification.
The Zohar tells us that it is not good for a husband to come to his wife unless he pleases her so she'll be happy to accept his connection. During the process of Creation, Malchut had the light of all the Sefirot above her, before pushing the light away. Malchut created a restriction and became an empty vessel with desire for the light. Restriction is the natural state of Malchut. It should be transformed to desire to receive to let the Light 'penetrate' through the curtains of Malchut, planting seeds of Light for continuation.
To benefit from this union the man should please his wife so she'll be receptive to him when he transfers the light. Proper unification is 'fruitful' in all aspects of life and it creates balance between the two and greater flow of light in their lives.
Women with children are not easily 'pleased' because they already experienced and fulfilled continuation of Light in the world. Nevertheless, the Light that flows between the two is important for all aspects of life.
{||}