Daily Zohar # 1160 – Pinchas – The 'Purpose'
Daily Zohar 1160
Daily Zohar 1160
Zohar Pinchas, Vol. 20 (English)/Vol 15 (Hebrew)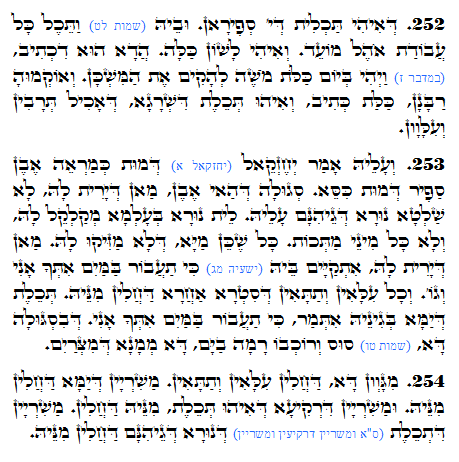 Hebrew translation:
252. שֶׁהִיא תַּכְלִית שֶׁל עֶשֶׂר סְפִירוֹת, וּבוֹ (שמות לט) וַתֵּכֶל כָּל עֲבֹדַת [מִשְׁכַּן] אֹהֶל מוֹעֵד, וְהִיא לְשׁוֹן כַּלָּה. זֶהוּ שֶׁכָּתוּב (במדבר ז) וַיְהִי בְּיוֹם כַּלֹּת מֹשֶׁה לְהָקִים אֶת הַמִּשְׁכָּן. וּפֵרְשׁוּהָ רַבָּנָן, כַּלַּת כָּתוּב, וְהִיא תְּכֵלֶת הַנֵּר, שֶׁאוֹכֶלֶת חֲלָבִים וְעוֹלוֹת.
253. וְעָלָיו אָמַר יְחֶזְקֵאל, דְּמוּת כְּמַרְאֵה אֶבֶן סַפִּיר דְּמוּת כִּסֵּא. סְגֻלַּת הָאֶבֶן הַזּוֹ, שֶׁמִּי שֶׁיּוֹרֵשׁ אוֹתָהּ לֹא שׁוֹלֶטֶת בּוֹ אֵשׁ הַגֵּיהִנֹּם. אֵין אֵשׁ שֶׁמְּקַלְקֶלֶת אוֹתָהּ וְלֹא כָּל מִינֵי מַתָּכוֹת, כָּל שֶׁכֵּן שֶׁהַמַּיִם לֹא מַזִּיקִים אוֹתָהּ. מִי שֶׁיּוֹרֵשׁ אוֹתָהּ, מִתְקַיֵּם בּוֹ (ישעיה מג) כִּי תַעֲבֹר בַּמַּיִם אִתְּךָ אָנִי וְגוֹ'. וְכָל עֶלְיוֹנִים וְתַחְתּוֹנִים שֶׁל צַד הָאַחֵר פּוֹחֲדִים מִמֶּנּוּ. תְּכֵלֶת הַיָּם, בִּשְׁבִילָהּ נֶאֱמַר כִּי תַעֲבֹר בַּמַּיִם אִתְּךָ אָנִי. שֶׁבִּסְגֻלָּה זוֹ (שמות טו) סוּס וְרֹכְבוֹ רָמָה בַיָּם, זֶה מְמֻנֶּה שֶׁל מִצְרַיִם.
254. מִגָּוֶן זֶה פּוֹחֲדִים עֶלְיוֹנִים וְתַחְתּוֹנִים. מַחֲנוֹת הַיָּם פּוֹחֲדִים מִמֶּנּוּ. וּמַחֲנוֹת הָרָקִיעַ, שֶׁהוּא תְּכֵלֶת, מִמֶּנּוּ פּוֹחֲדִים. מַחֲנוֹת הַתְּכֵלֶת (וּמַחֲנוֹת הָרְקִיעִים וּמַחֲנוֹת) שֶׁאִשֵּׁי הַגֵּיהִנֹּם פּוֹחֲדִים מִמֶּנָּה.
Pinchas 252-254
Exodus 39:32
"וַתֵּכֶל–כָּל-עֲבֹדַת, מִשְׁכַּן אֹהֶל מוֹעֵד "
"Thus was finished (תֵּכֶל) all the work of the tabernacle"
Numbers 7:1
" וַיְהִי בְּיוֹם כַּלּוֹת מֹשֶׁה לְהָקִים אֶת-הַמִּשְׁכָּן"
"And it came to pass (כַּלּוֹת) on the day that Moses had made an end of setting up the tabernacle"
We learn from "The Book of Formation" that the Hebrew letters are called 'stones' because they are the building blocks of the world of Malchut that we live in.
The Zohar teaches us about the 'purpose' of the Tabernacle with the interpretation of the words וַתֵּכֶל and כַּלּוֹת. They have the same letters and the root is כלת, which is also the root for the word 'תכלית', that means purpose, object of a mission and intention.
The word for Malchut is מלכות and we can easily see the same root. The color of Malchut is תכלת, which is the sky blue color. Even if you fly high above earth the sky will still be blue. The reason is that this is the color of light when it passes through air and water that gives us the elements of life in this world. Basically if we see terrestrial planets with the color of sky blue then we can be almost certain that there is life on them.
The Zohar also revels that the Tabernacle was the תכלית, purpose, of revealing the Ten Sefirot. God אלהים created the world in 10 sayings and the revelation of the light is in the Tabernacle. תכלית, is numerically 860, which is the same as 10 times אלהים (86).
What a beautiful revelation of the Zohar.
{||}