Daily Zohar # 1164 – Pinchas – Grinding light
Daily Zohar 1164
Daily Zohar 1164
Zohar Pinchas, Vol. 20 (English)/Vol 15 (Hebrew)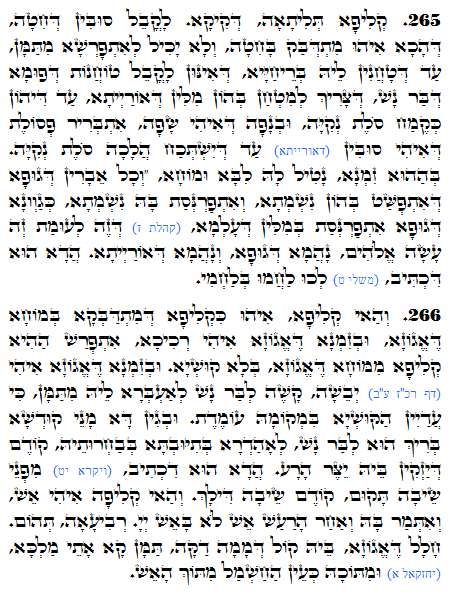 Hebrew translation:
<
265. קְלִפָּה שְׁלִישִׁית, דַּקִּיקָה – כְּנֶגֶד סֻבִּין שֶׁל חִטָּה, שֶׁכָּאן הוּא נִדְבָּק בַּחִטָּה וְלֹא יָכוֹל לְהִפָּרֵד מִשָּׁם עַד שֶׁטּוֹחֲנִים אוֹתוֹ בָּרֵחַיִם, שֶׁהֵן כְּנֶגֶד טוֹחֲנוֹת הַפֶּה שֶׁל הָאִישׁ, שֶׁצָּרִיךְ לִטְחֹן בָּהֶן דִּבְרֵי תוֹרָה עַד שֶׁיִּהְיוּ כְּמוֹ קֶמַח סֹלֶת נְקִיָּה. וּבְנָפָה, שֶׁהִיא הַשָּׂפָה, מִתְבָּרֶרֶת הַפְּסֹלֶת, שֶׁהוּא סֻבִּין (שֶׁל הַתּוֹרָה), עַד שֶׁתִּמָּצֵא הֲלָכָה סֹלֶת נְקִיָּה. בְּאוֹתוֹ זְמַן נוֹטֵל אוֹתָהּ הַלֵּב וְהַמֹּחַ, וְכָל אֵיבְרֵי הַגּוּף שֶׁהַנְּשָׁמָה מִתְפַּשֶּׁטֶת בָּהֶם, וְהַנְּשָׁמָה מִתְפַּרְנֶסֶת מִמֶּנָּה כְּמוֹ שֶׁהַגּוּף מִתְפַּרְנֵס מִדִּבְרֵי הָעוֹלָם. שֶׁזֶּה לְעֻמַּת זֶה עָשָׂה אֱלֹהִים – לֶחֶם הַגּוּף, וְלֶחֶם הַתּוֹרָה. זֶהוּ שֶׁכָּתוּב (משלי ט) לְכוּ לַחֲמוּ בְלַחְמִי.
266. וּקְלִפָּה זוֹ הִיא כְּמוֹ קְלִפָּה שֶׁנִּדְבֶּקֶת לְמֹחַ הָאֱגוֹז, וּכְשֶׁהָאֱגוֹז רַךְ, נִפְרֶדֶת אוֹתָהּ קְלִפָּה מִמֹּחַ הָאֱגוֹז בְּלִי קֹשִׁי. וּכְשֶׁהָאֱגוֹז יָבֵשׁ, קָשֶׁה לָאָדָם לְהַעֲבִירָהּ מִשָּׁם, כִּי עֲדַיִן הַקֻּשְׁיָא בִּמְקוֹמָהּ עוֹמֶדֶת. וְלָכֵן צִוָּה הַקָּדוֹשׁ בָּרוּךְ הוּא לָאָדָם לַחֲזֹר בִּתְשׁוּבָה בְּבַחֲרוּתוֹ, לִפְנֵי שֶׁיַּזְקִין בּוֹ יֵצֶר הָרָע. זֶהוּ שֶׁכָּתוּב (ויקרא יט) מִפְּנֵי שֵׂיבָה תָּקוּם, קֹדֶם שֵׂיבָה שֶׁלְּךָ. וּקְלִפָּה זוֹ הִיא אֵשׁ, וְנֶאֱמַר בָּהּ, וְאַחַר הָרַעַשׁ אֵשׁ לֹא בָאֵשׁ ה'. רְבִיעִית – תְּהוֹם, חֲלַל הָאֱגוֹז, קוֹל דְּמָמָה דַּקָּה, שָׁם בָּא הַמֶּלֶךְ, (יחזקאל א) וּמִתּוֹכָהּ כְּעֵין הַחַשְׁמַל מִתּוֹךְ הָאֵשׁ.
Pinchas 265,266
There are three Klipot that surround the Holy Throne and the four Holy Creatures. The first two are תהו ובהו. They are mentioned in Genesis 1:2 as "unformed תהו and void ובהו".
They are green and white and the aspect of chaff and straw of the wheat. The third Klipa is finer and the aspect of bran of the wheat. It clings to the wheat and in order to separate it, we need to grind it in a mill.
The molar teeth are our personal mill to break the klipa. When we chew the words of the Torah well, we separate the negativity that comes into the body. The result is pure spiritual food that sustains our soul. So is the same with the sustenance of the body. We need to chew our food well and break it in our mouth before allowing it to enter the body. It will transform into pure food that the body will benefit from.
Proverb 9:5
"לְכוּ, לַחֲמוּ בְלַחֲמִי; וּשְׁתוּ, בְּיַיִן מָסָכְתִּי"
"'Come, eat (לַחֲמוּ = fight) of my bread, and drink of the wine which I have mingled"
Psalms 23:5 "תַּעֲרֹךְ לְפָנַי, שֻׁלְחָן– נֶגֶד צֹרְרָי;
דִּשַּׁנְתָּ בַשֶּׁמֶן רֹאשִׁי, כּוֹסִי רְוָיָה."
"You prepare a feast for me in the presence of my enemies. You honor me by anointing my head with oil. My cup overflows with blessings."
It is important to our physical and spiritual health to read/scan Zohar before and/or after eating. Even a short paragraph is good to transform and elevate the food. Biting and swallowing food is wrong in many ways. The food that travels down to the stomach should be broken into a state that doesn't look like before it entered the mouth. It is not a simple task, but the more and better we chew, the better we break the negative aspect of the Klipa in the food. When we elevate the sparks of light from the food we connect to its blessing. Eating without consciousness is just feeding the body with calories and fat to sustain the flesh with possible spiritual contamination.
With this Zohar teaching we can see and treat food in a new and better way.
Following the Kosher laws of the Torah is a first step in distancing ourselves from the major spiritual negativity that's in the food. Next step is to eat with proper consciousness and chew the food longer than we usually do.
{||}