Daily Zohar # 1182 – Pinchas – Connect the circuit or stumble
Daily Zohar 1182
Daily Zohar 1182
Zohar Pinchas, Vol. 20 (English)/Vol 15 (Hebrew)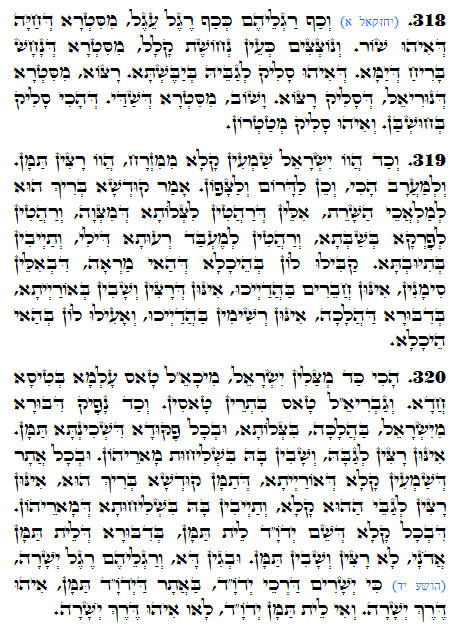 Hebrew translation:
318. וְכַף רַגְלֵיהֶם כְּכַף רֶגֶל עֵגֶל (שם) – מִצַּד הַחַיָּה שֶׁהִיא שׁוֹר. וְנֹצְצִים כְּעֵין נְחֹשֶׁת קָלָל – מִצַּד הַנָּחָשׁ בָּרִיחַ שֶׁל הַיָּם, שֶׁהוּא עוֹלֶה אֵצֶל זֶה שֶׁבַּיַּבָּשָׁה. רָצוֹא – מִצִּדּוֹ שֶׁל נוּרִיאֵל שֶׁעוֹלֶה גִּימַטְרִיָּא רָצוֹ"א. וָשׁוֹב – מִצַּד שֵׁם שַׁדַּ"י, שֶׁכָּךְ עוֹלֶה בְּחֶשְׁבּוֹן. וְהוּא עוֹלֶה מְטַטְרוֹן.
319. וְכַאֲשֶׁר הָיוּ יִשְׂרָאֵל שׁוֹמְעִים קוֹל מִמִּזְרָח, הָיוּ רָצִים שָׁם. וְלַמַּעֲרָב כָּךְ, וְכֵן לַדָּרוֹם וְלַצָּפוֹן. אָמַר הַקָּדוֹשׁ בָּרוּךְ הוּא לְמַלְאֲכֵי הַשָּׁרֵת: אֵלּוּ שֶׁרָצִים לִתְפִלָּה שֶׁל מִצְוָה, וְרָצִים לִדְרָשָׁה בְּשַׁבָּת, וְרָצִים לַעֲשׂוֹת רָצוֹן שֶׁלִּי וְשָׁבִים בִּתְשׁוּבָה – קַבְּלוּ אוֹתָם בַּהֵיכָל שֶׁל זֶה הַמַּרְאֶה, שֶׁבְּאֵלּוּ הַסִּימָנִים הֵם חֲבֵרִים אִתְּכֶם. אֵלּוּ שֶׁרָצִים וְשָׁבִים בַּתּוֹרָה, בְּדִבּוּר שֶׁל הֲלָכָה, הֵם רְשׁוּמִים אִתְּכֶם, וְתַכְנִיסוּ אוֹתָם בַּהֵיכָל הַזֶּה.
320. כָּךְ כַּאֲשֶׁר מִתְפַּלְלִים יִשְׂרָאֵל, מִיכָאֵ"ל עָף הָעוֹלָם בְּמָעוֹף אֶחָד. וְגַבְרִיאֵ"ל עָף בִּשְׁתֵּי עֲפִיפוֹת. וְכַאֲשֶׁר יוֹצֵא דִבּוּר מִיִּשְׂרָאֵל בַּהֲלָכָה, בִּתְפִלָּה וּבְכָל מִצְוָה שֶׁהַשְּׁכִינָה שָׁם – הֵם רָצִים אֶצְלָהּ וְשָׁבִים בָּהּ בִּשְׁלִיחוּת קוֹנָם. וּבְכָל מָקוֹם שֶׁשּׁוֹמְעִים קוֹל הַתּוֹרָה, שֶׁשָּׁם הַקָּדוֹשׁ בָּרוּךְ הוּא, הֵם רָצִים אֵצֶל הַקּוֹל הַהוּא, וְשָׁבִים בָּהּ בִּשְׁלִיחוּת קוֹנָם. שֶׁבְּכָל קוֹל שֶׁשֵּׁם יְהֹוָ"ה אֵינוֹ שָׁם, וּבְדִבּוּר שֶׁאֵין שָׁם אֲדֹנָי, לֹא רָצִים וְשָׁבִים שָׁם. וּמִשּׁוּם זֶה, וְרַגְלֵיהֶם רֶגֶל יְשָׁרָה, (הושע יד) כִּי יְשָׁרִים דַּרְכֵי ה'. בְּמָקוֹם שֶׁשֵּׁם יְהֹוָ"ה שָׁם, הִיא דֶּרֶךְ יְשָׁרָה. וְאִם אֵין שָׁם יְהֹוָ"ה, אֵין הִיא דֶּרֶךְ יְשָׁרָה.
Pinchas 318-320
Continue from previous DZ
Ezekiel 1:7
"וְרַגְלֵיהֶם, רֶגֶל יְשָׁרָה; וְכַף רַגְלֵיהֶם, כְּכַף רֶגֶל עֵגֶל, וְנֹצְצִים, כְּעֵין נְחֹשֶׁת קָלָל. "
"And their feet were straight feet; and the sole of their feet was like the sole of a calf's foot; and they sparkled like the color of burnished brass. "
The calf is the aspect of the left column and the red color of the brass is the aspect of the negative side that is drawn to the left.
The straight feet represent the aspect of the central column and the work of the Israelites to connect the right and left columns.
In the description of Ezekiel of the Holy Creatures, he sees them running and return.
Ezekiel 1:4 " וְהַחַיּוֹת, רָצוֹא וָשׁוֹב, כְּמַרְאֵה, הַבָּזָק."
"And the living creatures ran and returned as the appearance of a flash of lightning."
'Ran and returned' is the aspect of moving the light force (Electricity, חשמל) between the different dimensions.
When Israelites 'run' to connect to the Torah, pray with the congregation, listen to the teachings of the Torah with desire to come closer to the Light, they are allowed to come into the inner and holy chambers and the angels Michael, Gabriel and Nuriel 'return' to support them and the Shechina in Malchut. That makes a closed circuit and the light force flows to the world.
Hosea 14:10
" מִי חָכָם וְיָבֵן אֵלֶּה, נָבוֹן וְיֵדָעֵם: כִּי-יְשָׁרִים דַּרְכֵי יְהוָה, וְצַדִּקִים יֵלְכוּ בָם, וּפֹשְׁעִים, יִכָּשְׁלוּ בָם"
"Whoso is wise (Chokmah), let him understand (Binah) these things, whoso is prudent, let him know them. For the ways of YHVH are straight, and the just (righteous people) do walk in them; but transgressors do stumble therein. "
{||}