Daily Zohar # 1185 – Pinchas – Two females, one choice
Daily Zohar 1185
Daily Zohar 1185
Zohar Pinchas, Vol. 20 (English)/Vol 15 (Hebrew)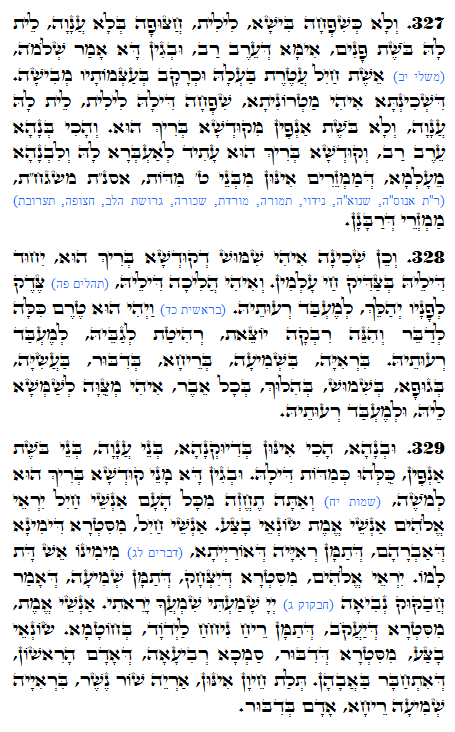 Hebrew translation:
327. וְלֹא כְּמוֹ שִׁפְחָה רָעָה, לִילִית, חֲצוּפָה בְּלִי עֲנָוָה, אֵין לָהּ בֹּשֶׁת פָּנִים, אִמָּם שֶׁל הָעֵרֶב רַב, וּמִשּׁוּם זֶה אָמַר שְׁלֹמֹה, (משלי יב) אֵשֶׁת חַיִל עֲטֶרֶת בַּעְלָהּ וּכְרָקָב בְּעַצְמוֹתָיו מְבִישָׁה. שֶׁהַשְּׁכִינָה הִיא מַלְכָּה. הַשִּׁפְחָה שֶׁלָּהּ לִילִית, אֵין לָהּ עֲנָוָה וְלֹא בֹּשֶׁת פָּנִים מֵהַקָּדוֹשׁ בָּרוּךְ הוּא. וְכָךְ בָּנֶיהָ עֵרֶב רַב. וְהַקָּדוֹשׁ בָּרוּךְ הוּא עָתִיד לְהַעֲבִיר אוֹתָהּ וְאֶת בָּנֶיהָ מֵהָעוֹלָם, שֶׁמַּמְזֵרִים הֵם מִבְּנֵי ט' מִדּוֹת – אסנ"ת משגח"ת (רָאשֵׁי תֵבוֹת: אֲנוּסָ"ה, שְׂנוּאָ"ה, נִדּוּי, תְּמוּרָה, מוֹרֶדֶת, שִׁכּוֹרָה, גְּרוּשַׁת הַלֵּב, חֲצוּפָה, תַּעֲרֹבֶת), מַמְזֵרִים מִדְּרַבָּנָן.
328. וְכֵן שְׁכִינָה הִיא שִׁמּוּשׁ שֶׁל הַקָּדוֹשׁ בָּרוּךְ הוּא, הַיִּחוּד שֶׁלּוֹ עַל יְדֵי הַצַּדִּיק חַי הָעוֹלָמִים. וְהִיא הַהֲלִיכָה שֶׁלּוֹ, (תהלים פה) צֶדֶק לְפָנָיו יְהַלֵּךְ, לַעֲשׂוֹת רְצוֹנוֹ. (בראשית כד) וַיְהִי הוּא טֶרֶם כִּלָּה לְדַבֵּר וְהִנֵּה רִבְקָה יֹצֵאת, רָצָה לִקְרָאתוֹ לַעֲשׂוֹת רְצוֹנוֹ. בִּרְאִיָּה, בִּשְׁמִיעָה, בְּרֵיחַ, בְּדִבּוּר, בַּעֲשִׂיָּה, בְּגוּף, בְּשִׁמּוּשׁ, בְּהִלּוּךְ, בְּכָל אֵבֶר הִיא מְצֻוָּה לְשַׁמֵּשׁ אוֹתוֹ וְלַעֲשׂוֹת רְצוֹנוֹ.
329. וּבָנֶיהָ, כָּךְ הֵם בְּצוּרָתָהּ; בְּנֵי עֲנָוָה, בְּנֵי בֹּשֶׁת פָּנִים. כֻּלָּם כְּמוֹ הַמִּדּוֹת שֶׁלָּהּ. וּמִשּׁוּם זֶה צִוָּה הַקָּדוֹשׁ בָּרוּךְ הוּא לְמֹשֶׁה, (שמות יח) וְאַתָּה תֶחֱזֶה מִכָּל הָעָם אַנְשֵׁי חַיִל יִרְאֵי אֱלֹהִים אַנְשֵׁי אֱמֶת שֹׂנְאֵי בָצַע. אַנְשֵׁי חַיִל – מִצַּד יָמִין שֶׁל אַבְרָהָם, שֶׁשָּׁם רְאִיָּה שֶׁל הַתּוֹרָה, (דברים לג) מִימִינוֹ אֵשׁ דָּת לָמוֹ. יִרְאֵי אֱלֹהִים – מִצַּד שֶׁל יִצְחָק, שֶׁשָּׁם שְׁמִיעָה, שֶׁאָמַר חֲבַקּוּק הַנָּבִיא, (חבקוק ג) ה' שָׁמַעְתִּי שִׁמְעֲךָ יָרֵאתִי. אַנְשֵׁי אֱמֶת – מִצַּד שֶׁל יַעֲקֹב, שֶׁשָּׁם רֵיחַ נִיחֹחַ לַה', בַּחֹטֶם. שֹׂנְאֵי בָצַע – מִצַּד שֶׁל הַדִּבּוּר, רֶגֶל רְבִיעִית שֶׁל אָדָם הָרִאשׁוֹן שֶׁהִתְחַבֵּר בָּאָבוֹת. שָׁלֹשׁ חַיּוֹת הֵן: אַרְיֵה שׁוֹר נֶשֶׁר, בִּרְאִיָּה שְׁמִיעָה רֵיחַ. אָדָם – בְּדִבּוּר.
Pinchas 327-329
Continue from previous DZ
Proverb 12:4
"אֵשֶׁת-חַיִל, עֲטֶרֶת בַּעְלָהּ; וּכְרָקָב בְּעַצְמוֹתָיו מְבִישָׁה"
"A virtuous woman is a crown to her husband; but she that doeth shamefully is as rottenness in his bones."
There are two female aspects in Malchut. On one side we have the pure and holy Shechina and on the other side we have the shameless, evil and the immoral Lili-th.
The children that come from the later one are Erev Rav, Mix Multitude that don't connect to holiness. In the future, God will remove her children from the world because of their negative attributes.
The Shechina unifies with the Light through the righteous people that are the aspect of Yessod. And their children are the Israelites with positive attributes. For this reason God instructed Moses to select only the good people from the nation of Israel to lead the people.
Exodus 18:21
" וְאַתָּה תֶחֱזֶה מִכָּל-הָעָם אַנְשֵׁי-חַיִל יִרְאֵי אֱלֹהִים, אַנְשֵׁי אֱמֶת–שֹׂנְאֵי בָצַע; וְשַׂמְתָּ עֲלֵהֶם, שָׂרֵי אֲלָפִים שָׂרֵי מֵאוֹת, שָׂרֵי חֲמִשִּׁים, וְשָׂרֵי עֲשָׂרֹת"
"Moreover you shall see out of all the people able men (Seeing, Right column, Abraham, Chessed), such as fear God (Hearing, Left column, Isaac, Gevurah ), men of truth (Scent, nose, Central column, Jacob, Tiferet) hating unjust gain (Speech, Malchut, Adam) ; and place such over them, to be rulers of thousands, rulers of hundreds, rulers of fifties, and rulers of tens."
The four aspects of the name and senses are also in the four Holy Creatures of the Holy Throne
Y – Seeing – Lion
H – Hearing – Ox
V – Smelling – Eagle
H – Speech – Man
The proper unification of Light and vessel rewards us with great light. If we connect with purity, we unify the Shechina and the Light. We then, merit the manifestation of light of Chassadim and Mercy in our lives. It could be in righteous children or positive outcome of our actions. We should not judge everything in the scale of money and material gain. In most cases we benefit in removal of judgments that we carry from previous lives before enjoying comfort in this life. This actually could cause distance from the Light because if our vessel is full and happy, we forget that the Light is the provider and a continuous connection must be there to keep the flow coming.
Connection with impurity brings the negative aspects of Lili-th that brings chaos into our actions and undesirable outcomes.
{||}