Zoharjev Dnevnik Št. 1184 – Besede iz ognja
Daily Zohar 1184
Daily Zohar 1184 Zohar Pinchas, Vol. 20 (English)/Vol 15 (Hebrew)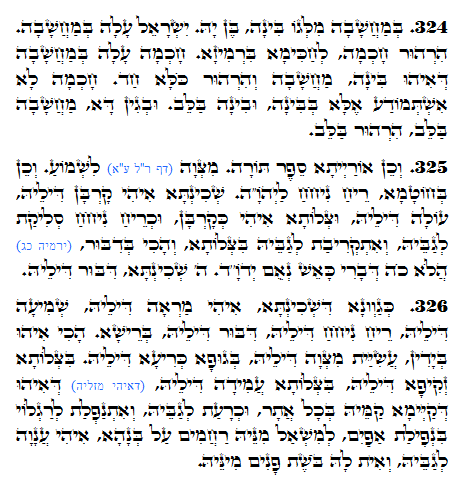 Hebrew translation:
324. בַּמַּחֲשָׁבָה מִבִּפְנִים בִּינָה – בֶּן יָ"הּ. יִשְׂרָאֵל עָלָה בְמַחֲשָׁבָה. הִרְהוּר חָכְמָה, לֶחָכָם בְּרֶמֶז. חָכְמָה עָלָה בְמַחֲשָׁבָה, שֶׁהוּא בִּינָה. מַחֲשָׁבָה וְהִרְהוּר הַכֹּל אֶחָד. הַחָכְמָה לֹא נוֹדַעַת אֶלָּא בְּבִינָה, וְהַבִּינָה בַּלֵּב. וּמִשּׁוּם זֶה הַמַּחֲשָׁבָה בַּלֵּב, הַהִרְהוּר בַּלֵּב. 325. וְכֵן הַתּוֹרָה – סֵפֶר תּוֹרָה, מִצְוָה לִשְׁמֹעַ. וְכֵן בַּחֹטֶם, רֵיחַ נִיחֹחַ לַה'. הַשְּׁכִינָה הִיא קָרְבָּן שֶׁלּוֹ, עוֹלָה שֶׁלּוֹ, וְהַתְּפִלָּה הִיא כְּמוֹ קָרְבָּן, וְעוֹלָה כְּרֵיחַ נִיחֹחַ אֶצְלוֹ וּמִתְקָרֶבֶת אֶצְלוֹ בִּתְפִלָּה. וְכֵן בְּדִבּוּר – (ירמיה כג) הֲלֹא כֹה דְבָרִי כָּאֵשׁ נְאֻם ה'. אוֹת ה' – שְׁכִינָה, דִּבּוּר שֶׁלּוֹ. 326. כְּמוֹ שֶׁהַשְּׁכִינָה הִיא מַרְאָה שֶׁלּוֹ, שְׁמִיעָה שֶׁלּוֹ, רֵיחַ נִיחֹחַ שֶׁלּוֹ, דִּבּוּר שֶׁלּוֹ, בָּרֹאשׁ – כָּךְ הוּא בַּיָּדַיִם עֲשִׂיַּת מִצְוָה שֶׁלּוֹ, בַּגּוּף כְּרִיעָה שֶׁלּוֹ. בַּתְּפִלָּה זְקִיפָה שֶׁלּוֹ, בַּתְּפִלָּה עֲמִידָה שֶׁלּוֹ (שֶׁהִיא מַזָּל שֶׁלּוֹ), שֶׁהִיא שֶׁעוֹמֶדֶת לְפָנָיו בְּכָל מָקוֹם וְכוֹרַעַת לְגַבָּיו וְנוֹפֶלֶת לְרַגְלָיו בִּנְפִילַת אַפַּיִם לִשְׁאֹל מִמֶּנּוּ רַחֲמִים עַל בָּנֶיהָ. הִיא עֲנָוָה לְגַבָּיו, וְיֵשׁ לָהּ בֹּשֶׁת פָּנִים מִמֶּנּוּ.
Pinhas 324-326
Nadaljevanje predhodnega DZ
Y – חכמה/Modrost/Chokmah – desna možganska polobla, izvorno oblikovanje misli הרהור
H – בינה/Razumevanje/Binah, leva možganska polobla, nadaljni miselni proces מחשבה.
Miselni proces se ne more sprožiti brez izvorne misli. Modrost/Chokmah in Razumevanje/Binah sta par, kateri po njunem združevanju/združitvi pritegne Svetlobo v materijalni svet Kraljestvo/Malchut.
Kakor dva dela možganov, ki morda izgledata kakor ločeni polovici vendar delujeta kot eno.
Rezultat delovanja Modrosti/Chokmah in Razumevanje/Binah se odstre v srcu.
Srce predstavlja vidik Majhnega obličja*/Zeir Anpina, ki prejema miselni proces. Srce samo ima levo in desno stran in udejanja nadaljevanje toka Svetlobe v nižje ravni.
Kadar poslušamo Toro, naredimo povezavo s srcem – Majhno obličje/Zeir Anpin – črka Vav ו v imenu יהוה YHVH . ֥Branje in besede molitve so naše druge možnosti oz nadomestitve za žrtvovanja v Svetišču.
Kakor darovanje kadil in dišav na oltarju. Tako se besede Tore in molitve dvigujejo z Shekinah/"Božja prisotnost na zemlji", da se udejani združitev.
Jeremija 23:29
" הֲלוֹא כֹה דְבָרִי כָּאֵשׁ, נְאֻם-יְהוָה; וּכְפַטִּישׁ, יְפֹצֵץ סָלַע"
Transliteracija
הֲלוֹא halo כֹה choh דְבָרִי devari כָּאֵשׁ ka'esh, נְאֻם-יְהוָה ne'um-Adonai; וּכְפַטִּישׁ uchefattish, יְפֹצֵץ yefotzetz סָלַע sala.
"Ali ni Moja beseda kakor ogenj? poreče YHVH; in kakor kladivo, ki razbija skalo v manjše kose?"
Besede so vidik ה H imena of the name יהוה YHVH in se kakor ogenj dvigujejo s "Šekino/Božja prisotnost v mater. svetu", da nam pritegne milost.
{||}