Daily Zohar # 1227 – Pinchas – The secret grinder
Daily Zohar 1227
Daily Zohar 1227
Zohar Pinchas, Vol. 20 (English)/Vol 15 (Hebrew)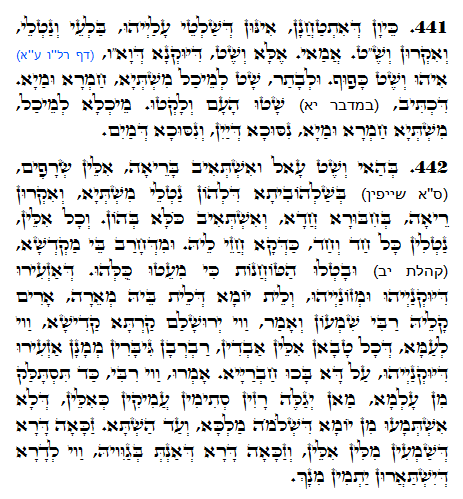 Hebrew translation:
441. כֵּיוָן שֶׁנִּטְחָן, הֵם שׁוֹלְטִים עֲלֵיהֶם, בּוֹלְעִים וְנוֹטְלִים, וְנִקְרָאִים וֵשֶׁ"ט. מַדּוּעַ? אֶלָּא וֵשֶׁט, צוּרָה שֶׁל אוֹת וָא"ו, הוּא וֵשֶׁט כָּפוּף. וּלְאַחַר מִכֵּן מְשׁוֹטֵט לֶאֱכֹל וְלִשְׁתּוֹת יַיִן וּמַיִם, שֶׁנֶּאֱמַר (במדבר יא) שָׁטוּ הָעָם וְלָקְטוּ. אֹכֶל לֶאֱכֹל, וּשְׁתִיָּה שֶׁל יַיִן וּמַיִם, נִסּוּךְ הַיַּיִן וְנִסּוּךְ הַמַּיִם.442. בָּזֶה הַוֵּשֶׁט נִכְנָס, וְנִשְׁאָב בָּרֵאָה עַל יְדֵי אֵלּוּ הַשְּׂרָפִים (הָאֵיבָרִים), בַּשַּׁלְהֶבֶת שֶׁלָּהֶם לוֹקְחִים הַמַּשְׁקֶה, וְנִקְרָאִים רֵאָה בְּחִבּוּר אֶחָד, וְנִשְׁאָב הַכֹּל בָּהֶם. וְכָל אֵלּוּ לוֹקְחִים כָּל אֶחָד וְאֶחָד כְּמוֹ שֶׁרָאוּי לָהֶם. וּמִשֶּׁחָרַב בֵּית הַמִּקְדָּשׁ נֶאֱמַר, (קהלת יב) וּבָטְלוּ הַטֹּחֲנוֹת כִּי מִעֵטוּ, כֻּלָּם. שֶׁהִמְעִיטוּ דְמוּתָם וּמְזוֹנָם, וְאֵין יוֹם שֶׁאֵין בּוֹ קְלָלָה. הֵרִים קוֹלוֹ רַבִּי שִׁמְעוֹן וְאָמַר, אוֹי יְרוּשָׁלַיִם עִיר קְדוֹשָׁה! אוֹי לָעָם שֶׁכָּל טוֹבוֹת אֵלּוּ אָבְדוּ! שָׂרִים גִּבּוֹרִים מְמֻנִּים הִקְטִינוּ דְמוּתָם. עַל זֶה בּוֹכִים הַחֲבֵרִים. אָמְרוּ, אוֹי רַבִּי! כַּאֲשֶׁר תִּסְתַּלֵּק מִן הָעוֹלָם, מִי יְגַלֶּה סוֹדוֹת סְתוּמִים עֲמֻקִּים כָּאֵלּוּ, שֶׁלֹּא נִשְׁמְעוּ מִיָּמָיו שֶׁל שְׁלֹמֹה הַמֶּלֶךְ וְעַד עַתָּה? אַשְׁרֵי הַדּוֹר שֶׁשּׁוֹמְעִים מִלִּים אֵלּוּ, וְאַשְׁרֵי הַדּוֹר שֶׁאַתָּה בְּתוֹכוֹ! אוֹי לַדּוֹר שֶׁיִּשָּׁאֲרוּ יְתוֹמִים מִמְּךָ!
Pinchas 441, 442
The consumed food is grinded in the mouth, continues to the stomach and is distributed through the blood to sustain the entire body.
Ecclesiastes 12:3
"בַּיּוֹם, שֶׁיָּזֻעוּ שֹׁמְרֵי הַבַּיִת, וְהִתְעַוְּתוּ, אַנְשֵׁי הֶחָיִל; וּבָטְלוּ הַטֹּחֲנוֹת כִּי מִעֵטוּ, וְחָשְׁכוּ הָרֹאוֹת בָּאֲרֻבּוֹת"
"In the day when the keepers of the house (Holy Temple and Priests) shall tremble, and the strong men (channels of light, Ministers) shall bow (become small) themselves, and the grinders (process of receiving the Light) cease because they are few, and those that look out (looking for the light) shall be darkened in the windows (eye sockets),"
This verse from the last chapter of Ecclesiastes is said by King Solomon. It talks about the destruction of the Holy Temple and the disconnection from the channels of sustenance. Without the Holy Temple the grinders could not grind the food because they were left with very little to process.
The Zohar shows a parallel between the consumption of food that benefits the entire body and the light that used to be spread out from the Holy Temple in Jerusalem to sustain the whole world.
Rabbi Shimon raised his voice and said "Woe to the Holy City of Jerusalem and woe to the people that lost all the beneficence." "Great and mighty ministers shrunk their image and channel of sustenance" "There is no day (since the destruction) without a curse"
Jerusalem is the heart of the entire world. It is the middle point of the Big Bang and the sole connection of the Light to the world. Since the destruction, all channels of sustenance are reduced to a minimum and the Light is dimmed in the world.
The students of Rabbi Shimon cried to him: "What will happen when you leave the world? Who will reveal these great secrets that were not heard since the days of King Solomon?" "Blessed is the generation that hears these words. Blessed is the generation that you are in! Woe to the generation that will be left orphan of you."
The secrets that Rabbi Shimon revealed are now available to our generation and those who study the Zohar. It is a tool made by Rabbi Shimon and it is available to us now, giving us ability to spread light all over the world. The Internet helps us spread farther and wider. The Light of the creator can now reach everywhere.
Every secret we study from the Zohar is a well of light and is the aspect of 'grinding' the food and distributing it. We positively affect our environment and the world. The darkest places in the world are those without the Zohar or without Israelite souls that channel the Light. The Israelites were spread all over the world to compensate for the loss of light since the destruction of the Holy Temple.
Keep grinding and bringing more people to study the secrets of the Zohar because it will benefit us all.
{||}