Daily Zohar # 1228 – Pinchas – Breaking through seven heavens
Daily Zohar 1228
Daily Zohar 1228
Zohar Pinchas, Vol. 20 (English)/Vol 15 (Hebrew)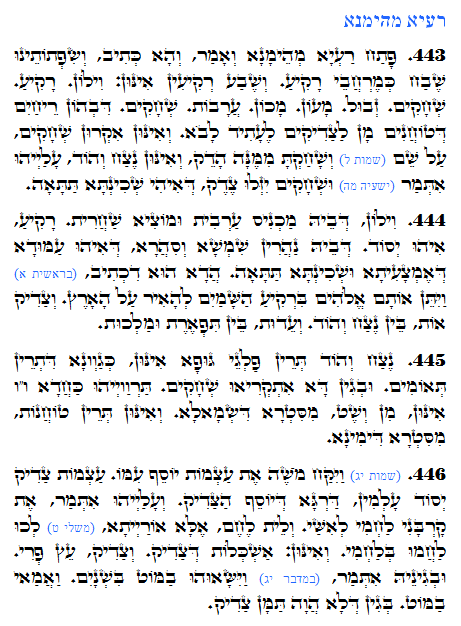 Hebrew translation:
רַעְיָא מְהֵימְנָא
443. פָּתַח הָרוֹעֶה הַנֶּאֱמָן וְאָמַר, וַהֲרֵי כָּתוּב וְשִׂפְתוֹתֵינוּ שֶׁבַח כְּמֶרְחֲבֵי רָקִיעַ. וְשִׁבְעָה רְקִיעִים הֵם: וִילוֹן, רָקִיעַ. שְׁחָקִים, זְבוּל. מָעוֹן. מָכוֹן. עֲרָבוֹת. שְׁחָקִים. שֶׁבָּהֶם רֵחַיִם שֶׁטּוֹחֲנִים מָן לַצַּדִּיקִים לֶעָתִיד לָבֹא. וְאֵלּוּ נִקְרָאִים שְׁחָקִים, עַל שֵׁם (שמות ל) וְשָׁחַקְתָּ מִמֶּנָּה הָדֵק. וְאֵלּוּ נֵצַח וְהוֹד, עֲלֵיהֶם נֶאֱמַר (ישעיה מה) וּשְׁחָקִים יִזְּלוּ צֶדֶק, שֶׁהִיא שְׁכִינָה תַּחְתּוֹנָה.
444. וִילוֹן, שֶׁבּוֹ מַכְנִיס עַרְבִית וּמוֹצִיא שַׁחֲרִית. רָקִיעַ הוּא יְסוֹד, שֶׁבּוֹ מְאִירִים הַשֶּׁמֶשׁ וְהַיָּרֵחַ, שֶׁהוּא הָעַמּוּד הָאֶמְצָעִי וּשְׁכִינָה תַּחְתּוֹנָה. זֶהוּ שֶׁכָּתוּב (בראשית א) וַיִּתֵּן אֹתָם אֱלֹהִים בִּרְקִיעַ הַשָּׁמָיִם לְהָאִיר עַל הָאָרֶץ. וְצַדִּיק הוּא אוֹת בֵּין נֵצַח וְהוֹד, וְעֵדוּת בֵּין תִּפְאֶרֶת וּמַלְכוּת.
445. נֵצַח וְהוֹד – שְׁנֵי חֲצָאֵי גוּף הֵם, כְּדֻגְמַת שְׁנֵי תְאוֹמִים. וּמִשּׁוּם זֶה נִקְרָאִים שְׁחָקִים. שְׁנֵיהֶם כְּאֶחָד אוֹת וָ"ו הֵם, מִן וֵשֶׁט, מִצַּד הַשְּׂמֹאל. וְהֵם שְׁתֵּי הַטּוֹחֲנוֹת, מִצַּד הַיָּמִין.
446. וַיִּקַּח מֹשֶׁה אֶת עַצְמוֹת יוֹסֵף עִמּוֹ. עַצְמוֹת צַדִּיק יְסוֹד עוֹלָם, מַדְרֵגָה שֶׁל יוֹסֵף הַצַּדִּיק. וַעֲלֵיהֶם נֶאֱמַר, אֶת קָרְבָּנִי לַחְמִי לְאִשַּׁי. וְאֵין לֶחֶם אֶלָּא תּוֹרָה, שֶׁנֶּאֱמַר (משלי ט) לְכוּ לַחֲמִי בְלַחְמִי. וְהֵם אֶשְׁכּוֹלוֹת שֶׁל הַצַּדִּיק. וְצַדִּיק עֵץ פְּרִי. וּבִגְלָלוֹ נֶאֱמַר (במדבר יג) וַיִּשָּׂאֻהוּ בַמּוֹט בִּשְׁנָיִם. וּמַדּוּעַ בַּמּוֹט? בִּגְלַל שֶׁלֹּא הָיָה שָׁם צַדִּיק.
Pinchas 443-446
The Faithfull Shepherd said "וְשִׂפְתוֹתֵינוּ שֶׁבַח כְּמֶרְחֲבֵי רָקִיעַ"
"And our lips full with praise like the expanse of the heavens"
It is from the Shabbat prayer and it refers to the seven heavens.
1. וִילוֹן – Curtain – (Vilon) – Malchut
2. רָקִיעַ – Sky – (Rakia) – Yessod
3. שְׁחָקִים – Heaven – (Shechakim). Same root as 'grind'.- Netzach and Hod.
4. זְבוּל – Dwelling (there is no literal translation but the closest meaning I used here comes from Genesis 30:20 and 1 Kings 8:13 ) – (Zevul)
5. מָעוֹן – Home – (Ma'on) – Gevurah
6. מָכוֹן – Institute – (Machon) – Chessed
7. עֲרָבוֹת – Plains – (Aravot) – Da'at (equal to Keter, Chokmah and Binah together)
(Please do not try to make sense of the translation of the names)
The seven heavens are seven spiritual levels that separate us from the lower level of Malchut to the level of Da'at. The tool that can break through all heavens is our lips when we use the sacred words of the Torah and Zohar.
This section is a continuation to the study of the energies that are formed in the body through the lungs, hearth, liver (purity of the blood) and brain (consciousness). They are all preparation to give our words the propelling power to ascend our prayers to the upper level and draw light to us and the entire world.
It's a long process to purify our body and soul to be able to make proper connection but every step in the upward direction (of the soul) well deserves a great light.
{||}