Daily Zohar # 1230 – Pinchas – The mouth and the anger of God
Daily Zohar 1230
Daily Zohar 1230
Zohar Pinchas, Vol. 20 (English)/Vol 15 (Hebrew)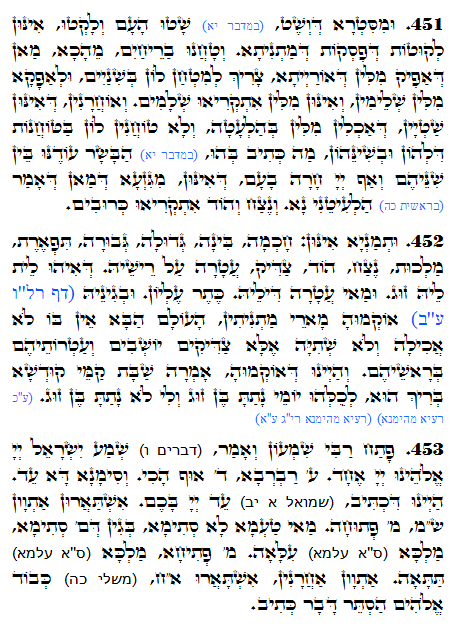 Hebrew translation:
451. וּמִצַּד שֶׁל הַוֵּשֶׁט נֶאֱמַר, (במדבר יא) שָׁטוּ הָעָם וְלָקְטוּ, אוֹתָם הַמְלַקְּטִים פְּסָקִים שֶׁל הַמִּשְׁנָה. וְטָחֲנוּ בָרֵחַיִם – מִכָּאן, מִי שֶׁמּוֹצִיא דִבּוּרִים שֶׁל תּוֹרָה, צָרִיךְ לְטָחֳנָם בַּשִּׁנַּיִם וּלְהוֹצִיא דִבּוּרִים שְׁלֵמִים, וְאֵלּוּ הַדִּבּוּרִים נִקְרָאִים שְׁלָמִים. וַאֲחֵרִים, אוֹתָם שֶׁהֵם שׁוֹטִים, שֶׁאוֹכְלִים דִּבּוּרִים בְּהַלְעָטָה וְלֹא טוֹחֲנִים אוֹתָם בַּטּוֹחֲנוֹת שֶׁלָּהֶם וּבַשִּׁנַּיִם, מַה כָּתוּב בָּהֶם? (שם) הַבָּשָׂר עוֹדֶנּוּ בֵּין שִׁנֵּיהֶם [וְגוֹ'] וְאַף ה' חָרָה בָעָם. שֶׁהֵם מִשֹּׁרֶשׁ שֶׁל מִי שֶׁנֶּאֱמַר עָלָיו (בראשית כה) הַלְעִיטֵנִי נָא. וְנֵצַח וְהוֹד נִקְרָאִים כְּרוּבִים.452. וּשְׁמוֹנָה הֵם: חָכְמָה, בִּינָה, גְּדֻלָּה, גְּבוּרָה, תִּפְאֶרֶת, מַלְכוּת, נֵצַח, הוֹד. צַדִּיק עֲטָרָה עַל רֹאשׁוֹ, שֶׁהוּא אֵין לוֹ זוּג. וּמָה הָעֲטָרָה שֶׁלּוֹ? כֶּתֶר עֶלְיוֹן. וּבִגְלָלוֹ פֵּרְשׁוּהוּ בַּעֲלֵי הַמִּשְׁנָה, הָעוֹלָם הַבָּא אֵין בּוֹ לֹא אֲכִילָה וְלֹא שְׁתִיָּה, אֶלָּא צַדִּיקִים יוֹשְׁבִים וְעַטְרוֹתֵיהֶם בְּרָאשֵׁיהֶם. וְזֶהוּ שֶׁבֵּאֲרוּ, אָמְרָה שַׁבָּת לִפְנֵי הַקָּדוֹשׁ בָּרוּךְ הוּא, לְכָל הַיָּמִים נָתַתָּ בֶּן זוּג וְלִי לֹא נָתַתָּ בֶּן זוּג. (ע"כ
רעיא מהימנא
).
זֹהַר
453. פָּתַח רַבִּי שִׁמְעוֹן וְאָמַר, (דברים ו) שְׁמַע יִשְׂרָאֵל ה' אֱלֹהֵינוּ ה' אֶחָד. אוֹת ע' גְּדוֹלָה, וְאוֹת ד' גַּם כֵּן. וְסִימָן זֶה – עֵד. וְזֶהוּ שֶׁכָּתוּב (שמואל-א יב) עֵד ה' בָּכֶם. נִשְׁאֲרוּ אוֹתִיּוֹת ש"מ. מ' פְּתוּחָה. מָה הַטַּעַם לֹא סְתוּמָה? מִשּׁוּם שֶׁם' סְתוּמָה הִיא מֶלֶךְ (עוֹלָם) עֶלְיוֹן. מ' פְּתוּחָה הִיא מֶלֶךְ (עוֹלָם) תַּחְתּוֹן. אוֹתִיּוֹת אֲחֵרוֹת נִשְׁאֲרוּ א' ח', עֲלֵיהֶן כָּתוּב (משלי כה) כְּבֹד אֱלֹהִים הַסְתֵּר דָּבָר.
Pinchas 451-453
Numbers 11:8
"שָׁטוּ הָעָם וְלָקְטוּ וְטָחֲנוּ בָרֵחַיִם, אוֹ דָכוּ בַּמְּדֹכָה, וּבִשְּׁלוּ בַּפָּרוּר, וְעָשׂוּ אֹתוֹ עֻגוֹת; וְהָיָה טַעְמוֹ, כְּטַעַם לְשַׁד הַשָּׁמֶן"
"The people went about, and gathered it, and ground it in mills, or beat it in mortars, and seethed it in pots, and made cakes of it; and the taste of it was as the taste of a cake baked with oil."
This verse describes the people's actions when they were dealing with the Manna. The word שָׁטוּ, 'went about' has the same letters as ושט Esophagus and the aspect of the letter Vav. The people gathered the Manna and grinded it in different methods before consuming it. The Zohar says that the ground Manna is the aspect of the study and uttering the words of the Torah. We should not swallow words or skip them in order to keep the energy flowing properly.
Numbers 11:33
" הַבָּשָׂר, עוֹדֶנּוּ בֵּין שִׁנֵּיהֶם–טֶרֶם, יִכָּרֵת; וְאַף יְהוָה, חָרָה בָעָם, וַיַּךְ יְהוָה בָּעָם, מַכָּה רַבָּה מְאֹד."
"While the flesh was yet between their teeth, ere it was chewed, the anger of YHVH was kindled against the people, and YHVH smote the people with a very great plague."
The Israelites lowered themselves when they asked meat instead of the Manna. The Manna was pure energy coming down from the spiritual levels and manifested in the physical level with endless potential to satisfy every taste. The flesh they ate was of a dead animal. It gave strong connection to the physical level but at the same time with the improper consumption, judgment and death was manifested.
We discussed in previous DZ (https://dailyzohar.com/daily-zohar-1199/) the importance of proper chewing of the food in order to reveal the inner energy. The teaching of this section is to use our mouth and tongue to express every word of our prayers to connect to the energy that comes from it. Praying quick and without understanding the words is not a proper prayer and if it comes together with no or improper consciousness then the outcome of the prayer could be the opposite of what we wish to achieve.
Evil speech and all kind of negativity that come out of our mouth are another aspect of connection to death. It is very hard to correct evil speech but Proverb 15:4 gives us the right direction.
" מַרְפֵּא לָשׁוֹן, עֵץ חַיִּים; וְסֶלֶף בָּהּ, שֶׁבֶר בְּרוּחַ."
"A healing tongue is a tree of life; but perverseness therein is a wound to the spirit."
The Torah, through the study of its higher levels from the Zohar, is our connection to the Tree of Life and it is the only thing that can help us correct and remove all impurities.
{||}