Daily Zohar # 1229 – Pinchas – The choice for Life
Daily Zohar 1229
Daily Zohar 1229
Zohar Pinchas, Vol. 20 (English)/Vol 15 (Hebrew)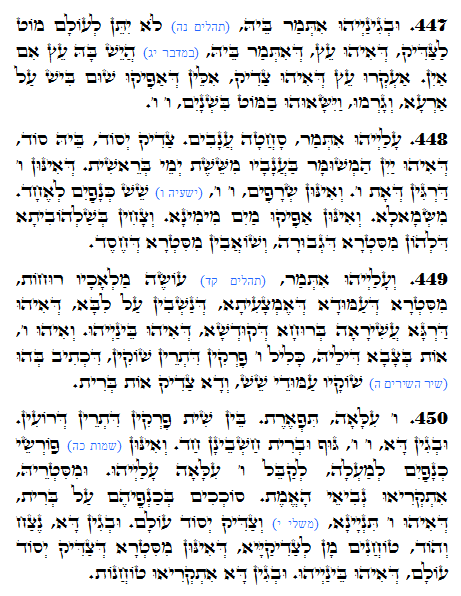 Hebrew translation:
447. וּבִגְלָלָם נֶאֱמַר בּוֹ, (תהלים נה) לֹא יִתֵּן לְעוֹלָם מוֹט לַצַּדִּיק, שֶׁהוּא עֵץ, שֶׁנֶּאֱמַר בּוֹ (במדבר יג) הֲיֵשׁ בָּהּ עֵץ אִם אָיִן. עָקְרוּ עֵץ שֶׁהוּא צַדִּיק, אֵלּוּ שֶׁהוֹצִיאוּ שֵׁם רַע עַל הָאָרֶץ, וְגָרְמוּ לְמַה שֶּׁנֶּאֱמַר וַיִּשָּׂאֻהוּ בַמּוֹט בִּשְׁנָיִם, ו' ו'.
448. וְעַל הַמְּרַגְּלִים נֶאֱמַר, סָחֲטָה עֲנָבִים. צַדִּיק שֶׁהוּא יְסוֹד, בּוֹ סוֹד, שֶׁהוּא יַיִן הַמְשֻׁמָּר בַּעֲנָבָיו מִשֵּׁשֶׁת יְמֵי בְרֵאשִׁית. שֶׁהֵם שֵׁשׁ מַדְרֵגוֹת שֶׁל הָאוֹת ו'. וְהֵם שְׂרָפִים, אוֹתִיּוֹת ו' ו', שֶׁנֶּאֱמַר (ישעיה ו) שֵׁשׁ כְּנָפַיִם לְאֶחָד. מֵהַשְּׂמֹאל. וְאֵלּוּ הַמּוֹצִיאִים מַיִם – מֵהַיָּמִין. וּצְמֵאִים בַּשַּׁלְהֶבֶת שֶׁלָּהֶם מִצַּד הַגְּבוּרָה וְשׁוֹאֲבִים מִצַּד הַחֶסֶד.
449. וַעֲלֵיהֶם נֶאֱמַר, (תהלים קד) עֹשֶׂה מַלְאָכָיו רוּחוֹת, מִצַּד הָעַמּוּד הָאֶמְצָעִי, שֶׁנּוֹשְׁבִים עַל הַלֵּב, שֶׁהוּא מַדְרֵגָה עֲשִׂירִית בְּרוּחַ הַקֹּדֶשׁ, שֶׁהוּא בֵּינֵיהֶם. וְהוּא אוֹת ו', אוֹת בַּצָּבָא שֶׁלּוֹ, כָּלוּל ו' פְּרָקִים שֶׁל שְׁתֵּי שׁוֹקַיִם, שֶׁכָּתוּב בָּהֶן (שיר השירים ה) שׁוֹקָיו עַמּוּדֵי שֵׁשׁ, וְזֶה צַדִּיק אוֹת בְּרִית.
450. ו' עֶלְיוֹנָה – תִּפְאֶרֶת. בֵּין שִׁשָּׁה פְרָקִים שֶׁל שְׁתֵּי זְרוֹעוֹת. וּמִשּׁוּם זֶה ו' ו', גּוּף וּבְרִית שֶׁנֶּחְשָׁבִים כְּאֶחָד. וְהֵם (שמות כה) פֹּרְשֵׂי כְנָפַיִם לְמַעְלָה, כְּנֶגֶד ו' עֶלְיוֹנָה שֶׁעֲלֵיהֶם. וּמִצִּדָּהּ נִקְרָאִים נְבִיאֵי אֱמֶת. סֹכֲכִים בְּכַנְפֵיהֶם עַל הַבְּרִית, שֶׁהִיא אוֹת ו' שְׁנִיָּה, (משלי י) וְצַדִּיק יְסוֹד עוֹלָם. וּמִשּׁוּם זֶה נֵצַח וְהוֹד טוֹחֲנִים מָן לַצַּדִּיקִים, שֶׁהֵם מִצַּד שֶׁל צַדִּיק יְסוֹד עוֹלָם, שֶׁהוּא בֵּינֵיהֶם. וּמִשּׁוּם זֶה נִקְרָאִים טוֹחֲנוֹת.
Pinchas 447-450
Exodus 13:19
" וַיִּקַּח מֹשֶׁה אֶת-עַצְמוֹת יוֹסֵף, עִמּוֹ: כִּי הַשְׁבֵּעַ הִשְׁבִּיעַ אֶת-בְּנֵי יִשְׂרָאֵל, לֵאמֹר, פָּקֹד יִפְקֹד אֱלֹהִים אֶתְכֶם, וְהַעֲלִיתֶם אֶת-עַצְמֹתַי מִזֶּה אִתְּכֶם"
"And Moses took the bones of Joseph with him; for he had straitly sworn the children of Israel, saying: 'God will surely remember you; and ye shall carry up my bones away hence with you.'"
Joseph is the aspect of the Sefira of Yessod and the letter Vav ו of the name that connects Malchut to Zeir Anpin. The word 'bones', עצמות, has the root and the meaning of 'might', 'power'. Joseph wanted the Israelites to carry his energy and ability to connect to Malchut with them to the Promised Land that is the aspect of Malchut. He was brought to the Holy Land and was buried in the city of Shechem between two mountains.
Moses sent spies (Numbers 13) to tour the land that God has given to them and check if it has a tree or not. Moses didn't need the information because if God is giving it then obviously it is connected to the Tree. The spies that were the heads of the tribes went into the land in order to make a connection to the Tree of Life for the entire nation. They came back carrying the fruit of the land held by two of them.
That was a bad sign because it represented the separation between Netzach and Hod and without connection to Yessod. The evil speech that they used broke their connection to the land and God had to implement a correction plan. Since the heads of the tribes represented the entire nation, the correction had to be applied to all of them. They had to die in the wilderness in a process of 40 years before the new generation could come back to the Promised Land.
The secrets that the Zohar reveal here are related to the importance of unifying the left and right column to one through Yessod. That is the act of righteousness that Joseph could connect us to the Tree of Life. The spies failed for selfish reasons and we all suffered. That sin was as critical as the sin of the Golden Calf. If the Israelites resisted the negative side and waited for Moses, then they could have connected us to the Torah of the Tree of Life and not the broken Torah that carried the correction process. If the spies made the connection, then it would have made the Land as the center of the world with continuous connection to the Tree of Life.
In our life of Tikkun process we always have a choice to make. It could be coming closer to the Tree of Life or disconnecting form it. One choice connects us to Life and the other one to Death. As we are getting closer to the Mashaich time (and it could happen faster than we can imagine) we have to make the right choices.
{||}